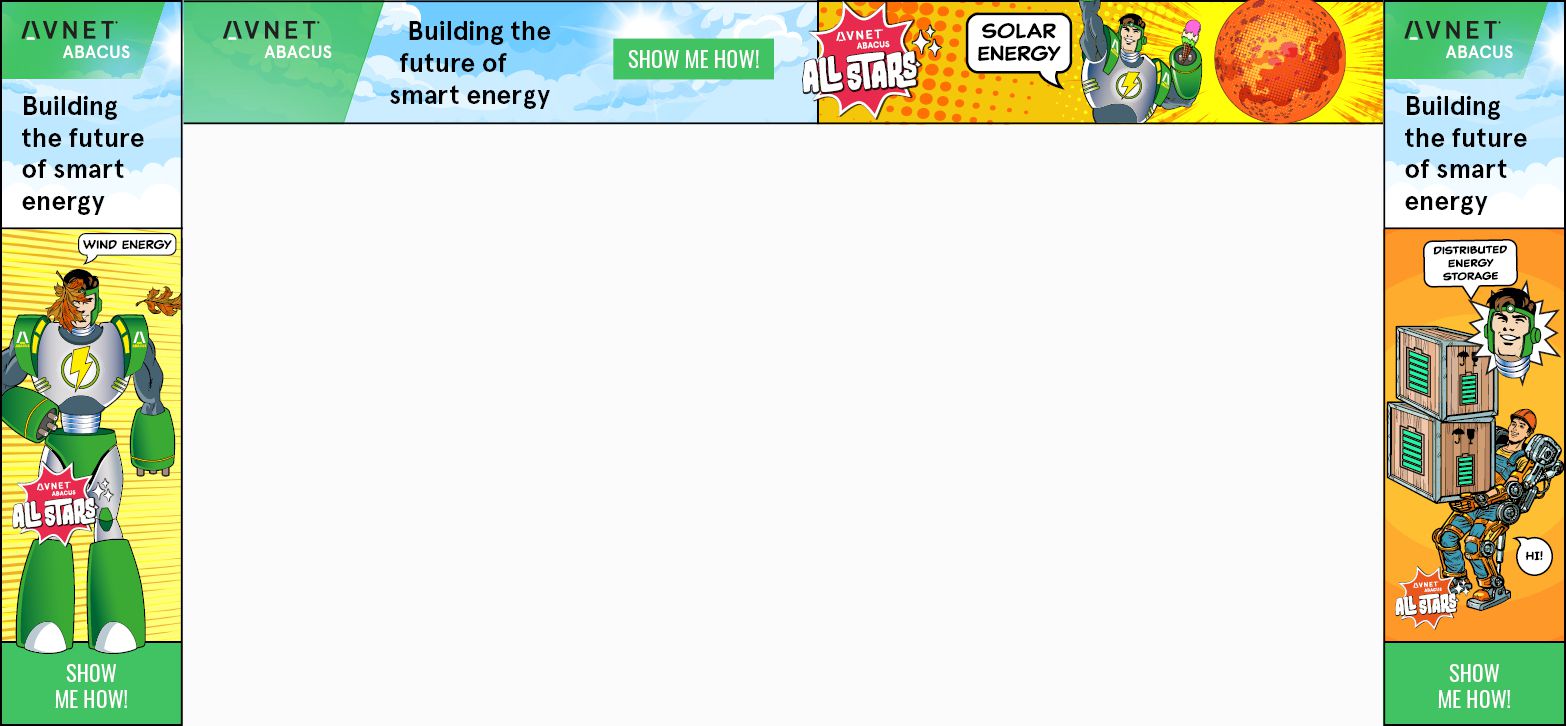 Dual +12V/-12V @ 400mA Regulated Linear Power Supply with AC input
Rajkumar Sharma

875 Views

moderate

Tested

SKU: EL113014
The project presented here is a dual output linear power supply. This power supply provides low ripple low noise DC regulated output. It is a very useful tool to power Audio, Video, OPAMP-based circuits, and projects. The circuit provides regulated +/-12V DC output @ 400mA + 400mA. The project supports AC input supply 230V or 115V. On-board jumpers are provided for AC230V or AC115V selection. Besides regulated output, the board also has provisions to output the unregulated supply using CN2.
Parts Explanation
Connector CN1: 230V/115V AC Input
Jumper J2:  230V Selection
Jumper J1, J3: 115V Selection
Transformer-Step Down T1: 230/115V AC IN, 12VAC-0V-12VAC 0.83A
Bridge Rectifier BR1: Bridge Rectifier
Capacitor C2, C5: DC Filter Capacitors
Connector CN2: Unregulated DC Output
Regulator U1: +12V Regulator
Regulator U2: -12V Regulator
C1,C3,C4, C6 : DC Filter Capacitors
LED D1: +12V LED
LED D2: -12V LED
Connector CN3, and CN4: +/-12V Regulated Output
Resistor R1, R2: Current Limiting Resistors for LEDs
Note1: This power supply supports 230V AC or 115V AC input, remove input power cable while changing Jumper selection.
Note 2: This power supply contains hazardous voltage at the input, PCB must be installed in an encloser that prevents accidental contact. Use Plastic screws to mount the power supply.
Note 3: Power supply also can be used as Dual Regulated +/-15V DC Output. In this case replace U1 LM7815, U2 LM7915
Note 4: Heatsink is a must for regulators U1 and U2 @ full load. The heatsink should be mounted with plastic screws and should not touch the ground plane of the PCB.
Input Voltage Selection
For 230V AC Input: Close Jumper J2 Jumper J1 and J3 Open,
For 115V AC Input: Close Jumper J1 and J3 Open Jumper J2
Other Similar AC to DC Power Supplies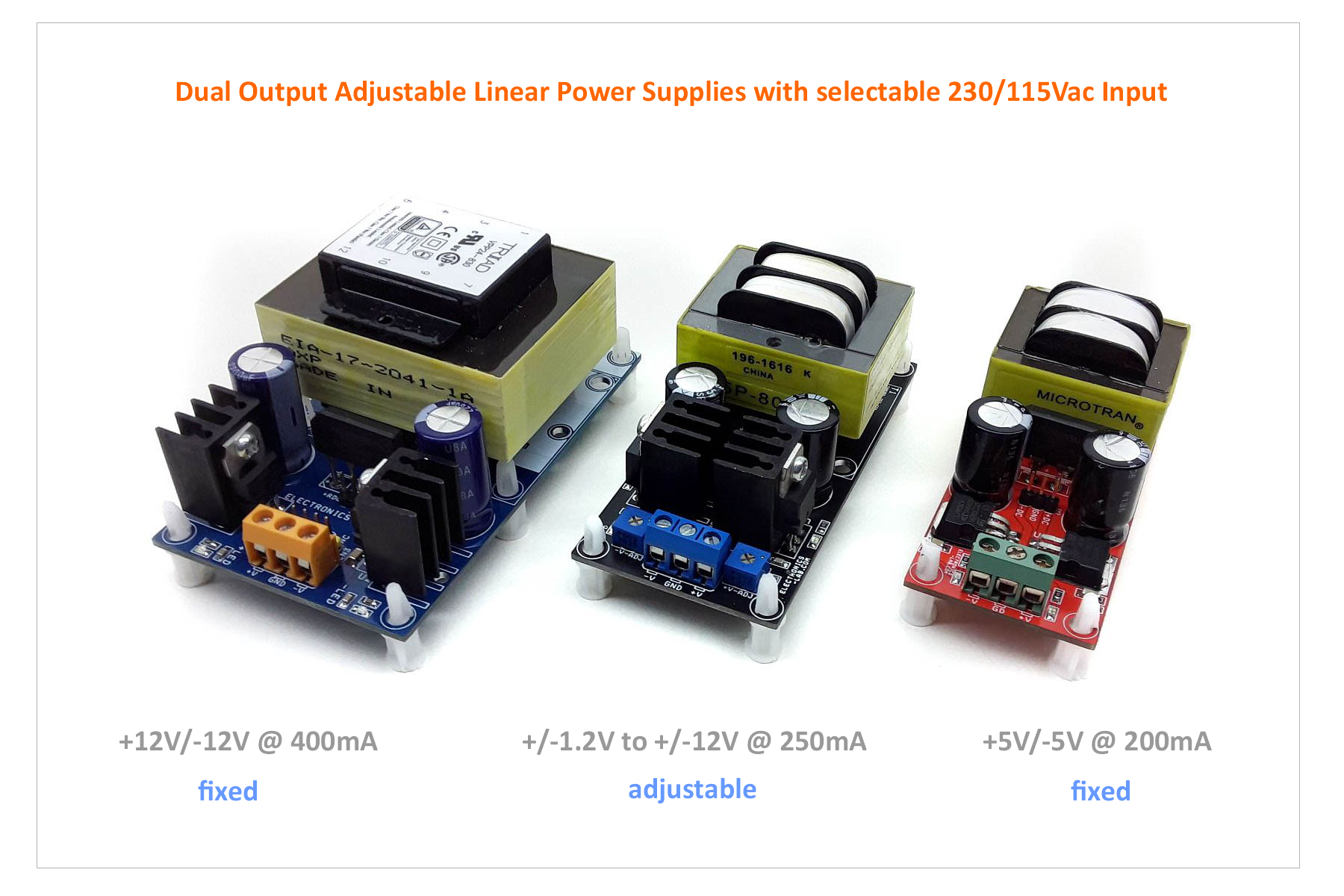 Features
Input 230V or 115V AC (Use Jumpers to Select 230V or 115V AC)
Output +/-12V DC (Dual Output)
Unregulated Output Approx. +/-17V (CN2)
Output Ripple Approx. 5mV
Maximum Load Current 800mA (+12V@400mA, -12V@400mA)
2 x Power LEDs, for 12V and -12V
Screw Terminal for AC Input
Screw Terminal for Regulated DC Output
3 Pin Male Header Provides Unregulated DC Output
4 Pin Male Header for Regulated DC Output
PCB Dimensions 99.06 x 58.74 mm
Schematic

Parts List
| NO | QNTY. | REF. | DESC. | MANUFACTURER | SUPPLIER | SUPPLIER PART NO |
| --- | --- | --- | --- | --- | --- | --- |
| 1 | 1 | BR1 | BRIDGE GBL08 OR GBL06 | VISHAY | DIGIKEY | GBL06-E3/45GI-ND |
| 2 | 1 | CN1 | 3 PIN SCREW TERMINAL PITCH 5.08MM | PHOENIX | DIGIKEY | 277-1248-ND |
| 3 | 1 | CN2 | 3 PIN MALE HEADER PITCH 2.54MM | WURTH | DIGIKEY | 732-5316-ND |
| 4 | 1 | CN3 | 4 PIN MALE HEADER PITCH 2.54MM | WURTH | DIGIKEY | 732-5317-ND |
| 5 | 1 | CN4 | 3 PIN SCREW TERMINAL PITCH 5.08MM | PHOENIX | DIGIKEY | 277-1248-ND |
| 6 | 2 | C1,C4 | 0.1uF/50V SMD SIZE 0805 | MURATA/YAGEO | DIGIKEY | |
| 7 | 2 | C2,C5 | 2200uF/25V | RUBYCON | DIGIKEY | 1189-3651-ND |
| 8 | 2 | C3,C6 | 10uF/25V SMD SIZE 1206 | MURATA/YAGEO | DIGIKEY | |
| 9 | 1 | D1 | RED LED SMD SIZE 0805 | LITE ON | DIGIKEY | 160-1427-1-ND |
| 10 | 1 | D2 | GREEN LED SMD SIZE 0805 | DIALIGHT | DIGIKEY | 350-2044-1-ND |
| 11 | 3 | J1,J2,J3 | JUMPER 2 PIN MALE HEADER PITCH 2.54MM | WURTH | DIGIKEY | 732-5315-ND |
| 12 | 2 | R1,R2 | 1.5K 5% SMD SIZE 0805 | MURATA/YAGEO | DIGIKEY | |
| 13 | 1 | T1 | VPP24–830 TRANSFORMER 12V-0-12VAC | TRIAD | DIGIKEY | 237-1071-ND |
| 14 | 1 | U1 | LM7812 | TI | DIGIKEY | 296-50628-ND |
| 15 | 1 | U2 | LM7912 | TI | DIGIKEY | LM7912CT/NOPB-ND |
| 16 | 2 | SHUNT | SHUNT FOR JUMPPERS J1,J2,J3 | SULLINS | DIGIKEY | S9001-ND |
| 17 | 2 | HT | HEATSINK | AVID | DIGIKEY | HS106-ND |
| 18 | 2 | SC | M3 SCREW X 10MM L | IO AUDIO | DIGIKEY | 1937-IO-M3X10/M3HN-50-ND |
Connections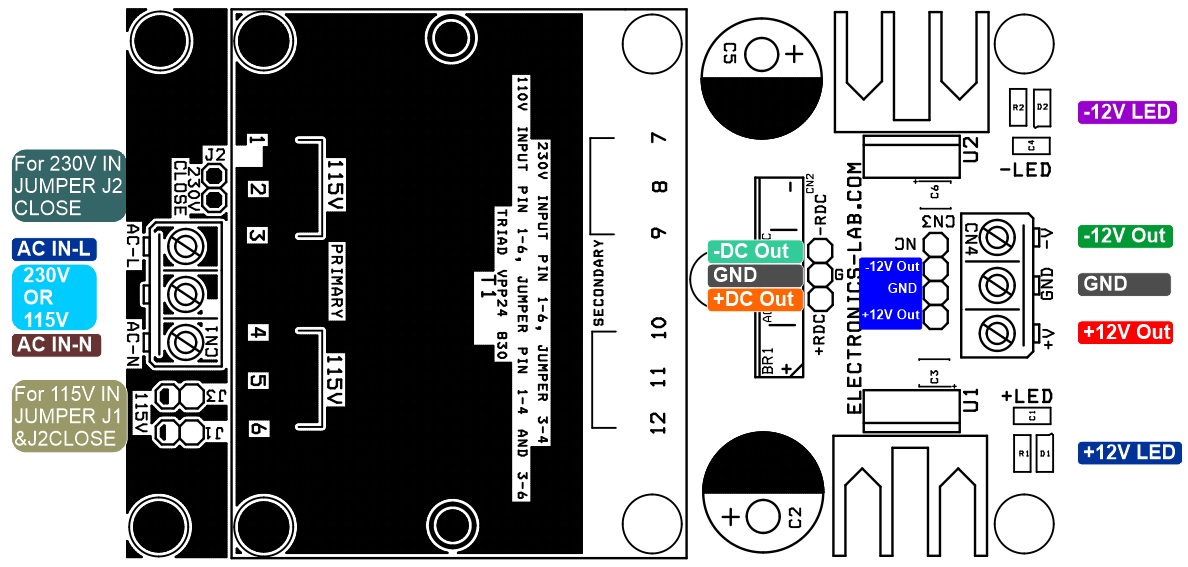 Gerber View
Photos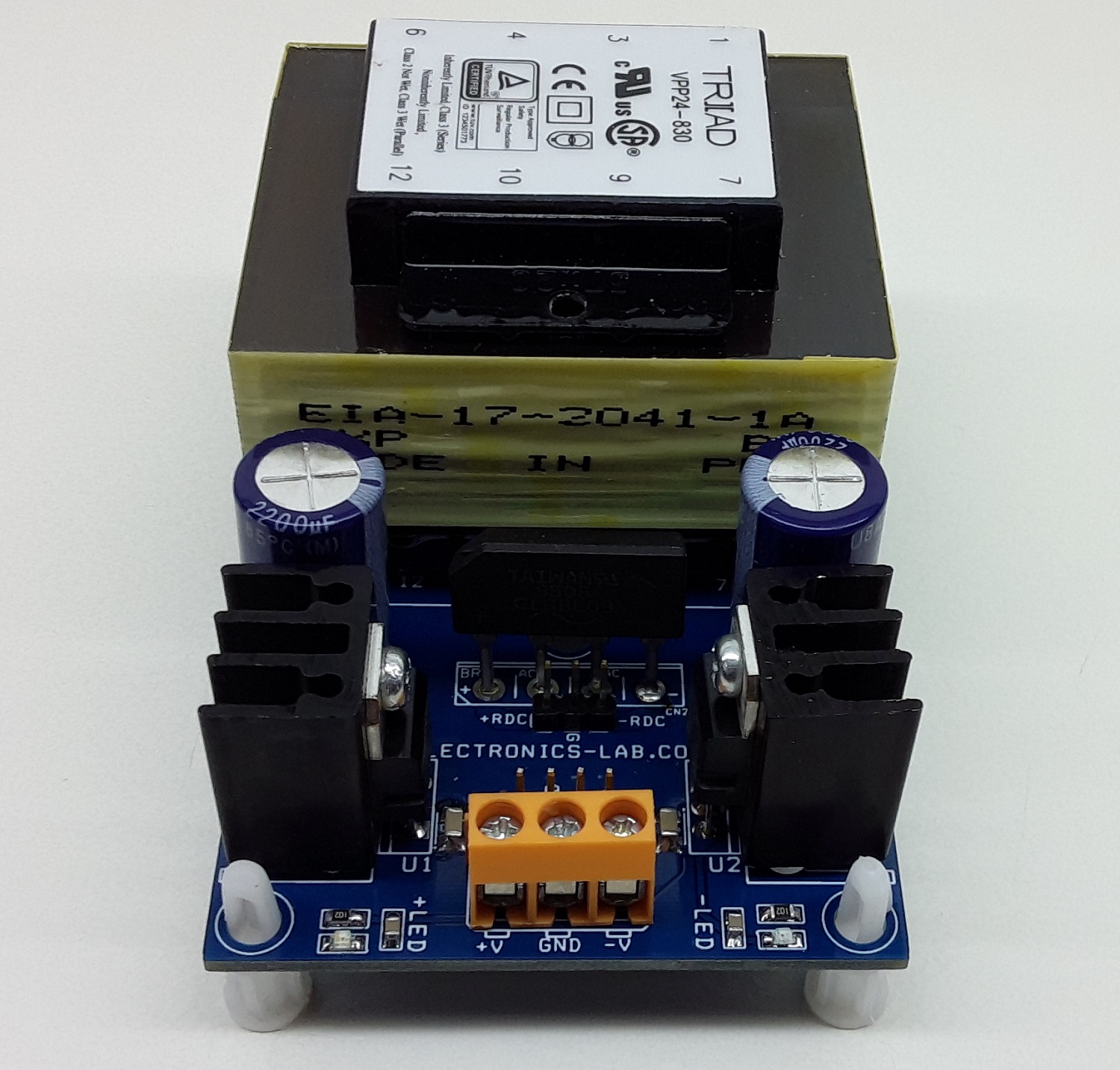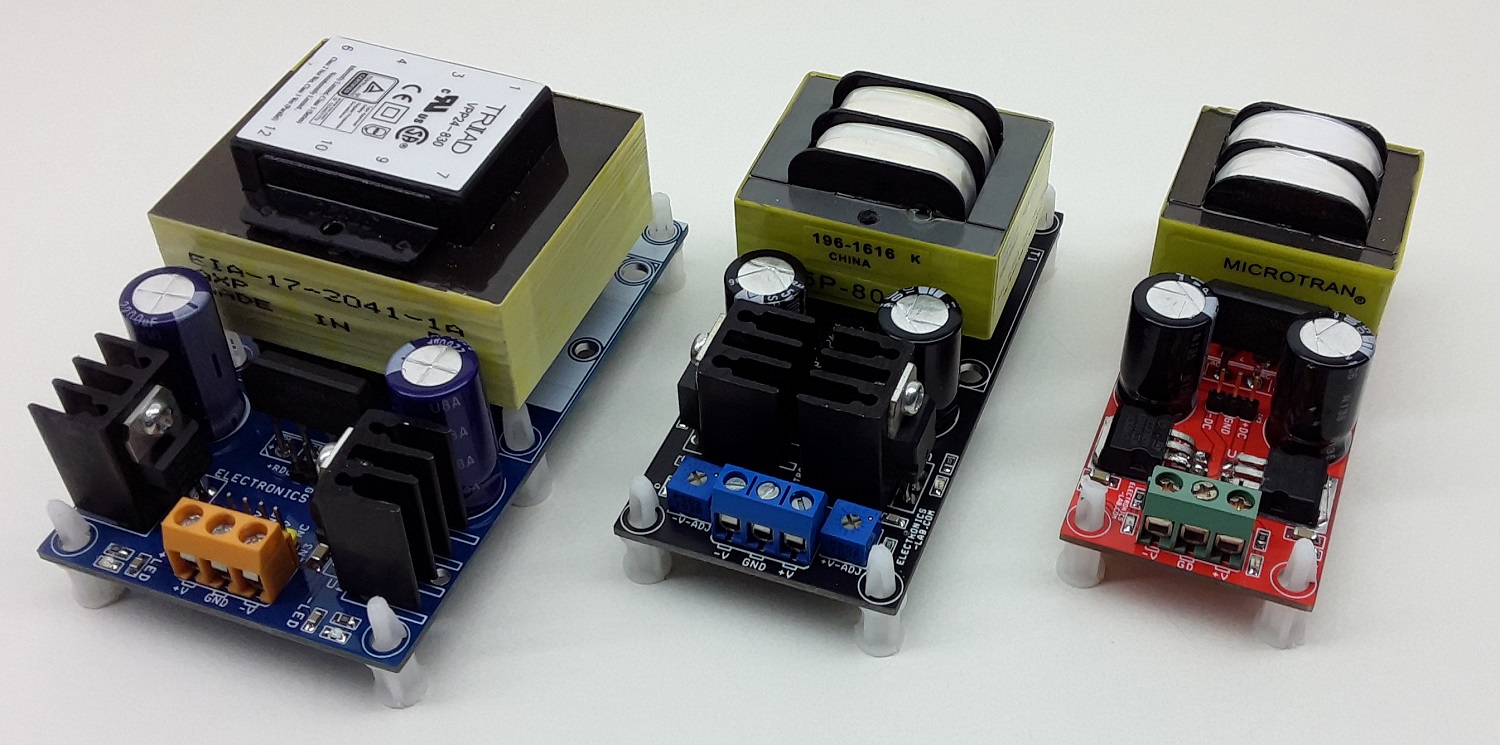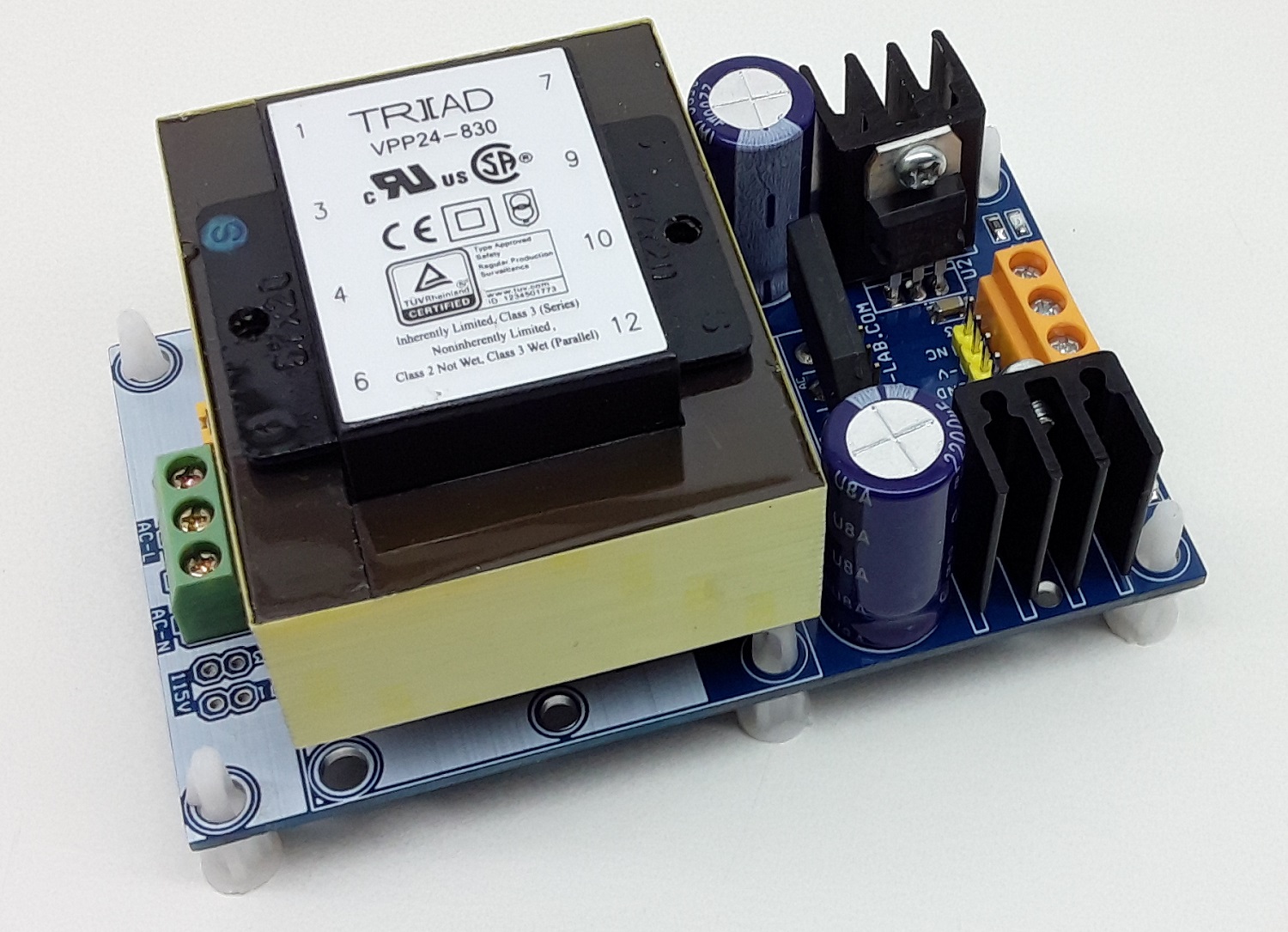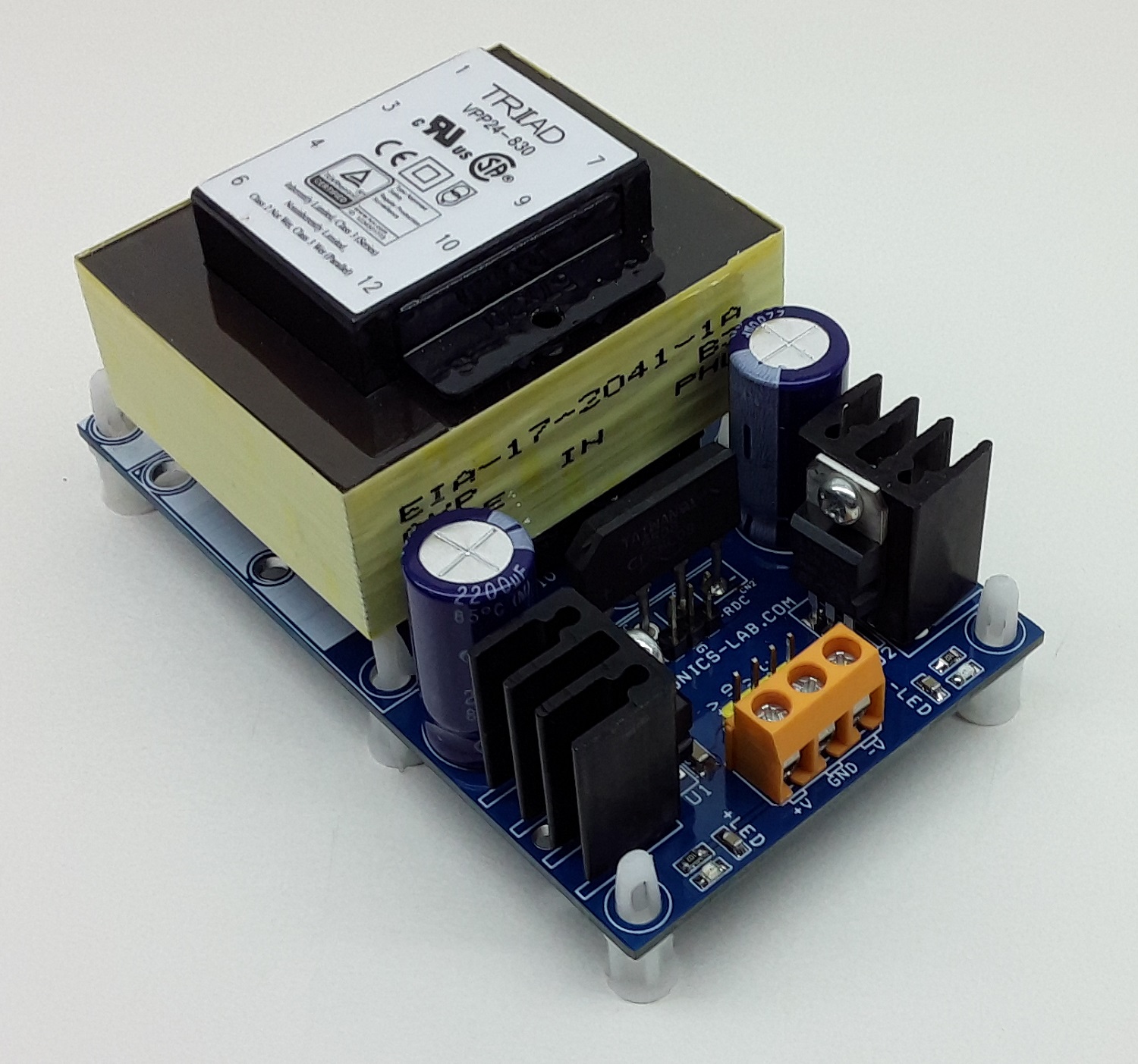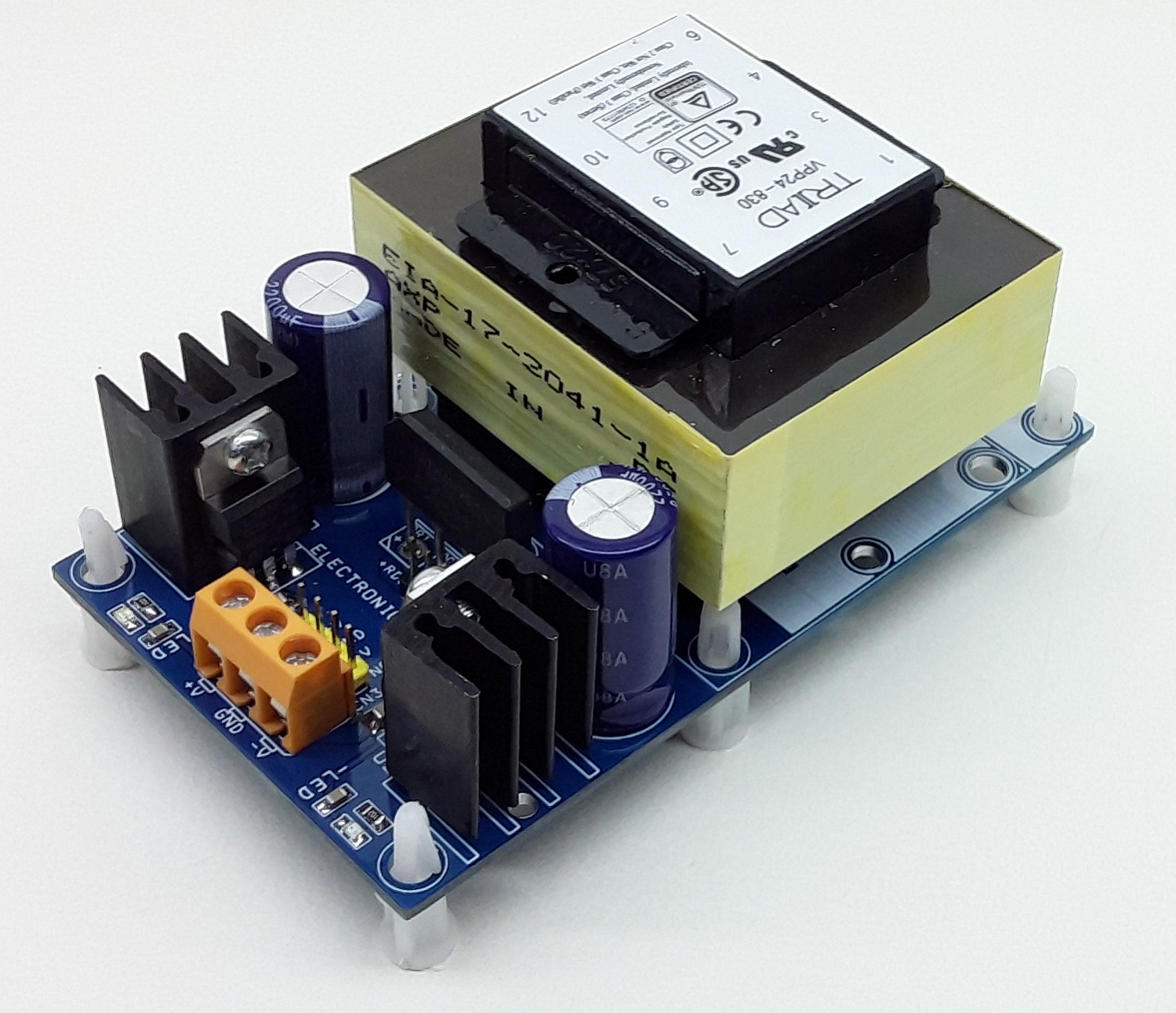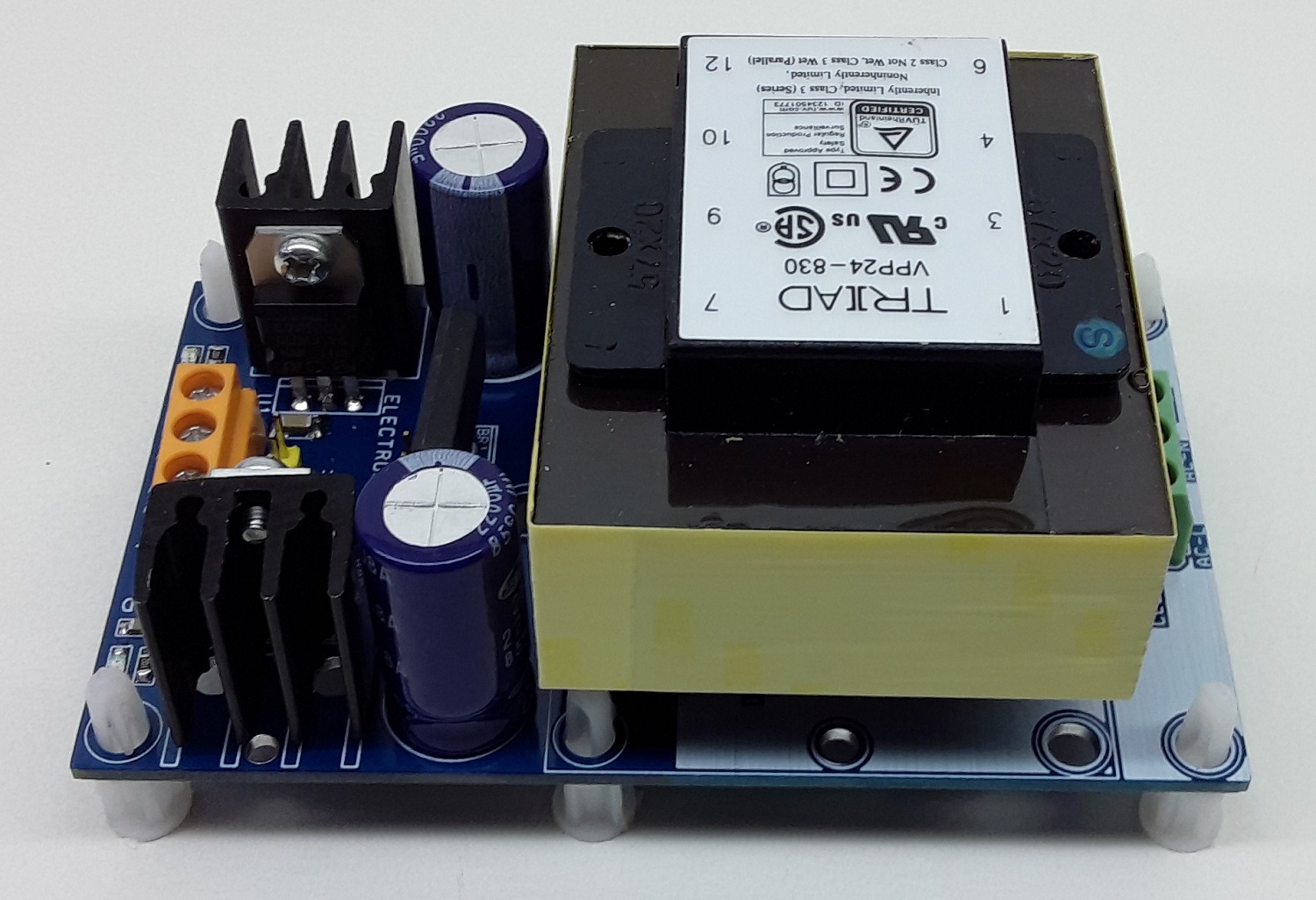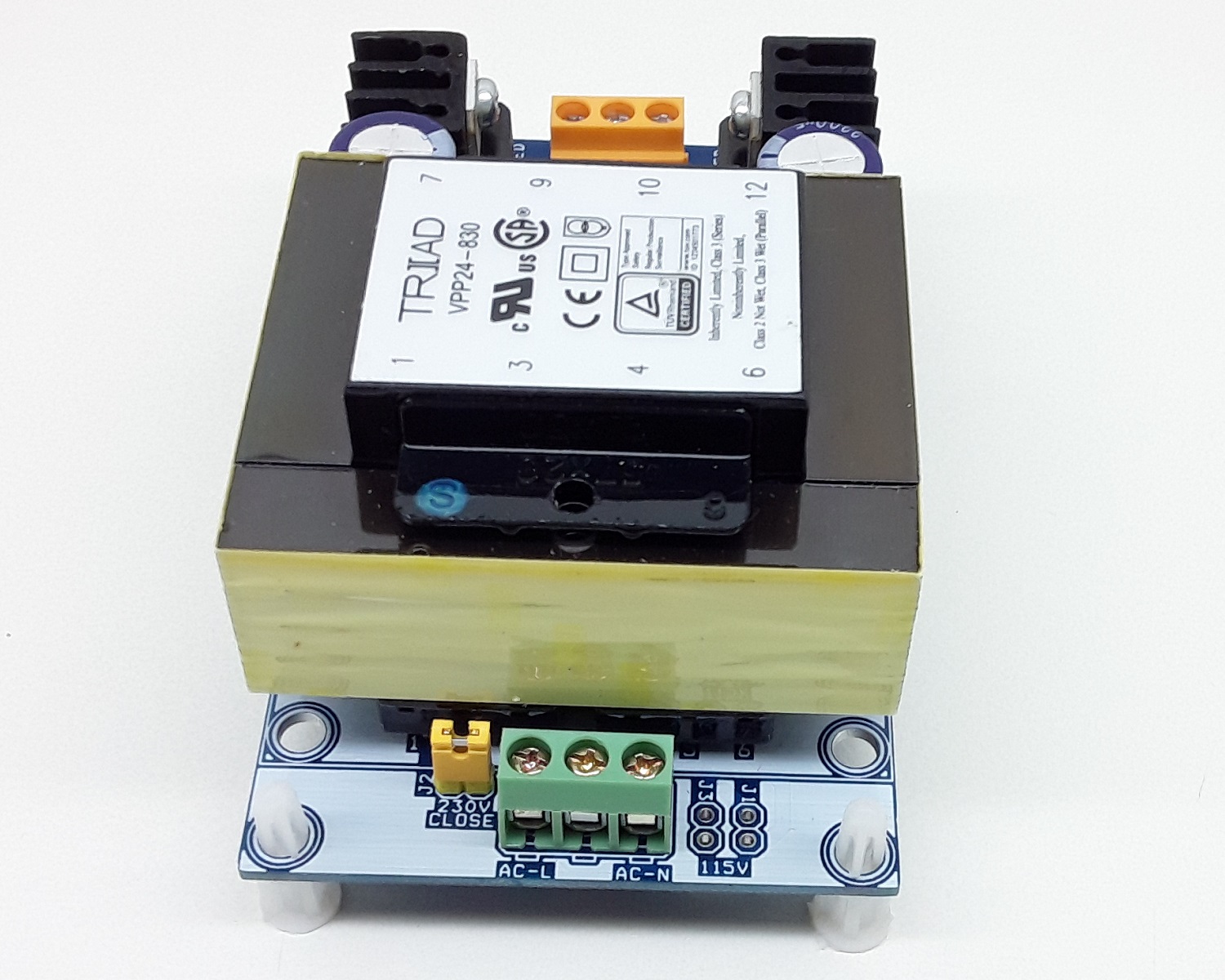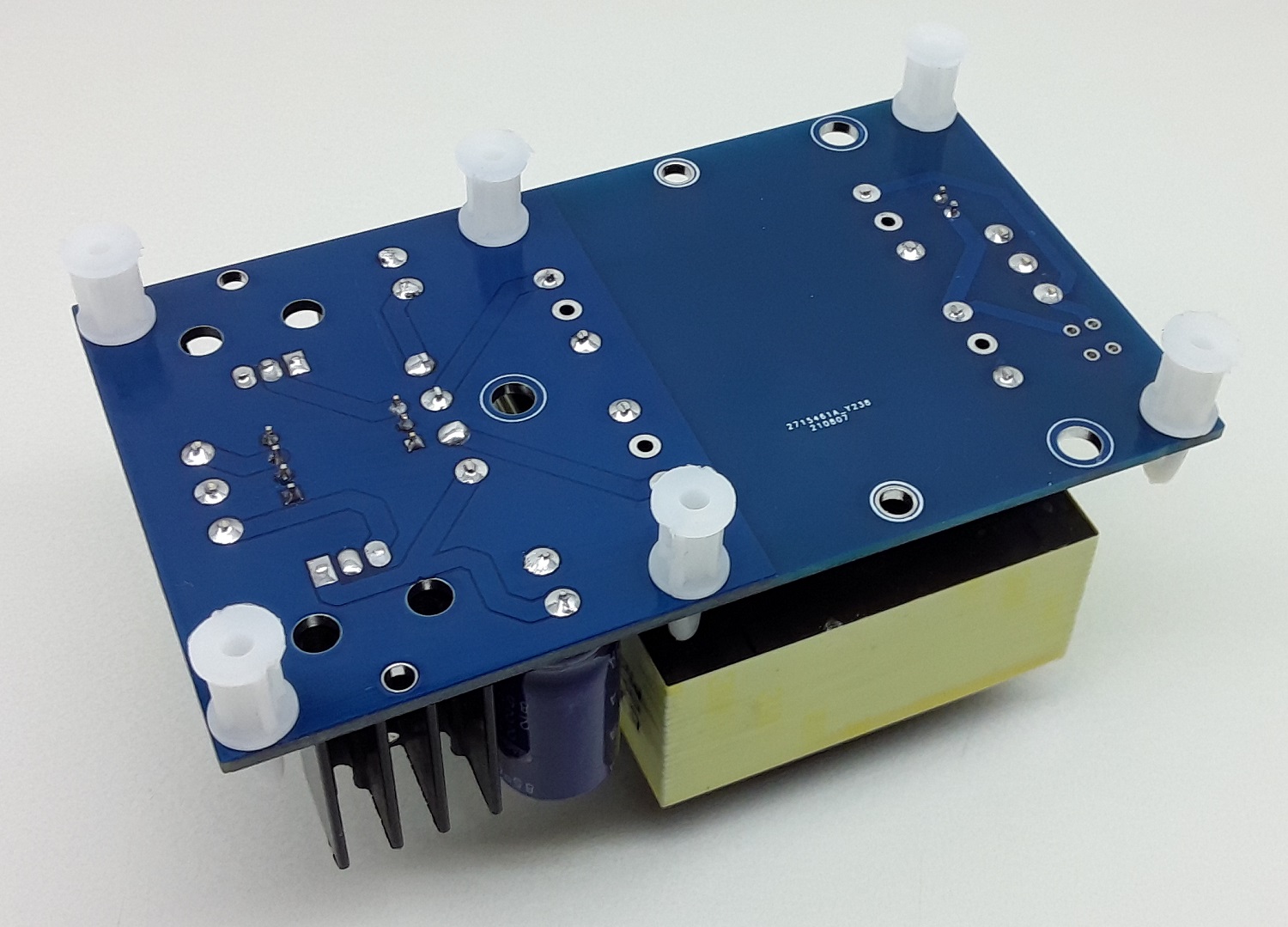 Video
LM7812 Datasheet