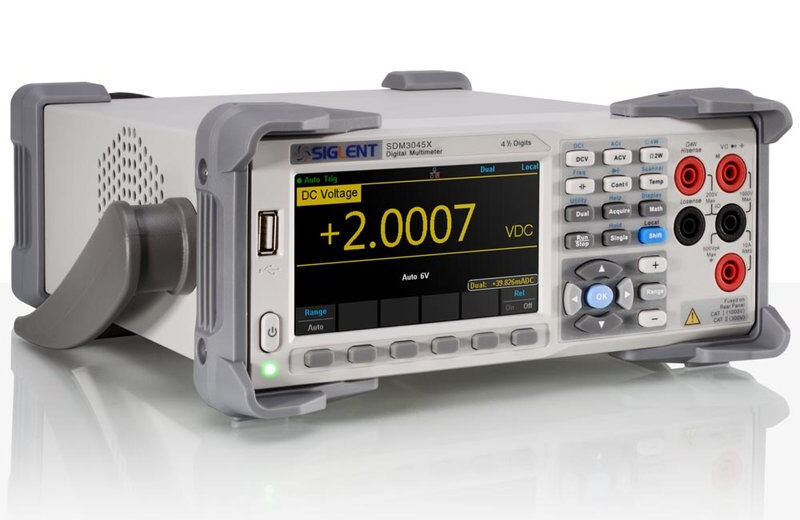 RS PRO RSDM3045X Bench Digital Multimeter
RS PRO RSDM3045X Digital Multimeter with 4 digits readings resolution (RSCAL)
Introducing the RSDM3045X digital multimeter from RS PRO, a highly reliable digital multimeter designed with 4 (66000 count) digits readings resolution and dual-display, ideal for high-precision, multifunction and automatic measurement. This multimeter features a clear and precise 4.3″ TFT-LCD display and user-friendly interface, providing an excellent user experience. The interface includes as standard: USB device, USB host, LAN. This durable electrical tester includes true-RMS AC Voltage and AC Current measurement features, with a 1GB Nand flash size for mass storage configuration files and data files. Also included is a built-in cold terminal compensation for thermocouple, offering a versatile meter for use in a wide range of applications.
Features and benefits
Real 4 digits readings resolution (66000 count)
Up to 150 rdgs/s measurement speed
True-RMS AC Voltage and AC Current measuring
1Gb Nand flash size, Mass storage configuration files and data files
Built-in cold terminal compensation for thermocouple
Easy, convenient and flexible any sensor measurement control software: Ultra Sensor
Standard interface: USB Device, USB Host, LAN
Support remote control via commands and compatible with commands of main stream multimeters
Built-in help system for enhanced user experience and troubleshooting
File management (support for U-disc and local storage)
Application
Digital Multimeters are a type of measurement device used to test and measure a range of electrical properties such as voltage (volts), current (amps) and resistance (ohms). Using a digital output readout, the digital multimeter is connected to a device and measures typically the voltage and any resistances, giving you an output you can measure. Digital multimeters offer a wide range of AC and DC measurement capabilities to suit a variety of applications. Multimeters are essential tester tools for carrying out electrical work from home renovations to large scale installations.
They are commonly used in applications such as:
Research Laboratory
Development Laboratory
Detection and Maintenance
Calibration Laboratory
Automatic Production Test
Basic measurement functions
DC Voltage: 600 mV – 1000 V
DC Current: 600 μA – 10 A
AC Voltage: True-RMS, 600 mV – 750 V
AC Current: True-RMS,60 mA – 10 A
2/4-Wire Resistance: 600 Ω – 100 MΩ
Capacitance: 2 nF – 10000 μF
Continuity Test: Range is fixed at 2 kΩ
Diode Test: Adjustable range is 0-4 V
Frequency Measurement: 20 Hz – 500 KHz
Period Measurement: 2 μs – 0.05 s
Temperature: Support for TC and RTD sensor
Max, Min, Average, Standard Deviation, dBm/dB, Relative Measurement, Pass/Fail Histogram, Trend Chart
The RSDM3045X is on sale at £560 from RS Online.
Join 97,426 other subscribers

Archives