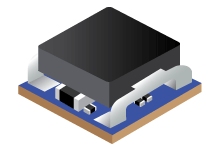 TPSM84824 – 4.5V to 17V Input, 0.6V-10V Output, 8A Power Module
The TPSM84824 power module is an easy-to-use integrated power supply that combines an 8-A DC/DC converter with power MOSFETs, a shielded inductor and passives into a small form-factor QFM package. This power solution allows as few as six external components while maintaining the ability to adjust key parameters to meet specific design requirements. Ultra-fast transient response can be achieved by use of the TurboTrans™ feature. TurboTrans allows the transient response to be optimized for reduced output voltage deviation with less required output capacitance.
The 7.5 mm × 7.5 mm × 5.3 mm, 24-pin QFM package is easy to solder to a printed circuit board and has excellent power dissipation capability. The TPSM84824 offers flexibilty with many features including power good, programmable UVLO, tracking, prebias start-up, as well as overcurrent and overtemperature protection making it a great product for powering a wide range of devices and systems.
Features
Integrated Inductor Power Solution
7.5 mm × 7.5 mm × 5.3 mm QFM Package

All Pins Accessible From Package Perimeter

Input Voltage Range: 4.5 V to 17 V
Wide-Output Voltage Range: 0.6 V to 10 V
Efficiencies up to 96%
Adjustable Fixed Switching Frequency
(200 kHz to 1.6 MHz)
TPSM84824 – 4.5V to 17V Input, 0.6V-10V Output, 8A Power Module – [Link]
Join 97,426 other subscribers

Archives