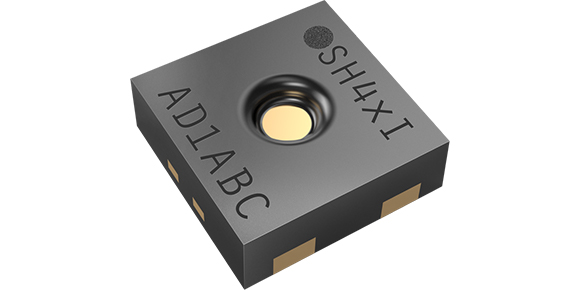 Digital humidity sensor for industrial applications is now available worldwide
Sensirion, the expert in environmental sensing, is unveiling its 5 V SHT4xI-Digital humidity sensor, which is designed for conducting measurements under harsh conditions in industrial applications.
Sensirion is expanding its series of fourth-generation humidity sensors to include its SHT4xI-Digital sensor platform, which has been designed specifically for challenging industrial applications. The series consists of two accurate versions SHT40I and SHT41I, which offer 5 V supply voltage, outstanding reliability, and increased ESD protection.
SHT4xI-Digital is based on Sensirion's proven CMOSens® Technology, which ensures maximum reliability, as demonstrated by extensive accelerated lifetime tests such as 85°C/85% RH for 1,000 hours. The sensor enables seamless integration with its wide operating voltage range, small size, and robust housing. Based on its features and Sensirion's advanced humidity sensing expertise, the SHT4xI-Digital is the perfect product for conducting measurements under harsh conditions in industrial applications. Like the SHT4x series, the sensors offer industry-leading accuracy specifications and unmatched cost-effectiveness. Sensirion's CMOSens® Technology provides a complete sensor system on a single chip, with a fully calibrated digital I2C fast mode plus interface. The sensor platform covers operating ranges from 0 to 100% RH and from -40°C to 125°C with a supply voltage extending from 2.3 to 5.5 V.
"The SHT4xI-Digital humidity and temperature sensor platform is our response to challenging industrial requirements; it enables reliable measurements in harsh and unfavorable environments. The sensor platform's robustness and extended supply voltage range allow long-term stability during operation in industrial applications. We are making a lasting contribution to our customers' project-related success by drawing on our many years of humidity sensing.
more information: https://www.sensirion.com
Join 97,426 other subscribers

Archives