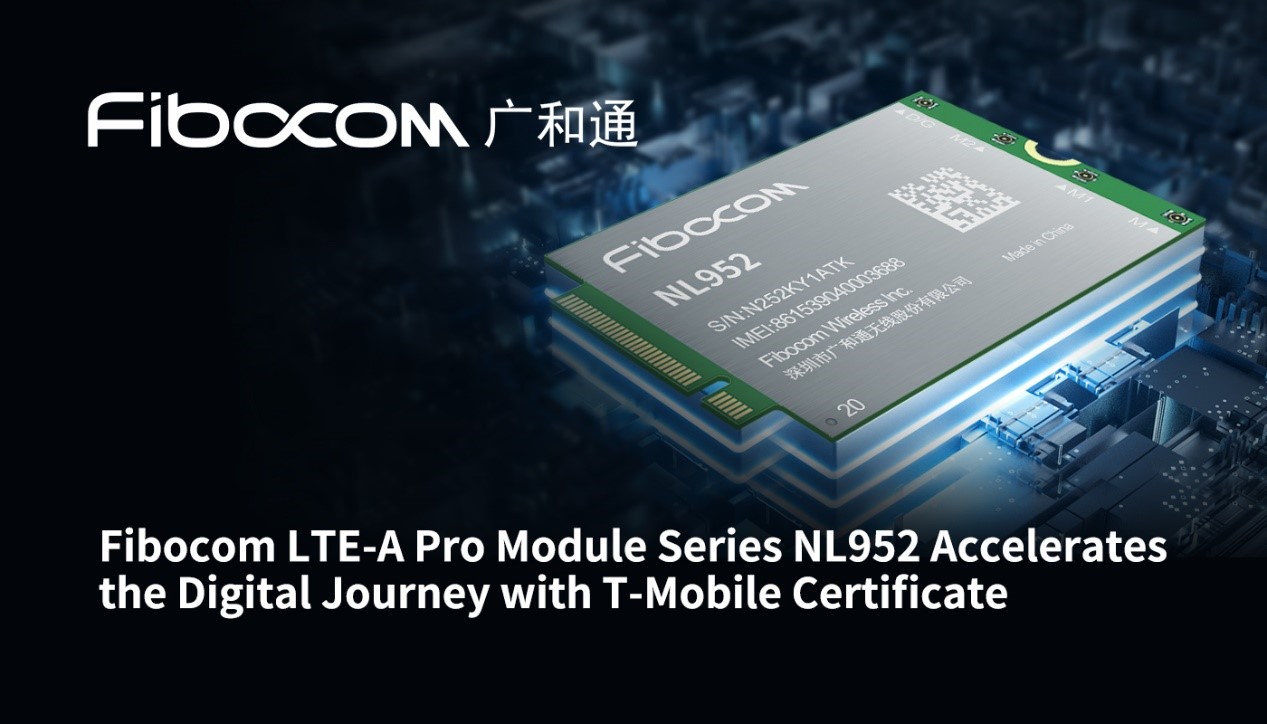 Fibocom LTE-A Pro Module Series NL952 Accelerates the Digital Journey with T-Mobile Certificate
Fibocom, a global leading provider of IoT (Internet of Things) wireless solutions and wireless communication modules, announces that its LTE Advanced Pro module NL952-NA has been successfully certified by T-Mobile. The module is now qualified to provide wireless connection services under T-Mobile's network, which further expands the product's application coverage over the US market.
Based on the Qualcomm Snapdragon X24 chipset, Fibocom's NL952 is a high-performance LTE-A Pro Cat 20 module series designed to provide high-speed connectivity in applications such as CPE, gateway, TV, VR, drone, etc. Coming with the M.2 form-factor, the Fibocom NL952 module series supports LTE/LAA network bands in addition to UMTS/HSPA+ fallback, which offers maximum data rates of 2Gbps downlink and 150Mbps uplink. With an integrated GNSS receiver (GPS/GLONASS/BeiDou/Galileo), Fibocom's NL952 module series supports Linux and Android operating systems as well as other functions including VoLTE, Audio, FOTA.
The module also supports various interfaces, including USB 3.0, PCIe 2.0, GPIO, UIM, I2C and MIPI, unleashing the potential of cellular technology to meet high-speed application demand. To date, the Fibocom NL952 module series has been globally certified by regional regulatory bodies and industry institutions, including IC/ FCC/ RoHs/ CE/ GCF/ RCM/PTCRB/ HF.
"We are very excited to announce the NL952-NA module has been certified by T-Mobile," said Ron Friedman, VP of Americas Sales Dept., Fibocom. "Fibocom continues to enable seamlessly IoT experiences and help to accelerate digital transformation globally. The Fibocom LTE-A module NL952 is capable of offering customers with the best cost performance for a wide range of IoT scenarios."
For more information, please visit:
Resources
Subscribe to Blog via Email
Join 97,587 other subscribers
Archives