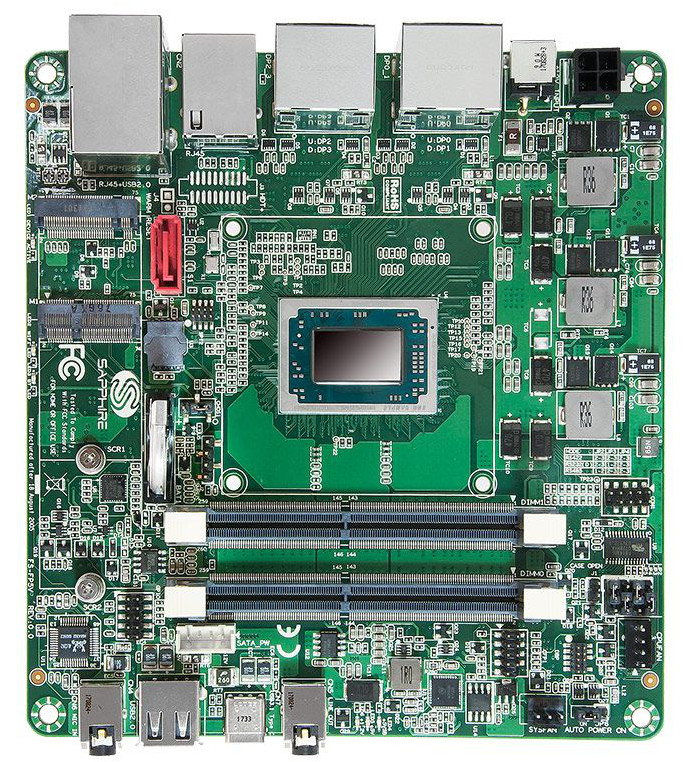 Sapphire's New FS-FP5V SBC Incorporates Ryzen Embedded V1000 SoC
Sapphire Technology, a Hong Kong-based technology company, has launched a 147.3 x 139.7mm Mini-STX (almost 5×5-inch) form factor SBC that runs Ubuntu 16.04 or Windows. It is powered by AMD's new Ryzen Embedded V1000 SoC. AMD's Ryzen V1000 is highly competitive on CPU performance with the latest Intel Core chips, and the Radeon Vega graphics with it, are superior enough for enabling four 4K displays to run at once.
The only other Ryzen V1000 based SBC, 120 x 120mm is Udoo Bolt, which ships to Kickstarter backers in December. Sapphire's commercial board FS-FP5V is available for sale now with shipments beginning later this month.
The FS-FP5V base model starts at $325, equipped with the dual-core, quad-thread V1202B version of the Ryzen V1000 with lower-end Vega 3 graphics. The three models with the quad-core, octa-threaded versions of the SoC go for $340, $390, and $450, with increasing clock speeds and graphics ranging from Vega 8 to 11.
Pricing, which does not include RAM or storage, seems to be a bit higher than the Udoo Bolt. The Bolt also adds an Atmega32U4 MCU for Arduino and Grove compatibility but is limited to the two lower-end V1000 SoC models. The FS-FP5V, which has up to 4x DisplayPorts, is more directly aimed at digital signage and other media-centric applications including electronic gaming, medical imaging, thin clients, and POS terminals.
This is Sapphire's first Mini-STX SBC. Its other AMD-based motherboards include AMD R-Series based Mini-ITX boards and some 4×4-inch eNUC form factor boards such as the G-Series based LX 210. A Sapphire representative says his company can make custom boards based on the Ryzen V1000. They also show a Kubb enclosure for the FS-FP5V from Bleujour, as well as an upcoming 2×2 digital signage display wall from Seneca Data that taps the FS-FP5V to generate 4x 4K displays.
The FS-FP5V is available now starting at $325, with shipments starting later this month. More information may be found on Sapphire's FS-FP5V product page.
Join 97,426 other subscribers

Archives