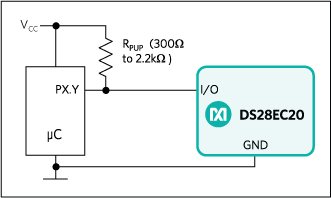 The American manufacturer of analog and mixed-signal integrated circuits, Maxim Integrated, has developed a new serial EEPROM memory that operates from single-contact 1-wire interface.
The DS28EC20 is a 20480-bit, 1-Wire® EEPROM organized as 80 memory pages of 256 bits each. An additional page is set aside for control functions. Data is written to a 32-byte scratchpad, verified, and then copied to the EEPROM memory.
The 1-Wire is a device communications bus system that provides low-speed data, signaling, and power over a single conductor. This technology uses only two wires; data and ground. It is similar in concept to I²C, but with lower data rates and longer range. It is typically used to communicate with small inexpensive devices such as digital thermometers and weather instruments.
DS28EC20 features:
20480 Bits of Nonvolatile (NV) EEPROM Partitioned into Eighty 256-Bit Pages
Individual 8-Page Groups of Memory Pages (Blocks) can be Permanently Write Protected or Put in OTP EPROM-Emulation Mode ("Write to 0")
Read and Write Access Highly Backward-Compatible to Legacy Devices (e.g., DS2433)
256-Bit Scratchpad with Strict Read/Write Protocols Ensures Integrity of Data Transfer
200k Write/Erase Cycle Endurance at +25°C
Unique Factory-Programmed 64-Bit Registration Number Ensures Error-Free Device Selection and Absolute Part Identity
Switchpoint Hysteresis and Filtering to Optimize Performance in the Presence of Noise
Communicates to Host at 15.4kbps or 90kbps Using 1-Wire Protocol
Low-Cost TO-92 Package
Operating Range: 5V ±5%, -40°C to +85°C
IEC 1000-4-2 Level 4 ESD Protection (8kV Contact, 15kV Air, Typical) for I/O Pin
Blocks of eight memory pages can be write-protected or put in EPROM-Emulation mode, where bits can only be changed from a 1 to a 0 state. The life-expectancy of the DS28EC20 is specified at more that 200 k erase/write cycles at 25 °C. The I/O pin has IEC 1000-4-2 Level 4 ESD protections (8 kV contact, 15 kV air).
Applications that can use the DS28EC20:
Card/Module Identification in Rack-Based Systems
Device Authentication
IEEE 1451.4 Sensors
Ink and Toner Cartridge ID
Medical and Industrial Sensor Identification/Calibration
PCB Identification
Smart Cable
Ordering DS28EC20 is available for about $1.7 per chip through Maxim website. You can also get design resources and technical documents of the chip.