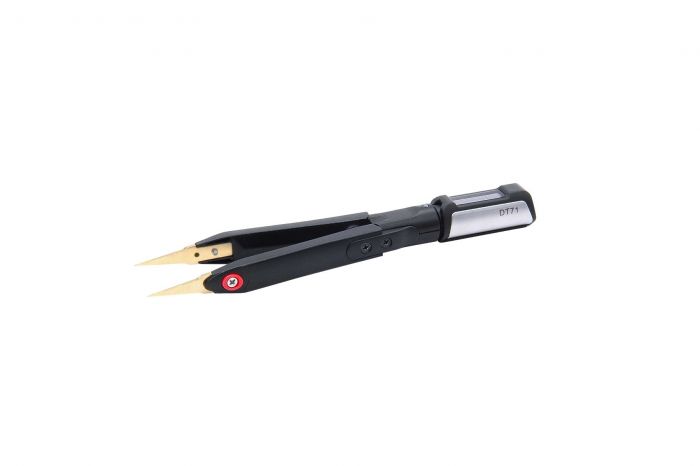 DT71 Mini Digital Tweezers
The all-in-one DT71 Mini Digital Tweezers is a measuring tool with full differential input measurement, capable of functioning as an LCR / ESR meter, a digital multimeter, or/and an SMD Tester.
Design with innovation and the highest user experience intentions, the DT71 subvert the appearance restrictions of traditional measuring instruments. It is compact by design and has a unique trinary structure that enables its separation into a digital controller, two testing arms, and two replaceable tweezer tips. Everything about its design is such that it brings comfort and an ease-of-use experience to the working professional. It comes with no physical buttons, but can be operated via a hidden touch button located at the top of the controller, and for long-lasting cordless operations, it comes two powerful lithium batteries (built-in) that promise a 10-hour non-stop operation on a single charge.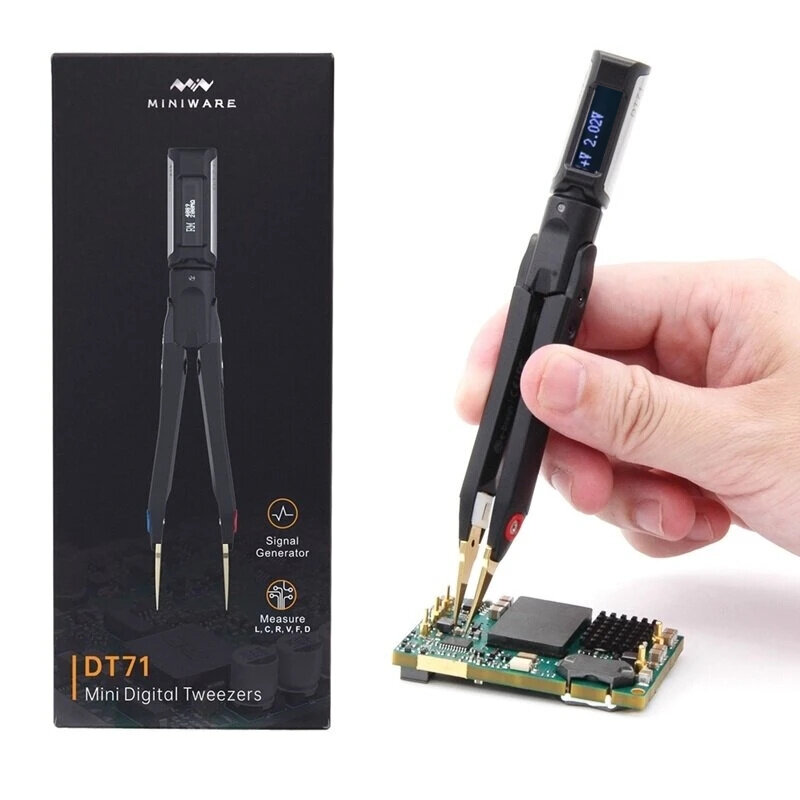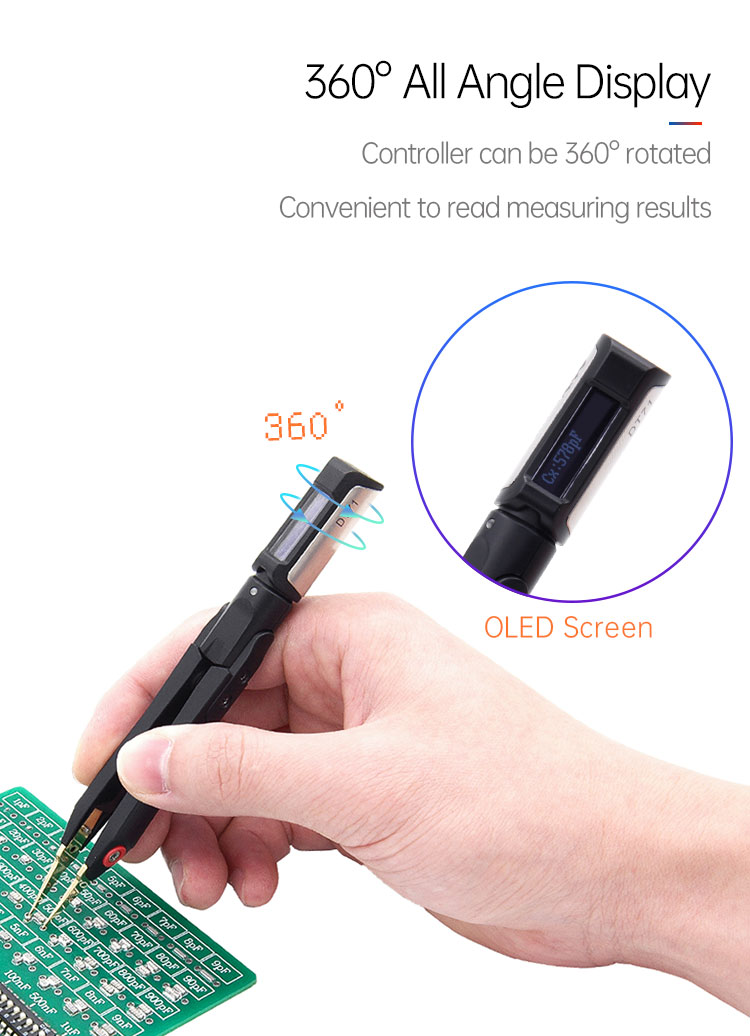 It is designed as the perfect bench/handy measuring instrument and can be used to automatically measure different parameters including; resistance, inductance, capacitance, frequency, voltage, and diode, continuity, and so on, giving both the primary and secondary parameters. It utilizes several kinds of replaceable gold-plated tweezer tips to meet various application needs and to enable a higher degree of accuracy in measurements.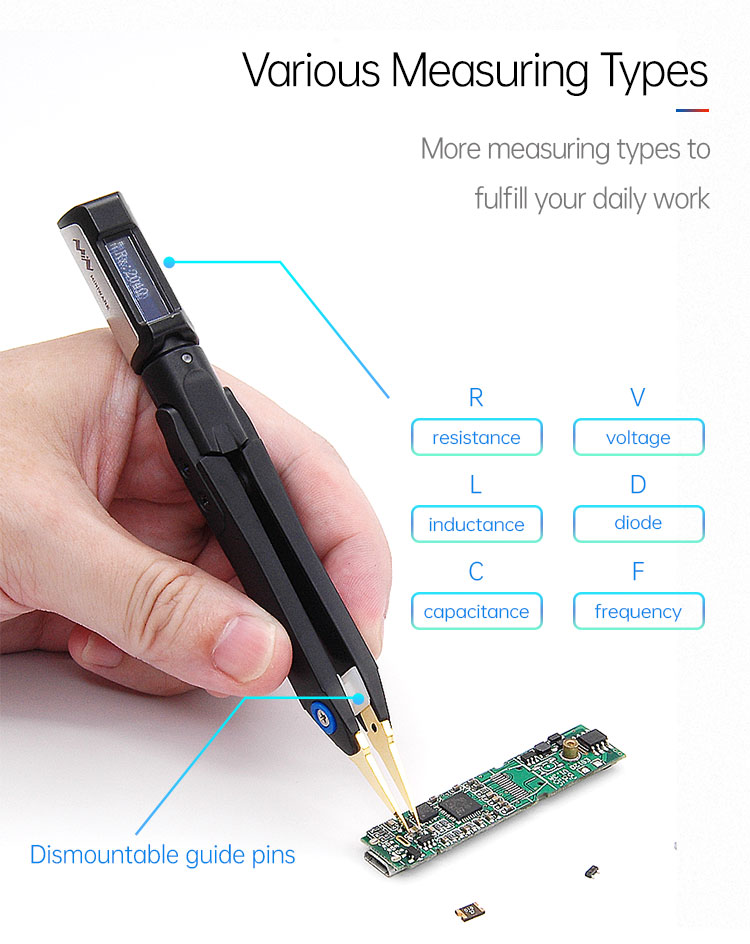 Some highlight features of the DT71 Tweezers as detailed on the product page include:
Innovative trinary structure that makes it easy to take apart and carry around. It can be separated into the controller, testing arms, and tweezer tips.
90 x 16 OLED display that is rotatable by 360°. Makes it easy to read parameters from any viewing angle.
Two magnetic elasticity test arms to help with grasping and easy clipping.
The absence of physical buttons but can easily be operated via a hidden touch button at the top of the controller.
Ability to automatically recognize left / right-hand operation and adjust the screen display accordingly.
Built-in big and dual lithium batteries to provide a longer standby time and balance to the test arms. (One full charge can last for 10 hours non-stop).
Ability to automatically measure resistor, inductor, capacitor, voltage, frequency, and diode.
Ability to automatically identify components just by grasping them lightly.
Ability to provide higher measurement accuracy in various usages, thanks to the variety of gold-plated interchangeable tweezer tips.
A built-in micro signal generator that can output multiple signals.
Dimensions: 153 mm x 20 mm
Weight: 22 grams
Charging time: 2 hours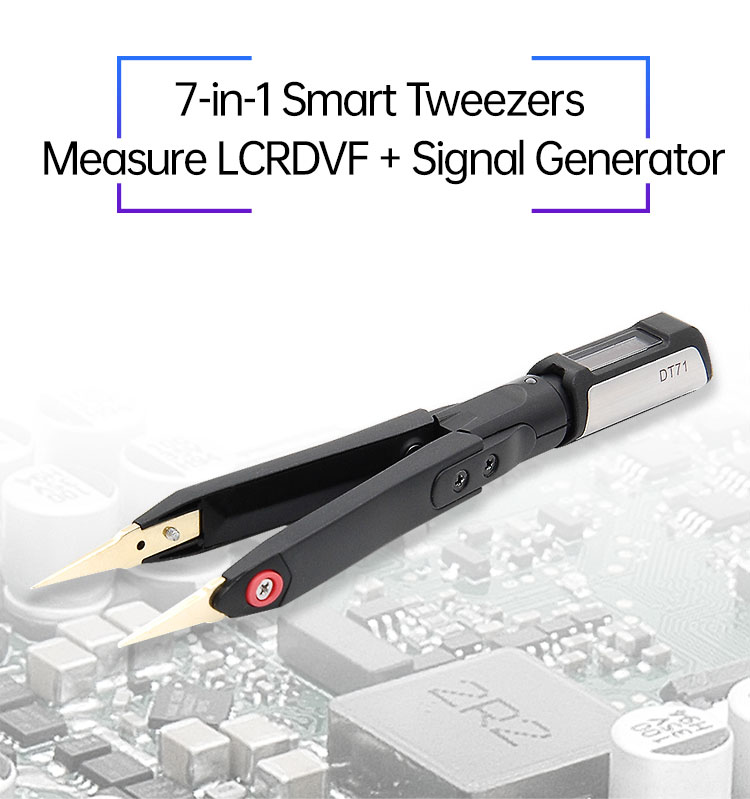 Among other things, the DT71 is perfect for classifying and detecting discrete chip components, as well as debugging and maintaining complex electronic systems. It can be used in the laboratories, workbenches, warehouses, and fields.
More details on the DT71 can be found on the company's product page, where it currently sells for $59.
Join 97,426 other subscribers

Archives