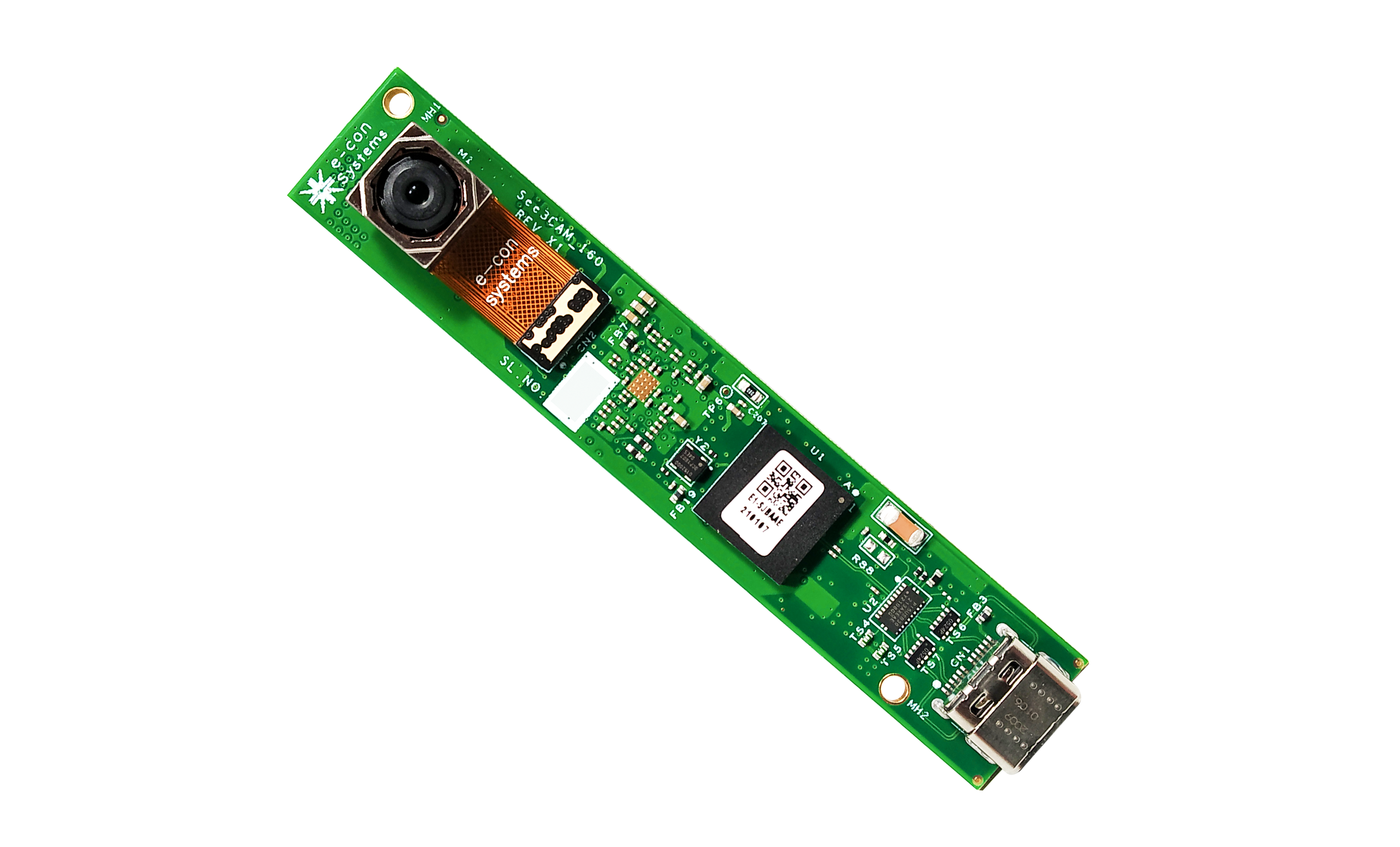 e-con Systems launches 16 Megapixel Autofocus USB3 Camera based on SONY IMX298
e-con Systems Inc., a leading embedded camera solutions provider launches a 16MP autofocus USB 3.0 color camera, See3CAM_160 based on the SONY IMX298 image sensor with an inbuilt Image Signal Processor (ISP).
See3CAM_160 is a compact single-board camera solution that houses the  e-CAM160_MI298_MOD camera module based on the 1/2.8″ IMX298 CMOS image sensor from SONY, and can stream 1080p (FHD) @30fps and [email protected]  See3CAM_160 comes with an Inbuilt ISP tuned to bring out the best-in-class image quality and color reproduction, making this camera adaptable to different lighting conditions. The ISP also supports multiple levels of digital zoom.
This high-resolution camera – with features like autofocus, zero shutter lag, small form factor, and digital zoom – is ideal for applications such as industrial rugged tablets, document scanners/readers, skin scanners, access control systems, Optical Character Recognition (OCR) etc.
"We are excited to launch See3CAM_160, our latest USB 3.0 UVC autofocus camera offering 16 million pixels of image data along with Digital Zoom, Zero Shutter Lag capture capability and high-performance auto-focus, all in a small form-factor with simple USB 3.0 interface. See3CAM_160 is our new workhorse in the stable of autofocus cameras. And with two times more pixels than 4K cameras, See3CAM_160 is best suited for applications requiring high-resolution image capture".,
said Ashok Babu, President of e-con Systems, Inc.
Key Features
16MP still capture with Zero-shutter lag.
Digital Zoom.
Uncompressed UYVY and compressed MJPEG formats.
USB 1 Gen1 device with Type-C reversible interface connector.
Compact form factor, Lightweight, versatile, and portable design.
Plug-and-Play setup (UVC compliant) for Windows and Linux.
See3CAM_160 is a Ready-to-Manufacture camera board with all the necessary firmware built-in and compatible with the USB Video Class (UVC) version 1.0 standard. This camera board will work with the standard drivers available in Windows and Linux OS without any additional driver installation. Being a plug-and-play camera, integrating See3CAM_160 into end products will help customers reduce their time to market and product development efforts.
The camera is exposed as DirectShow Capture source to Windows PC, and e-con Systems provides a sample DirectShow application that demonstrates the features of the camera. Any DirectShow compliant application such as Skype can work with this camera connected as a webcam. See3CAM_160 is exposed as a V4L2 camera, and e-con Systems provides a sample application for Linux OS as well. Customers can also develop customized applications for See3CAM_160 using standard V4L2 APIs.
Video
Availability
Customers interested in evaluating See3CAM_160 – 16MP Autofocus USB3 camera – can purchase the product from e-con Systems' online store.
Customization Services
e-con systems also offer extensive customization and integration support for the camera based on the end application requirements. If you have any queries related to the product, please contact us at camerasolutions@e-consystems.com.
Join 97,426 other subscribers

Archives