Edgefx Kits, Get Your DIY Project Kit Now!
Aiming to bridge the gap between the academics and industry in electronics, communication and electrical sectors, Edgefx Technologies was born at 2012 as an online store for project solutions.
Edgefx provides practical skill building solutions to the engineering students in the form of Do It Yourself (DIY) project kits. These kits support wide areas of electronics and communication, and also the latest trends like IoT, Android, Arduino, Raspberry Pi and many more.
Edgefx kits are easy to use and self-explanatory. They come with hardware and training material in the form of extensive audio-visuals and can be purchased online.
The company has grown to have a very strong focus on customer service, quality and morale of the staff and most of all, a passion for what we do. And although we're a team of almost 30 right now, nothing about us is corporate. We don't have multiple tiers of hierarchy. The vast majority of our employees work on the front lines, taking care of our customers or shipping items out of the Edgefx Fulfillment Centers.
The website contains more than 200 projects in about 15 different categories. Kits prices range from Rs. 1500 to Rs. 50000 (~ $23 to $750). In addition to the project kits, Edgefx also conducts practical workshops in colleges and schools.
School students, starting from 8 years old, can opt for school electronic projects that empowering them to innovate. It includes three basic level STEM kits and one intermediate level kit. All of these kits are edutainment and fun, with real time applications using latest technologies, and also can create multiple experiments.
Each basic kit has a three project inside, these projects are:
Security protection for museum items
Touch controlled fan
Touch me not LED warning
Bike theft alarm
Upside down  indicator for fragile item
Toll gate auto light LED
Security area protecting alarm
Auto door opening motor
Human detection under debries
The intermediate kit is an Arduino project kit. This project is designed for digital sensors solder-less Arduino projects on breadboard. It will light flasher of different color light on single LED each time on sensing finger swipe with the help of IR obstacle sensor. Also, the project makes different unique sounds on sensing each time.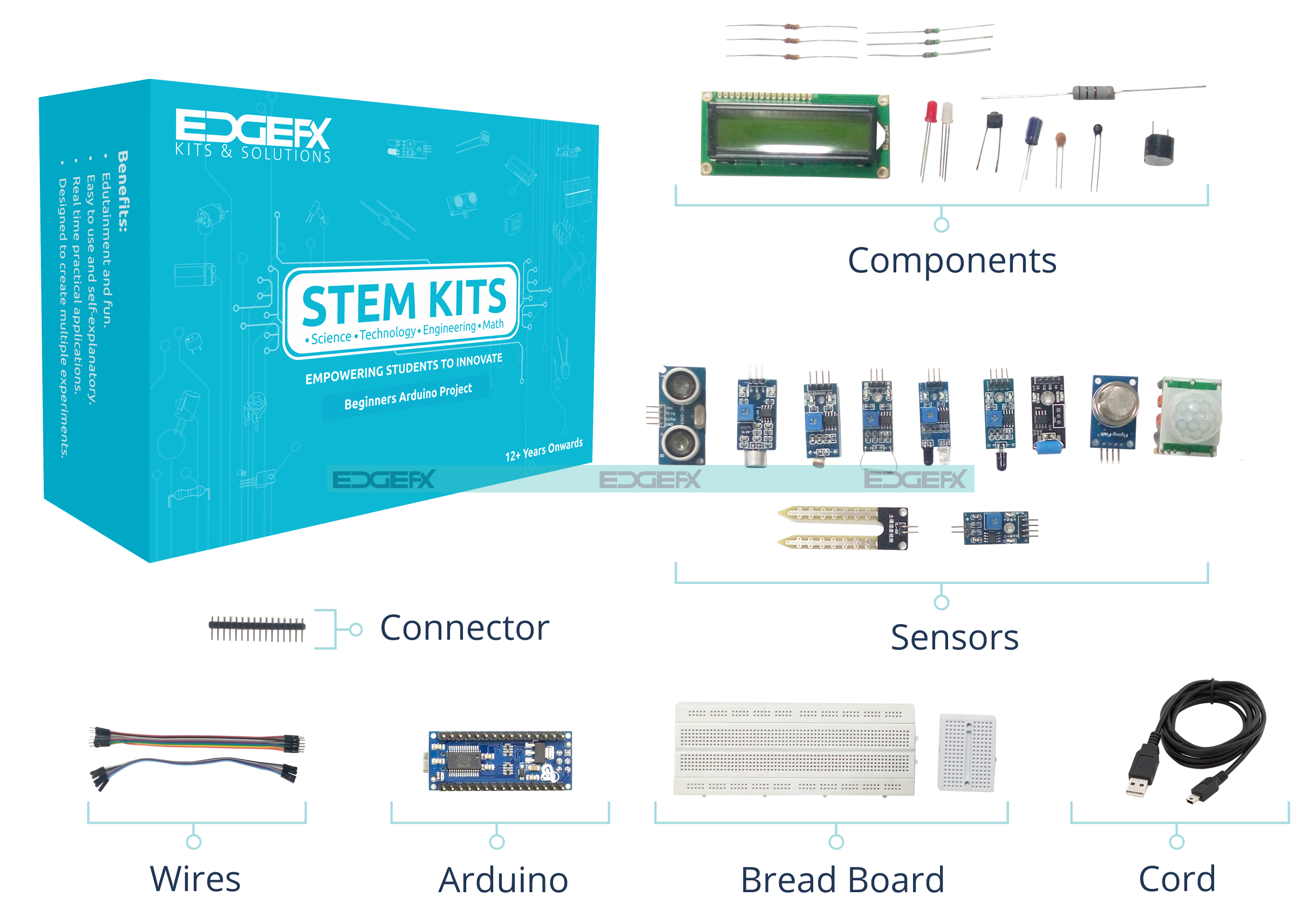 So, if you are searching for some project kits you have to visit the Edgefx store, explore the kits to find the project you want to make and then order it. In the end, don't forget to share with us your experience once you buy and use the kit!