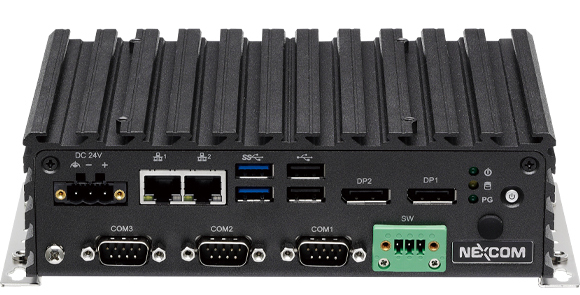 Efficiency Meets Practicality in the NISE 108 Industrial Gateway
Compact and streamlined, the NISE 108 is NEXCOM's newest industrial gateway. We've carefully selected each connectivity component to ensure your convenience and easy assembly. The thoughtful design further guarantees that the standalone embedded computer will withstand shock and vibration as well as effortlessly pair with display panels for use in, but not limited to, factory, agricultural, and service settings.
Make the connection, worry-free
The cableless connectors for two SATA storage devices allow the NISE 108 to resist shock and vibration while simultaneously avoid cable detachment, making it suitable for challenging operational environments, particularly in industrial situations. The four USB and three COM ports provide abundant interfaces for both modern and legacy devices, critical for factory automation and communication applications. Two GbE LAN ports also ensure that the fanless computer stays connected to your local network, while you can adapt the expansion mini-PCIe socket for wireless connectivity with an optional Wi-Fi/Bluetooth module – or even other I/O devices.
Three's not a crowd
The NISE 108 strategically includes two DP and one LVDS port for an effortless triple display setup, ideal for dual display of your critical data (DP) and a third touch screen (LVDS) for operational controls. The NISE 108 is thus especially appropriate for agro-industrial (e.g., temperature sensor monitoring, livestock counts) and service environments, such as gas stations (monitoring oil levels, then uploading to a centralized cloud for further assessments and follow-up).
Sleek and efficient design
In giving you, our customers, more value, the overarching design of the NISE 108 highlights its density and functionality. For convenience and easy access, all I/Os are now on the front interface, helping you maintain a well ordered work environment without the clutter of tangled cables. The I/O gateway's aluminum and metal chassis, fanless construction, and compact size, combined with pre-drilled threaded holes on the top cover, make it easy to install a VESA mount for assembling your own panel PC – or set up as a standalone computer, with or without wall mount bracket.
Main Features
Onboard Intel® Celeron® processor J3455 Quad Core, 1.50GHz
Dual independent display from DP1 & DP2
2 x Intel® I210-IT GbE LAN ports; support WoL, teaming and PXE
2 x USB 2.0 & 2 x USB 3.0
3 x COM ports (COM3 with RS232/422/485, jumper-free setting)
Supports both 2.5" HDD and M.2
Supports -5~55°C operating temperature
Supports 24 VDC input
No pricing or availability information was provided for the NISE 108. More information may be found in announcement and product page.
Join 97,426 other subscribers

Archives