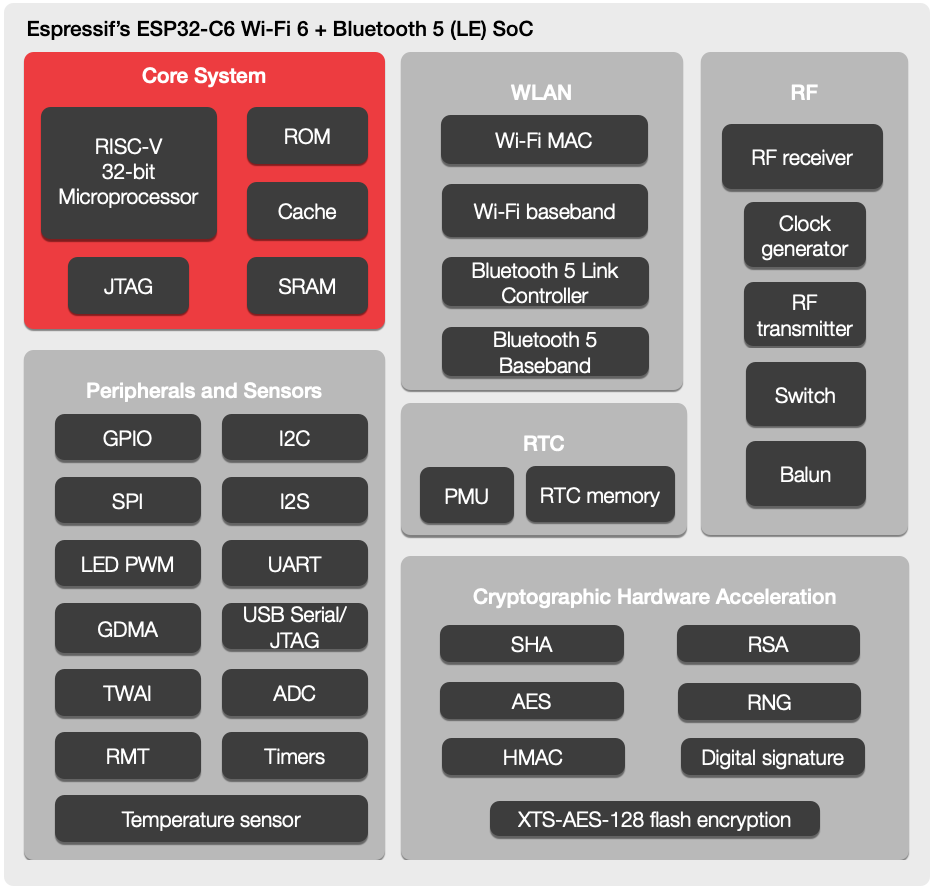 Espressif Systems has announced a new ESP32-C6 WiFi 6 And Bluetooth 5 LE RISC-V SoC For IoT Devices
Well, it seems Espressif Systems has not been resting on their oars as we have to see quite some interesting products from them lately.
Towards the end of last year, the company successfully launched their very first RISC-V wireless SoC with ESP32-C3 single-core 32-bit RISC-V SoC offering both 2.4GHz WiFi 4 and Bluetooth 5.0 LE connectivity. Now they have announced another RISC-V processor with ESP32-C6 single-core 32-bit RISC-V SoC clocked @ up to 160 MHz with 2.4 GHz WiFi 6 (802.11ax) and Bluetooth 5 LE connectivity.
As noted by Espressif Systems, the ESP32-C6 is basically the same as the ESP32-C3 but with WiFi 6 radio.
"ESP32-C6 is unique in that it packs 2.4 GHz Wi-Fi 6 (802.11ax) radio that also supports the 802.11b/g/n standard for backward compatibility. This Wi-Fi 6 support is optimized for IoT devices, and the SoC supports a 20MHz bandwidth for 802.11ax mode and a 20/40MHz bandwidth for 802.11b/g/n mode. The 802.11ax mode supports a station interface, and it offers greater transmission efficiency and lower power consumption."
Here are some of the key features and Specifications that we expect to see in the ESP32-C6 chip:
32-bit RISC-V single-core processor clocked at up to 160 MHz
384KB ROM
400KB SRAM (16 KB for cache)
8KB SRAM in RTC
SPI, Dual SPI, Quad SPI, and QPI interfaces for external flash and/or PSRAM
2.4 GHz 802.11ax Wi-Fi 6 with 20 MHz bandwidth
2.4 GHz 802.11b/g/n WiFI 4 with 20/40MHz bandwidth, 1T1R mode with data rate up to 150 Mbps
Bluetooth 5 LE radio with support for long-range operation and support for 2 Mbps of high throughput PHY.
Up to 22x GPIOs
2x 12-bit SAR ADCs, up to 6 channels
3x SPI, 2x UART, 1x I2C, 1x I2S
Remote control peripheral, with 2 transmit channels and 2 receive channels
1x Temperature sensor
LED PWM controller, up to 6 channels
Full-speed USB Serial/JTAG controller
General DMA controller, with 3 transmit channels and 3 receive channels
1x TWAI controller compatible with ISO 11898-1
Power Management Unit with five power modes
Security Features: RSA-3072-based secure boot, AES-128-XTS-based flash encryption, digital signature, HMAC peripheral for identity protection, and cryptographic accelerators for improved performance
The processor will be supported by the company's mature IoT Development Framework (ESP-IDF) as well as the ESP-Hosted and ESP-AT firmware for those who would want to control the new processor from an external host.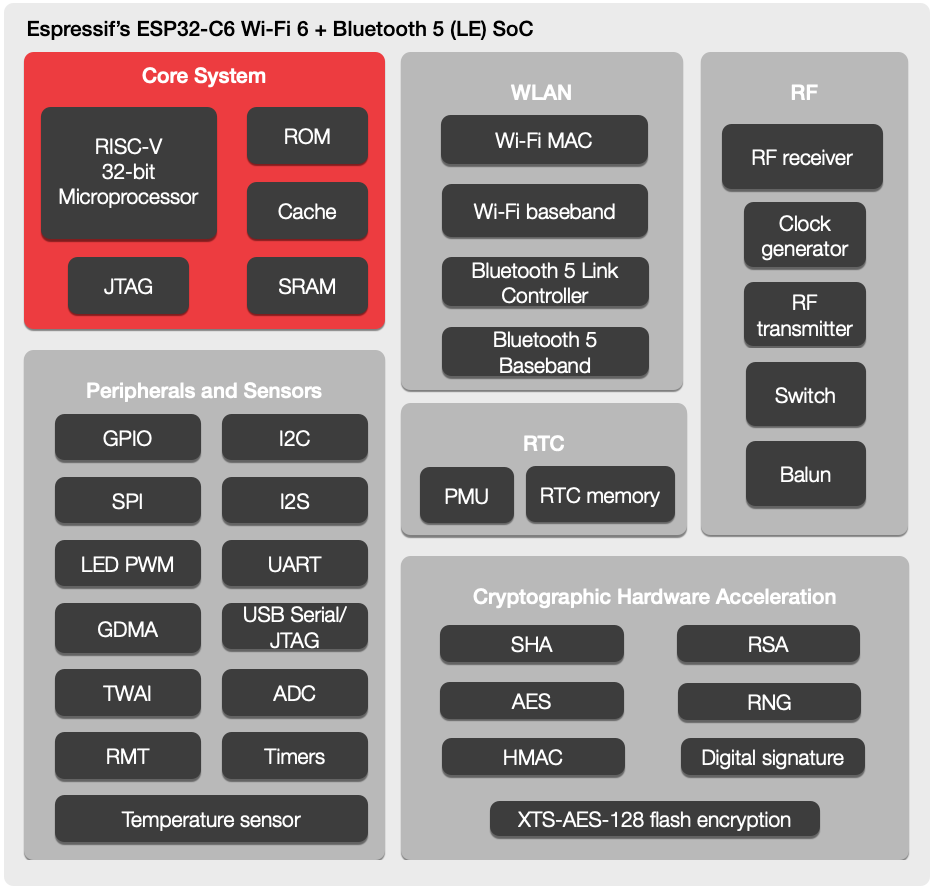 Pricing and availability details are still unknown but you can contact the company's customer support team if you have any questions or inquiries concerning the WiFi 6 processor. Further details may be found in the press release.
Join 97,426 other subscribers

Archives