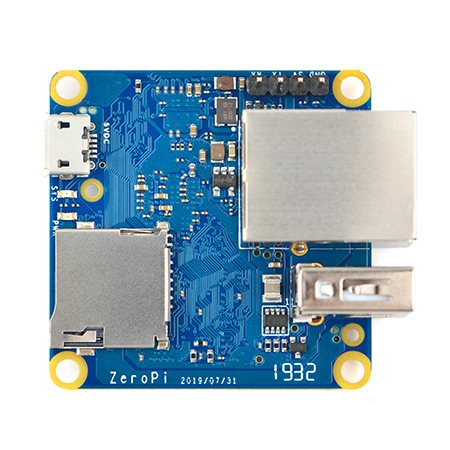 FriendlyELEC ZeroPi is a Tiny Allwinner H3 SBC with Gigabit Ethernet, USB, an Optional SPI Flash
FriendlyELEC has recently launched a new family of boards called the "ZeroPi". While they go by a name similar to that of the Arduino Zero Compatible development kit for robotic motion structure systems, the FriendlyElec ZeroPi boards are tons different as they feature an Allwinner H3 processor, a Gigabit Ethernet and are very similar to the fairly popular NanoPi NEO boards but they do not come with any I/O headers asides from breakout pins for serial communication.
The board was designed for users who would be connecting most of their peripherals over USB which explains why it does not come with headers. The board comes with a Micro SD card slot through which the operating system is booted but it also comes with the option to boot from the network (without the need of a microSD card) via the SPI flash.
Some of the ZeroPi specifications are highlighted below:
CPU: Allwinner H3, Quad-core Cortex-A7 Up to 1.2GHz
DDR3 RAM: 256MB/512MB
Connectivity: 10/100/1000Mbps Ethernet
USB Host: Type-A x 1
MicroSD Slot x 1
MicroUSB: for power input only
Debug Serial Port: 4Pin, 2.54 mm pitch pin header
Power Supply: DC 5V/2A
PCB Dimension: 40 x 40 x 1.2mm
Working Temperature: -20℃ to 70℃
Weight: 15g
OS/Software: u-boot, UbuntuCore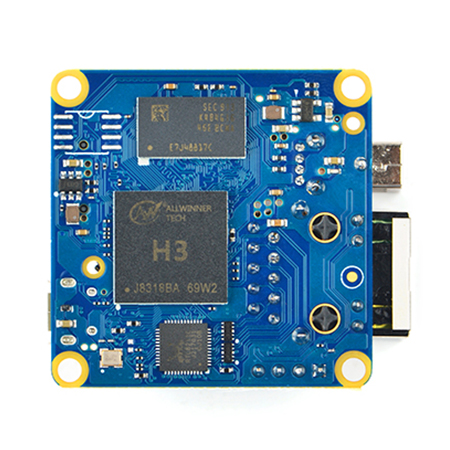 The ZeroPi runs the FriendlyElec's FriendlyCore distro which users will need to download and flash there SD Card with. Since the FriendlyCore is based on the same distro like Debian, Ubuntu, OpenWrt, and DietPi, it comfortably supports any of them and they can all be used as the operating system for the ZeroPi. The compatibility with friendly core also brings support for the features listed below to the ZeroPi:
Support LCDs with both capacitive touch and resistive touch
Support WiFi (USB WiFi)
Support Ethernet
Supports Bluetooth
Supports audio playing (HDMI Audio)
Supports USB cameras and other USB Peripherals
Supports Qt 5.10.0 EGLES and OpenGL ES1.1/2.0
The 512Mb RAM version of the board is currently on sale for $12.99 on FriendlyELEC store with a metal or acrylic enclosure add-on for a few extra dollars. More information on the boards can be found on the product page or the ZeroPi wiki page.