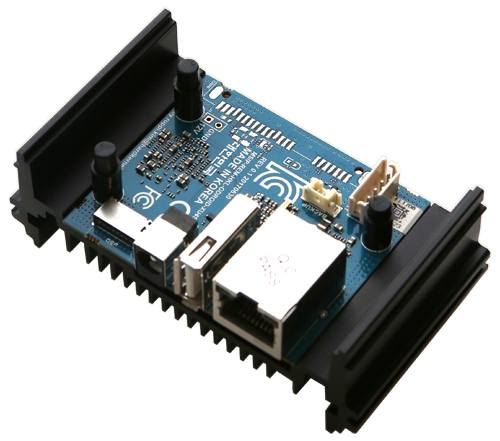 Hardkernel Launches A Single-unit Version Of Its 32-core Odroid-MC1 Cluster Computer
Hardkernel has produced a single-unit version of its four-unit, 32-core Odroid-MC1 cluster computer for running Docker Swarm, Build Farm, and other parallel computing applications. The design offers greater flexibility for users to combine Odroid-MC1 Solo units for a "single unit, 2, 3, 4, 5, 6, or n stackable cluster". The octa-core Odroid-MC1 Solo costs $48. Combing one or more Solo units with the original 4-unit MC1 acts as a single cluster.
The Odroid-MC1 Solo and Odroid-MC1 use an Odroid-XU4S SBC that is similar to the SBC that powers the Odroid-HC2 network attached storage (NAS) device. Both boards are smaller, stripped-down, headless version of the open-spec Odroid-XU4 SBC.
Like the Odroid-HC2 board, the MC1 board has removed the XU4's HDMI port, 2x USB 3.0 ports, optional eMMC, and 30- and 12-pin GPIO connectors. Like the Odroid-XU4, the boards are powered by the Samsung Exynos5422 SoC with four Cortex-A15, four Cortex-A7 cores, and Mali-T628 GPU.
All these boards are equipped with 2GB LPDDR3 (in a PoP configuration), as well as a GbE port, USB 2.0 host port, and a bootable microSD slot with UHS-1 support. The XU4s used on the Odroid-MC1 lacks the one additional feature found on the HC2 NAS computer that is a USB 3.0-based SATA port.
The new Odroid-MC1 Solo board, including the stacking case, measures 92 x 42 x 29mm. These boards are powered by a 5V/4A power supply. A UART, an RTC with battery connector, as well as "M3 x 8mm" self-tapping screws are also there on this board. The XU4-compatible Linux image is based on Kernel 4.14 LTS.
Key Specs:
CPU  Samsung Exynos5422 ARM® Cortex™-A15 Quad 2.0GHz/Cortex™-A7 Quad 1.4GHz
DRAM Memory  2Gbyte LPDDR3 RAM PoP (750Mhz, 12GB/s memory bandwidth, 2x32bit bus)
GPU  Mali™-T628 MP6 OpenGL ES 3.1 / 3.0 / 2.0 / 1.1 and OpenCL 1.2 Full profile
Micro-SD Slot  UHS-1 compatible micro-SD slot up to 128GB/SDXC
USB2.0 Host  HighSpeed USB standard A type connector x 1 port
LEDs  Power, System-status
Gbit Ethernet LAN  10/100/1000Mbps Ethernet with RJ-45 Jack ( Auto-MDIX support)
Power Input  DC Barrel Jack Socket 5.5/21.mm for 4.8V~5.2V input
Size   92 x 42 x 29 mm
The Odroid-MC1 Solo is available now for $48. More information may be found at Hardkernel's Odroid-MC1 Solo shopping page.
Join 97,426 other subscribers

Archives