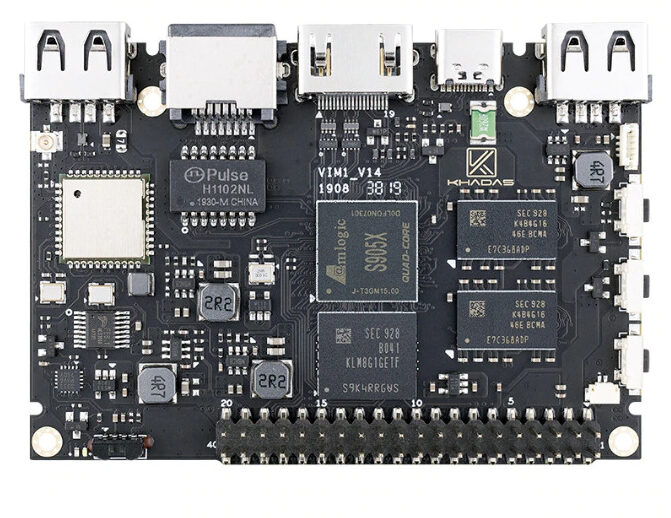 Khadas VIM1 Board Features Amlogic S905X Quad Core ARM
VIM1 is the original Amlogic S905X ARM development board designed by Khadas for hobbyists, makers and electronic lovers, which is also often referred to as an "Open Source TV Box". It is tiny, and slightly smaller than a Raspberry Pi, with dimensions similar to that of a credit card. The VIM1 is only available in two versions: VIM1 Basic with 8GB EMMC storage and AP6212 (b/g/n) Wi-Fi, and VIM1 Pro with 16GB EMMC storage and AP6255 (b/g/n/ac) Wi-Fi. Both versions offer 2GB of DDR3 RAM and Bluetooth 4.2.
Like your conventional desktop computer, the VIM1 single board computer supports the booting of multiple operating systems. They say:
You can choose from a variety of OS images (ROMs) from our Khadas Docs or Community Forum. Popular OSes include: Android 7.1 / 9.0, Ubuntu 18.04, LibreELEC, Armbian, Buildroot, and so on. There are even dual-boot images, for developers to boot both Android and Ubuntu from the same EMMC."
One feature developers will like is the built-in 40-pin GPIO, real-time-clock (RTC) and VIN port for an extra power supply. Also, the three user-buttons on the side enables easy access to power, reset and function keys. You can find full open source code on Github, and hardware schematics can be found in Khadas' documentation. Khadas also includes a built-in power control unit for supporting power-cycling via a remote control.
Talking about the edge VIM1 has over VIM2, they say:
"In comparison with the Octa-Core Amlogic S912 SoC in the VIM2, the Quad-Core S905X SoC in the VIM1 generates significantly less heat. This makes the VIM1 especially useful in environments that only allow passive air convection for heat dissipation, rather than forced airflow. In many instances, a single heatsink is sufficient, and some users may even find a heatsink unnecessary for their applications."
The VIM1 enables 2GB DDR3(1866Mbps), 8GB of EMMC V5.0, AP6212(b/g/n) Wifi, and Bluetooth:4.2. It supports USB Type-C USB2.0 OTG & 5V DC IN. The VIM1 HDMI 2.0a is Type-A Female, with up to 4K@60Hz, and it features a 12GB Max TF Card Slot. It also features a dual channel IR receiver. GPIOs includes:USBx2,I2Cx2,UARTx2,SPDIF,PWM,ADC,GPIOs. It is also equipped with Red+Blue LEDs indicators.
Khadas targets to develop high-performance SBCs with better quality for both beginners, makers, and developers, it comes with open source, professional technical support, and an global community for issue discussion & idea sharing. Khadas aspires to help the makers grow by achieving their ideas and dreams step by step.
Some of the prominent features includes:
Multi-O/S (Support Multi O/S Boot)
VIN Port for Extra Power Supply
Built-in RTC: Support timer on/off (Android testing method: Settings—>Timer)
40-Pin GPIOs, can be developed other kinds of products you want.
Technology Community Forum
Three user buttons: more easy for developers
Encryption chips
Full open source code on Github
Tiny size like a credit card 82.0 x 57.5 x 11.5 mm
Support cooling fan
Built-in power controller unit: Support power on/off via remote controller
USB2.0 HOST:x2(500mA & 900mA each respectively)
Mounting Holes:Size M2*4
The VIM1 is available on AliExpress for $44.99. More information about the VIM1 can be found on Khadas' website.
Join 97,426 other subscribers

Archives