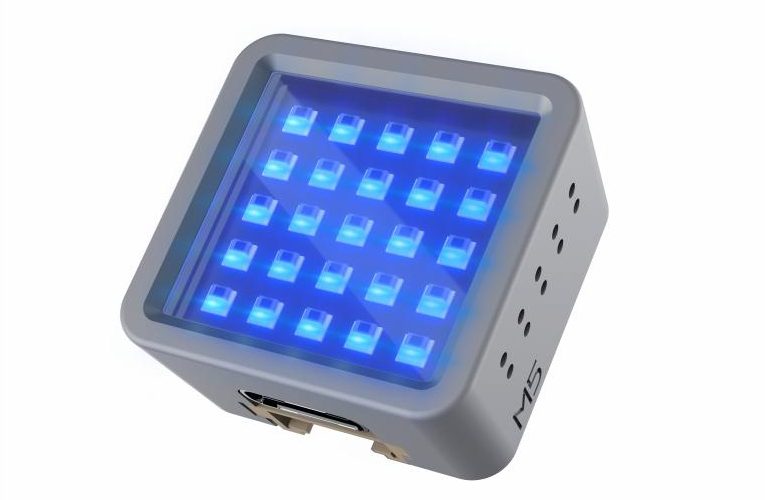 M5Stack ATOM – Smallest ESP32 Development Board for Portable Embedded and IoT Projects
The ESP32-based M5Stack ATOM from Espressif is the smallest (24 x 24mm) development board available in the market, which is designed for portable embedded systems and IoT development projects. M5Stack is the most cost-effective product due to its small size and there is no battery integrated to it. The M5Stack has two types of units in the ATOM series, ATOM Matrix, and ATOM Lite.
The ATOM Matrix is the most compact development board in the M5Stack development kit series with tons of features such as Wi-Fi, Bluetooth, 5×5 RGB LED Matrix with a push button, an IMU sensor (MPU6886), and six GPIOs. The MCU is Espressif's ESP-PICO System-in-Package (SiP) module. The ATOM Lite is cheaper when compared to the ATOM Matrix because ATOM Lite is fairly minimal with a status LED and a button.
The ATOM can be embedded in devices that are needed to be connected to the internet such as smart-home controllers, alarm, temperature and humidity-sensors, smart keys, etc. ATOM's sensors could also be used in the collection of manufacturing data or for developing a centralized controller in industrial automation application scenarios for better production efficiency and to prevent unforeseen breakdowns.
ATOM Matrix and ATOM Lite can be programmed using Arduino, Microphython, Visuino, and UIFlow (a Web-based IoT programming system developed by M5Stack). The Blockly visual interface is clear and easy to program.
Features of ATOM Matrix
USB Type-C and ESP32 PICO-based
4 MByte flash
Designed with 1 Programmable button, 5 × 5 RGB LED matrix panel, an Infrared LED and a Reset button
2.4G SMD Antenna: Proant 440
MPU6886 Inertial Sensor
6 × GPIOs (Dupont Pins)
4 Pin PH2.0 interface
Program Platform: MicroPython, Arduino
Product Size: 24 × 24 × 14mm, Product weight: 1g
ATOM Lite
USB Type-C and ESP32-based
Case Material: PC + ABS
4 MByte flash
Designed with a  Reset button, a Neo LED, a Programmable button and an Infrared
2.4G Antenna: Proant 440
6 ×* GPIO (Dupont Pins)
4P PH2.0 interface
Program Platform: MicroPython, Arduino
Product Size:24 × 24 × 10mm,Product weight: 1g
Visit the Product page of M5Stack ATOM on the official website of Espressif to know more about the product.
[via]
Join 97,426 other subscribers

Archives