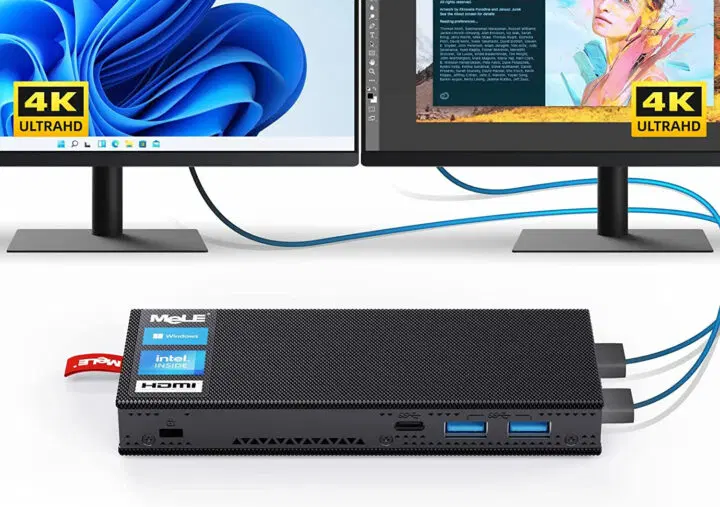 MeLe's new PCG02 "Pro" Model accommodates a 2280 NVMe SSD and has Impressive Capabilities
The past few years have seen MeLe expand its PCG02 line of PC Stick, going from the MeLe PCG02 which first launched with an Ethernet port, to the orange stick preloaded with Ubuntu and to several other models which were based on new Intel processors with Apollo Lake and Gemini Lake variants. The company has now introduced a new "Pro" model that is the first in the series to come with support for an optional M.2 2280 PCIe NVMe SSD and the absence of an HDMI male port.
MeLe PCG02 Pro is one desktop PC that you can take with you anywhere you go. It weighs just 182 grams and measures 146 by 61 by 20 mm; as big as an iPhone 14 Pro but small enough to easily slide into your pocket without any struggles.


The fanless computer is offered in two variants which are powered differently by the Celeron J4125 Gemini Lake processor or the Celeron N5105 Jasper Lake Intel processor. It comes with 8GB of LPDDR4 memory and a storage interface that can be configured with 128GB/256GB/512GB of eMMC. The MeLe PCG02 Pro also packs flexible peripherals such as 2x USB 3.2 ports, 1x GbE RJ45 port, and 2x [email protected] HDMI ports which are capable of driving two independent displays. It is further equipped with WiFi 5 or Wifi 6 connectivity as well as Bluetooth 4.2 or Bluetooth 5.2 depending on the particular variant and comes with an M.2 NVMe/SSD Storage in the mini PC stick that is only available in the Gemini Lake model.
The two variants of the computer ship pre-installed with Windows 11 Pro but they should also support most Linux distributions such as Ubuntu and Debian.
Specifications Include:
CPU: Intel Celeron J4125 quad-core Gemini Lake Refresh processor at up to 2.7 GHz (J4125) or Intel Celeron N5105 quad-core Jasper Lake processor at up to 2.9 GHz (N5105)
GPU: Intel  UHD 600 graphics at 250/750 MHz (J4125) or Intel UHD 605 graphics at 450/800 MHz (N5105)
8GB LPDDR4 2133MHz / 2933MHz (J4125 / N5105)
128GB to 512GB eMMC flash
1x microSD card reader of up to 2TB
M.2 NVMe or SATA SSD support up to 4TB (J4125 only)
1x Gigabit Ethernet LAN port
WiFi 5 (J4125) and WiFi 6 (N5105)
Bluetooth 4.2 (J4125) and Bluetooth 5.2 (N5105)
2x [email protected] HDMI 2.0 ports
1x 3.5mm earphone jack
Digital audio output via HDMI
1x USB Type-C (5Gbps)
2x USB 3.2 (5Gbps)
CMOS Reset
1x Kensington Lock slot
1x Power button
2x WiFi antenna
Power: 12V/2A via USB Type-C (supports USB PD3.0)
Dimension: 146 mm x 61 mm x 200 mm
Weight: 182 grams
Operating System: Windows 11 Pro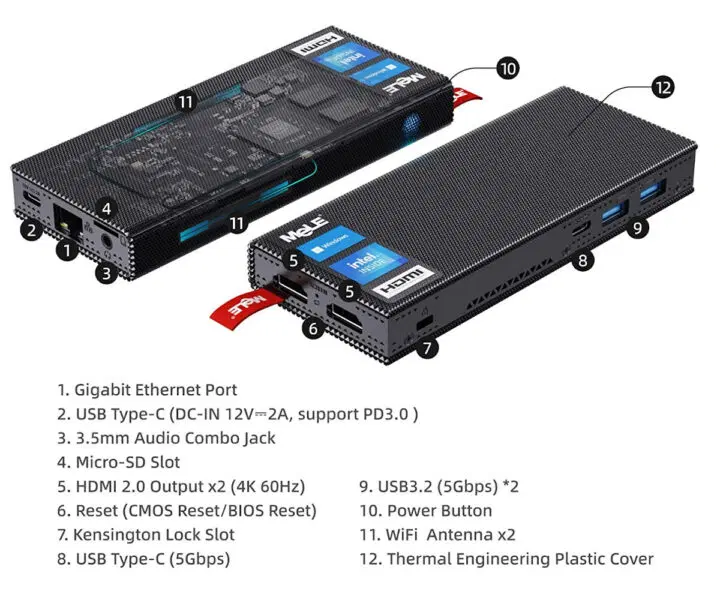 Fanless Tech is selling the Celeron J4125 variant of the Pro PC for around $229 and up while the Celeron N5105 variant, which delivers a higher CPU and graphics performance as well as better wireless capabilities, starts at $249. Please note that the varying prices depending on the size of the eMMC flash storage that they are delivered with.
Amazon also sells all variants of the mini PC but they come with a $30 off coupon for customers in the United States.
Join 97,426 other subscribers

Archives