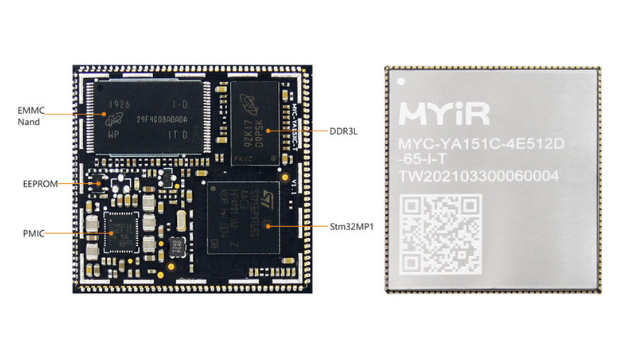 MYA15XC-T CPU module: MYIR's second tiny ARM SoM
We have seen many system on modules in the market already targeting consumer electronics and smart homes. For newbies, a system on module is an embedded computer that can be plugged in or soldered with the carrier board. China-based MYIR has launched the MYC-YA15XC-T CPU module that is the second tiny Arm system on module built around the STM32MP1 series processor.
Since this is the second module in the Arm-based system on modules manufactured by MYIR, this MYC-YA15XC-T has a smaller footprint, measuring only 39mm by 37mm. The MYC-Y157XC-T module comes with the STM32MP151AAC3T processor and STMicroelectronics' STPMIC1 power management IC. However, it is important to note that the system on module is also compatible with STM32MP153AAC3 and STM32MP157AAC3 processors and can be customised.
When compared to its predecessor, it features no Ethernet PHY chip on board. This module is manufactured with different configurations varying in storage and memory. The module ranges from 256MB DDR3 and 256MB NAND flash up to 512MB DDR3L and 4GB eMMC flash storage.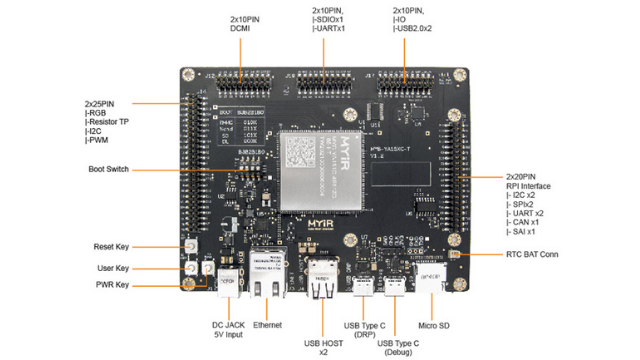 The MYC-YA15XC-T CPU module is delivered with a shielding cover by default. A number of peripherals and IO signals are brought out through a 1.0 mm pitch 148-pin stamp-hole (Castellated-Hole) expansion interface to make the module an excellent embedded controller for applications like industrial control, consumer electronics, smart home, medical and etc.
Regarding the software support for the hardware, it is capable of running Linux OS and comes with detailed documentation for hardware and software setup. When we talk about a system on module, it often requires a carrier board. But what if the same setup is provided on a PCB making it a powerful development board with a rich set of interfaces. The MYD-YA15XC-T development board supports Linux OS and features 1x USB Type-C DRP, 2x USB2.0 host, a gigabit ethernet, LCD, camera, and Micro SD card slot.
According to LinuxGizmos, the MYD-YA15XC-T module is expected to be priced from $20 to $31. For more information on the module, visit the product page, and the specifications on the development board are also provided.
Join 97,426 other subscribers

Archives