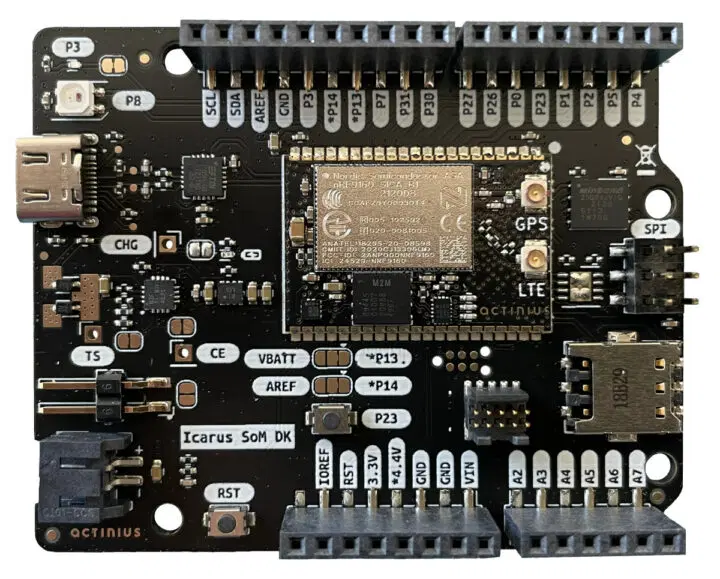 New Icarus SoM Development Kit Features a Nordic nRF9160 System-in-package
Actinius, an Amsterdam-based R&D firm, specializing in creating ultra-secure IoT products, has combined the latest cellular IoT technologies on the market to design a new Icarus SoM DK development board that follows the Arduino Uno form factor.
The cost-effective single board development kit is powered by a Nordic Semiconductor low-power nRF9160 system-in-package (SiP) which integrates the use of GPS and cellular communication to get your project online anywhere and anytime. The development kit also features a low-power 3-axis accelerometer, a SIM-card holder, an onboard eSIM, a USB Type-C port, an external nano SIM connector on the mainboard, a battery charging port, a power management system, Arduino headers for a wide range of I/Os, etc. It can be powered by any combination of USB, Battery, or Vin, and has compatibility with Arduino boards and shields.
Specifications of the Icarus SoM DK Development Board Include:
Nordic Semi nRF9160-SICA system-in-package/modem with:

Arm-cortex-M33 MCU, 1MB flash, 256 KB SRAM
LTE CAT-M1 (eMTC), CAT-NB1 (NB-IoT), GPS connectivity

64 Mbit SPI flash
On-board eSIM
2x u.FL connectors for LTE and GPS
Low-power 3-axis accelerometer
2x 20 castellated holes with GPIOs, I2C, SWD, Reset, SIM card signals, and power pins
Supply voltage: 3.3V
Size: 28 mm x 18.5 mm
USB
1x USB Type-C (for power and programming)
Expansion
Arduino Uno Rev3 headers with:

GPIOs (up to 18x)
12-bit 200 ksps ADC (up to 6x)
SPI master/slave (up to 3x)
I2C master/slave (up to 4x)
UART (up to 4x)
I2C (Inter-IC Sound Interface)
Digital microphone Interface (PDM)
Pulse width modulator (up to 4x)

6-pin SPI header
Security
Arm Trustzone, Arm Cryptocell 310, SSL/TLS
Others
1x NANO Sim card on the main board
Serial Wire Debug (SWD) ON 1.27 mm connector
Neopixel RGB LED
User Button
Reset Button
Power Supply
5V via USB Type-C port
4.35 V to 10.2 V via Vin pin
3.2 V to 4.2 V Li-Ion/LiPo battery with battery voltage reading and USB charging
Output supply up to 400mA
Overvoltage and under-voltage protection
Dimension
68.5 mm x 55.2 mm (compatible with Arduino boards and shields)
Software:
Latest modem firmware from Nordic (Zephyr OS based)
MCUboot bootloader
Serial LTE modem Application firmware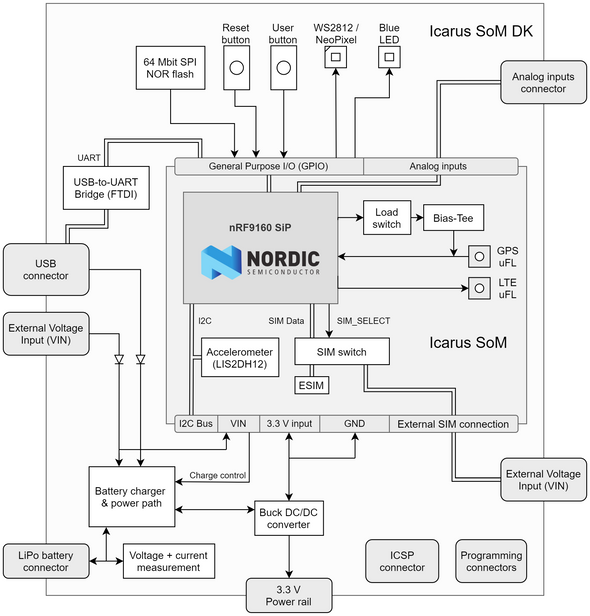 The Icarus SOM development kit also comes with certificates that make it possible for you to register your board on the company's IoT online platform.
Other useful details on the Icarus SOM DK, including technical details, getting started instructions, and a datasheet can be found on the company's documentation website.
The board is currently being priced at €119.49 (excluding VAT) and adds a free 10MB of free data for 3 months. Shipping is scheduled to start by November 2022.
Join 97,426 other subscribers

Archives