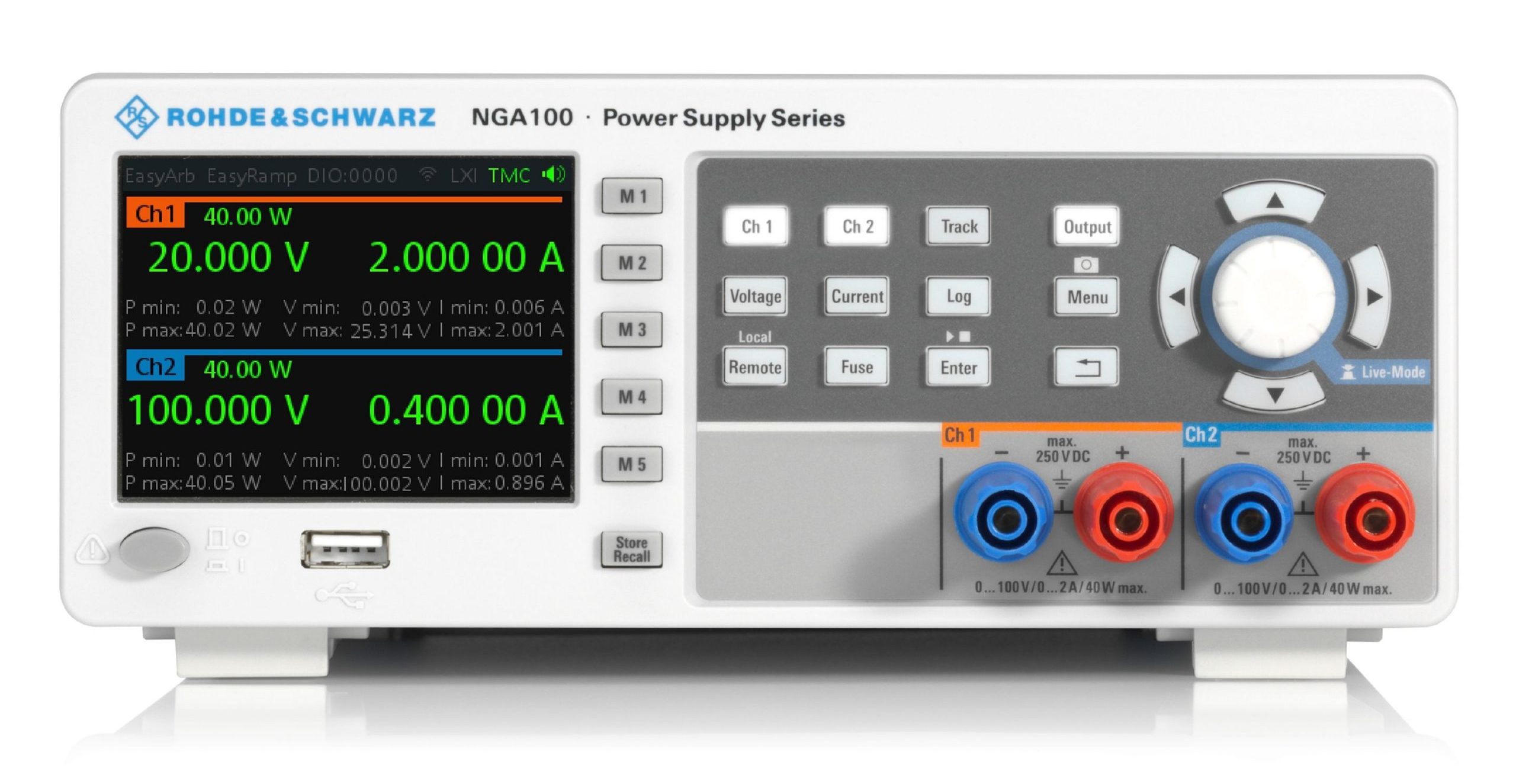 New Rohde & Schwarz NGA100 power supply series, stocked by Farnell
Easy-to-use general purpose power supply units ideal for various bench applications requiring stand-alone or system use.
Farnell, an Avnet Company and global distributor of electronic components, products and solutions, is further expanding its market-leading test and measurement range with the introduction of the new NGA100 power supply series, part of the Essentials Portfolio, from Rohde & Schwarz. With intuitive manual control and simple computer-controlled operation, the NGA100 series is in stock for same day shipping and can be used as a bench supply for R&D, product test, repair and education, or in racks for manufacturing test systems.
The new generation NGA100 series is an easy-to-use entry-level power supply family which has been carefully designed for feature-rich and affordable general-purpose use. It is based on a stable output, low noise, linear topology housed in a compact footprint and is quiet in operation. The NGA100 series provides excellent readback accuracy and has a low current range with multiple sleep modes for completing demanding measurements required by Internet of Things (IoT) devices. Advanced protection functions ensure connected devices and the power supply remain safe. The channel fusion feature extends voltage and current ranges by allowing the isolated outputs to be connected in series for higher voltages or in parallel for higher output currents.
Equipped with different external control interfaces, the power supplies feature remote sensing at the load to improve the setting and measurement accuracy and are simple to integrate into automated testing. The NGA100 series also allows customers to work seamlessly and productively with modern test workbenches. This flexibility makes the instruments ideal for various bench applications including arbitrary waveform generation and data logging of voltage and current measurements over time, with simple output of data.
The NGA100 series is comprised of four models including the NGA101, a 35VDC single output rated at 40W total output; the NGA102, a 35VDC dual outputs rated up to 80W total output power; the NGA141, a single output rated up to 100V at 40W maximum, and the NGA142 which offers dual 100VDC outputs up to 80W. A channel fusion feature is available on all dual output units.
Key features of the NGA100 power supply series now available from Farnell include:
5" front panel display – The colour coded display ensures users can clearly see all operating conditions including the status of any protective functions. Voltage and current values are easy to read and built-in statistics are integrated into the display to show the minimum and maximum values for power, voltage and current. Built-in high readback measurements reduce the need for external multimeters and simplify setup.
Connectivity – The NGA series includes a USB interface for control and saving data. Ethernet with integrated web server offers easy instrument control directly via web browser, and Wireless LAN (WLAN) automatically connects the instrument to a network. Digital trigger I/O allows input triggers to automatically control the main instrument functions.
Rackmountable – The compatible rackmount kit and rear output connectors ensure easy integration of the NGA100 power supply series into test systems. Each rackmount frame can hold up to two NGA100 units.
James McGregor, Global Head of Test & Tools at Farnell, said:
"We recently introduced Rohde & Schwarz's NGU series of source measurement units and we are delighted to be adding another innovative test equipment series to our market leading range. We are committed to providing our customers with best-in-class test and measurement products for entry-level application and education through to professional R&D, heavy duty manufacturing and IoT. The new NGA100 series of power supplies and our complete R&S portfolio is available for fast delivery from stock, ensuring customers can access the products they need, whenever they need them."
Rohde & Schwarz is a leading supplier of solutions in the fields of test and measurement, broadcast and media, aerospace, defence, security, networks and cybersecurity. The technology group's innovative communications, information and security products help industry and government customers ensure a safer and connected world.
Farnell offers a full range of products to support electronic design and test and continues to deliver the latest in cutting edge power supply technology to customers. The new-to-market NGA100 series is available with no minimum order value and an educational discount programme. Customers also have free access to online resources, data sheets, applications notes, videos and webinars and excellent customer and technical support, available 24/5 in local language.
The NGA100 power supply series from Rohde & Schwarz is available from Farnell in EMEA, element14 in APAC and Newark in North America.
Join 97,426 other subscribers

Archives