Microchip, the well-known manufacturer of microcontrollers and semiconductors, announced this week a new family of 8-bit PIC microcontrollers, the 'PIC16F15386'.
The new PIC16F15386 family features a 8 MIPS CPU speed, with 2KB RAM and up to 28KB flash memory offered in 8 to 48-pin packages. It also has a dual UART, dual SPI and dual I²C interfaces, one 8-bit timer and two 16-bit timers.
PIC16F15386 Features
Enhanced Mid-range Core with 49 Instruction, 16 Stack Levels
Flash Program Memory with self read/write capability
eXtreme Low Power (XLP)
IDLE and DOZE low power modes
Peripheral Module Disable (PMD)
Peripheral Pin Select (PPS)
4x 10-bit PWMs
2x Capture, Compare, PWM (CCP)
Complementary Waveform Generator (CWG)
Numerically Controlled Oscillator (NCO)
4x Configurable Logic Controller (CLC)
43 Channels 10-bit ADC with Voltage Reference
5-bit Digital to Analog Converter (DAC)
2x Comparators
1x 8-bit Timers (TMR0/TMR2)
2x 16-bit Timer (TMR1)
Window Watchdog Timer (WWDT)
Enhanced Power-On/Off-Reset
Low-Power Brown-Out Reset (LPBOR)
Programmable Brown-Out Reset (BOR)
In Circuit Serial Programming (ICSP)
PIC16LF15386 (1.8V – 3.6V)
PIC16F15386 (2.3V – 5.5V)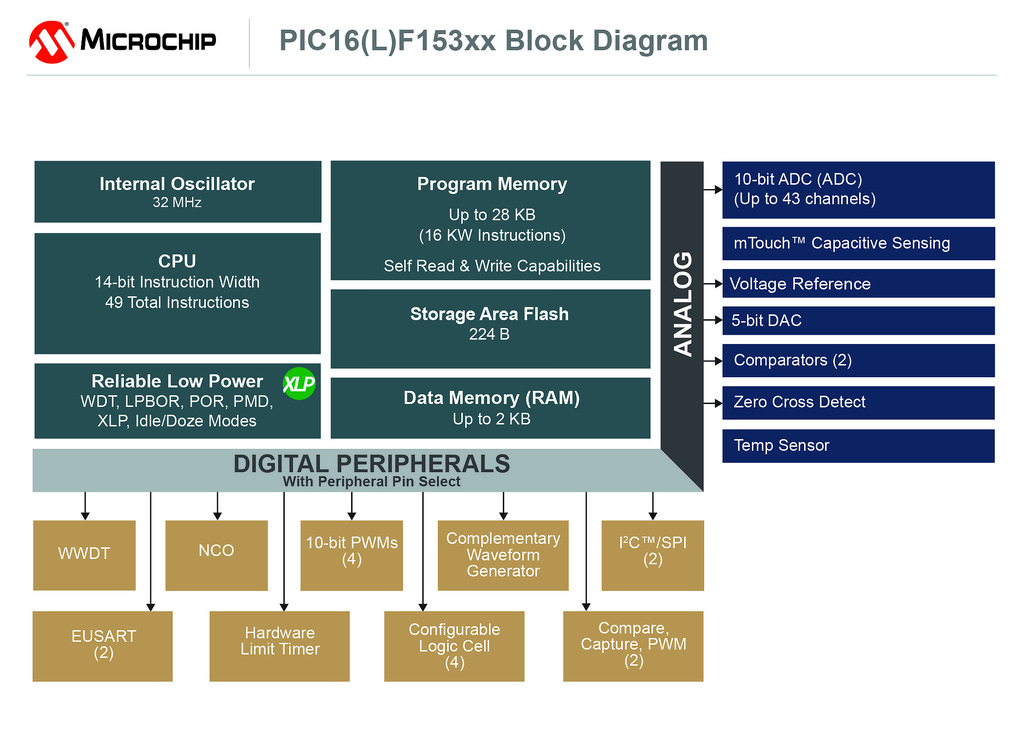 PIC16F15386 family comes with essential peripherals like Intelligent Analog, Core Independent Peripherals (CIPs) and communication combined with eXtreme Low-Power (XLP) for a wide range of low-power applications. The family features PWMs, multiple communication, temperature sensor and memory features like Memory Access Partition (MAP) and Device Information Area (DIA).
We've always offered a diverse portfolio of products with large market appeal," said Steve Drehobl, vice president of Microchip's 8-bit MCU division. "With the combination of the most requested features and peripherals by our large base of PIC MCU users, the flexibility in memory size and package options and the availability of MPLAB Xpress with MCC, we expect the PIC16F15386 family to be popular with experienced and first-time PIC MCU designers.
The PIC16F15386 is also compatible with the MPLAB Xpress IDE and the MPLAB Code Configurator, a graphical programming environment. The family includes 13 unique products that are offered in various package options including PDIP, SOIC, DFN, UDFN, UQFN and SSOP.
All products are available now for sampling and in volume production. Volume pricing starts at $0.33 for the product family.