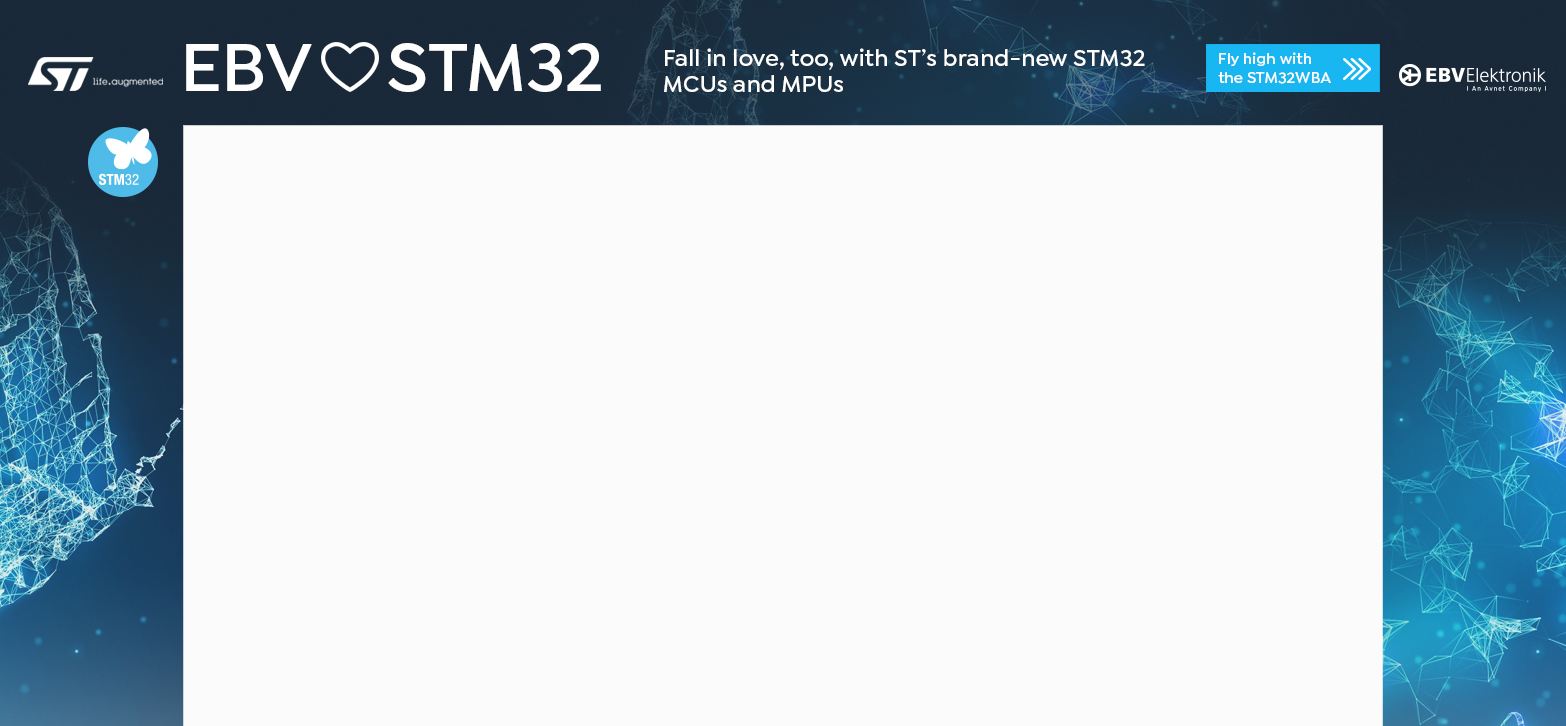 3.3V-5A Output DC-DC Converter with 10 to 24V Input
Rajkumar Sharma

73 Views

moderate

Tested

SKU: EL134682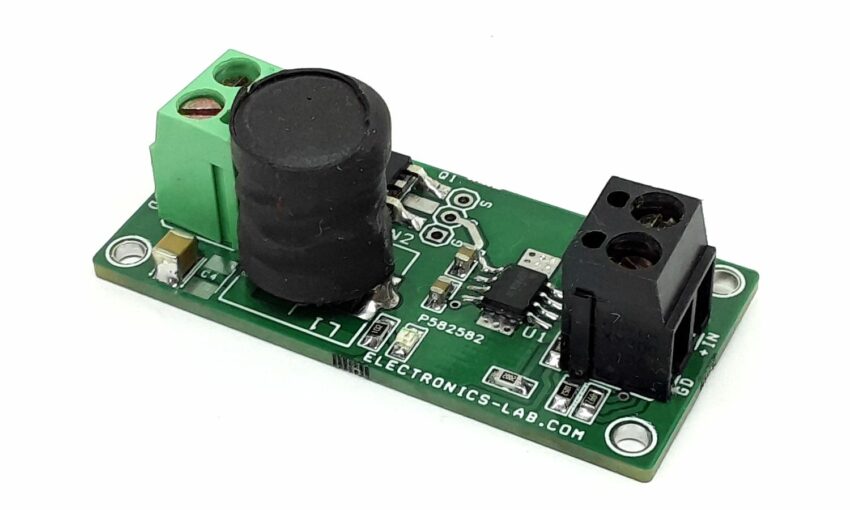 The project published here is a synchronous step-down DC/DC converter based on the RT7258 chip. The chip has integrated high-side internal power MOSFET and gate driver for a low-side external power MOSFET. The board delivers 3.3V DC – 5A output current from 10V to 24V input supply. The RT7258's current mode architecture allows the transient response to be optimized over a wide input voltage and load range. Cycle-by-cycle current limit provides protection against shorted outputs and softy-start eliminates input current surge during start-up.
Features
Supply 10V to 24V DC
Output 3.3V DC
Load Current 5Amps
Current Mode Control
Switching Frequency 600Khz
Up to 90% Efficiency
Cycle-by-cycle Current Limit
Input Under Voltage Lockout
Output Under Voltage Protection
Thermal Shutdown Protection, Threshold 150°C
Output Power LED
4 x 2.5mm Mounting Holes
PCB Dimensions 51.44 x 24.13 mm
Soft-Start (SS): An internal current source charges an internal capacitor to build the soft-start ramp voltage (VSS). The VFB voltage will track the internal ramp voltage during the soft-start interval. The typical soft-start time is 2ms.
Over Temperature Protection
The RT7258 features Over Temperature Protection (OTP) circuitry to prevent overheating due to excessive power dissipation. The OTP will shut down the switching operation when the junction temperature exceeds 150°C. Once the junction temperature cools down by approximately 20°C, the converter will resume operation. To maintain continuous operation, the maximum junction temperature should be lower than 125°C.
Connections
CN1: Pin 1 = 10V to 24V DC Input, Pin 2 = GND
CN2: Optional Connector for TO220 MOSFET
CN3: Pin 1 = 3.3V / 5Amps Output, Pin 2 = GND
D1: Output Power LED
Schematic

Parts List
| NO. | QNTY. | REF. | DESC. | MANUFACTURER | SUPPLIER | SUPPLIER'S PART NO |
| --- | --- | --- | --- | --- | --- | --- |
| 1 | 2 | CN1,CN3 | 2 PIN SCREW TERMINAL PITCH 5.08MM | PHOENIX | DIGIKEY | 277-1247-ND |
| 2 | 1 | CN2 | DNP | | | |
| 3 | 5 | C1,C3,C4,C5,C6 | 22uF/25V CERAMIC SMD SIZE 0805 | YAGEO/MURATA | DIGIKEY | |
| 4 | 2 | C2,C7 | 1uF/25V CERAMIC SMD SIZE 0805 | YAGEO/MURATA | DIGIKEY | |
| 5 | 1 | D1 | LED RED SMD SIZE 0805 | OSRAM | DIGIKEY | 475-1278-1-ND |
| 6 | 1 | L1 | 2.2uH/10A SMD OR THT 12X12MM | CHILISIN ELECTR | DIGIKEY | 553-BPRR001010512R2TA0TR-ND |
| 7 | 1 | Q1 | FDD8876CT | ON SEMI | DIGIKEY | FDD8876CT-ND |
| 8 | 1 | R1 | 62K 1% SMD SIZE 0805 | YAGEO/MURATA | DIGIKEY | |
| 9 | 1 | R2 | 1K 5% SMD SIZE 0805 | YAGEO/MURATA | DIGIKEY | |
| 10 | 1 | R3 | 20K 1% SMD SIZE 0805 | YAGEO/MURATA | DIGIKEY | |
| 11 | 1 | R4 | 49.9K 1% SMD SIZE 0805 | YAGEO/MURATA | DIGIKEY | |
| 12 | 1 | R5 | 10.2K 1% SMD SIZE 0805 | YAGEO/MURATA | DIGIKEY | |
| 13 | 1 | U1 | RT7258 SOIC8 | RICHTEK USA INC | DIGIKEY | 1028-1214-1-ND |
Connections

Gerber View
Photos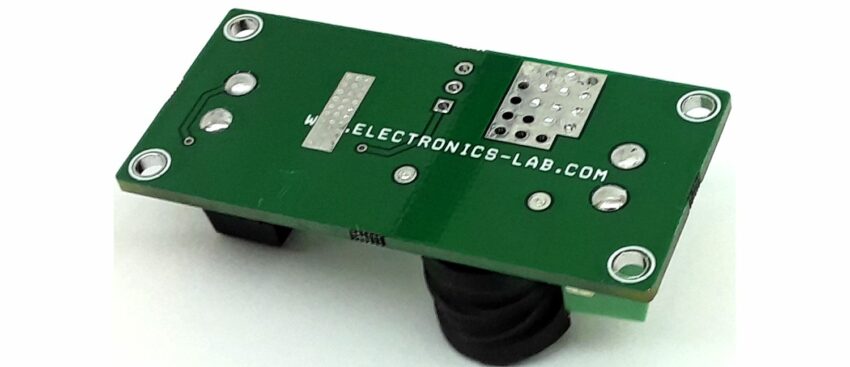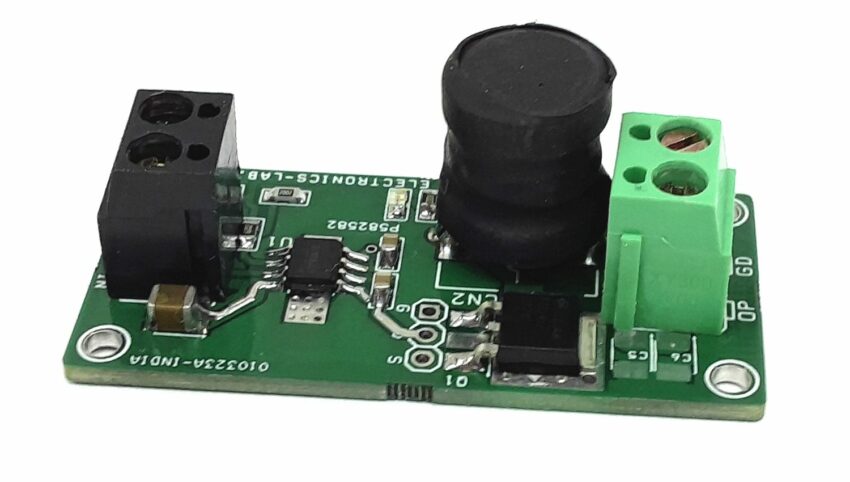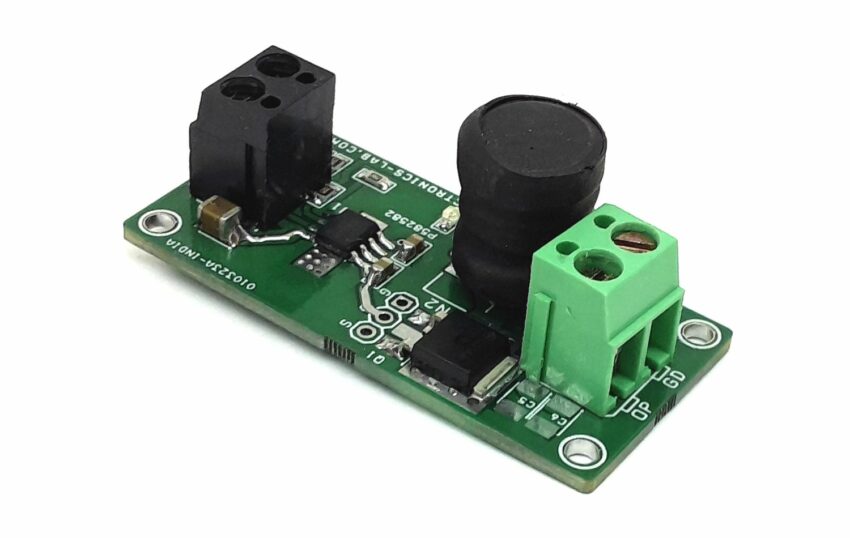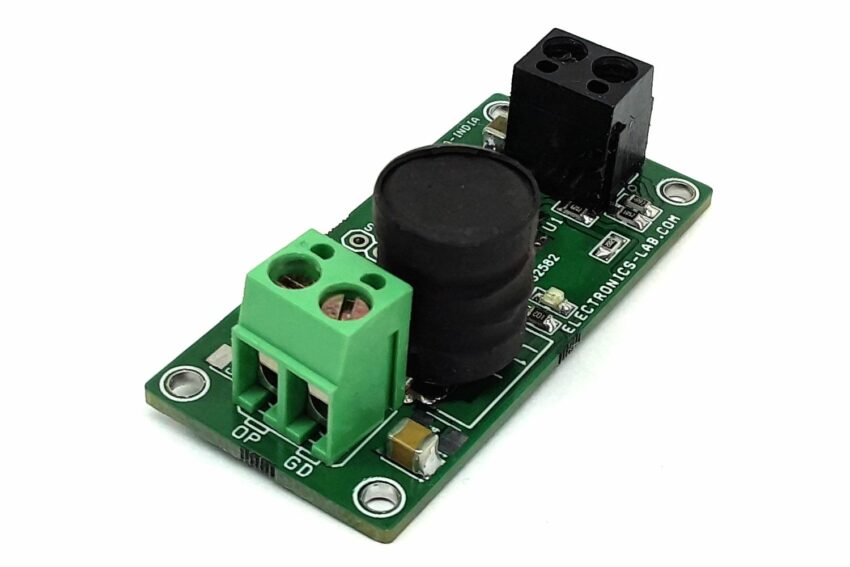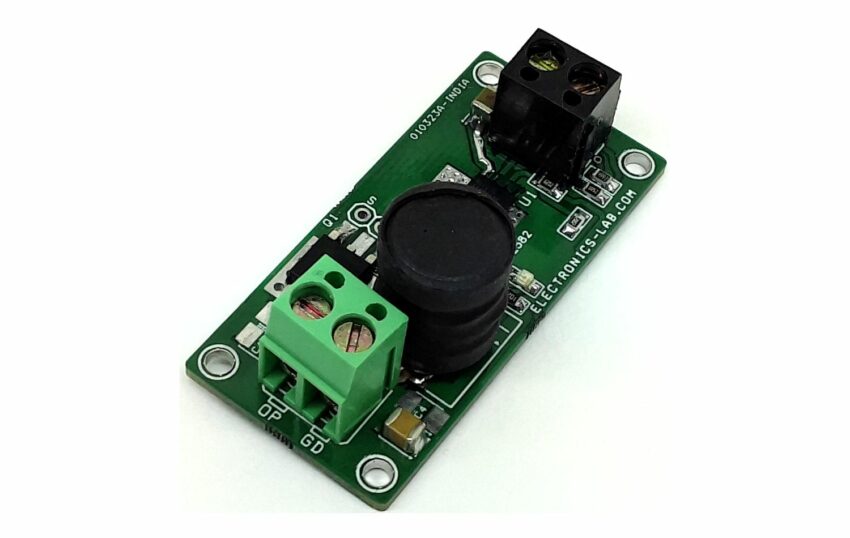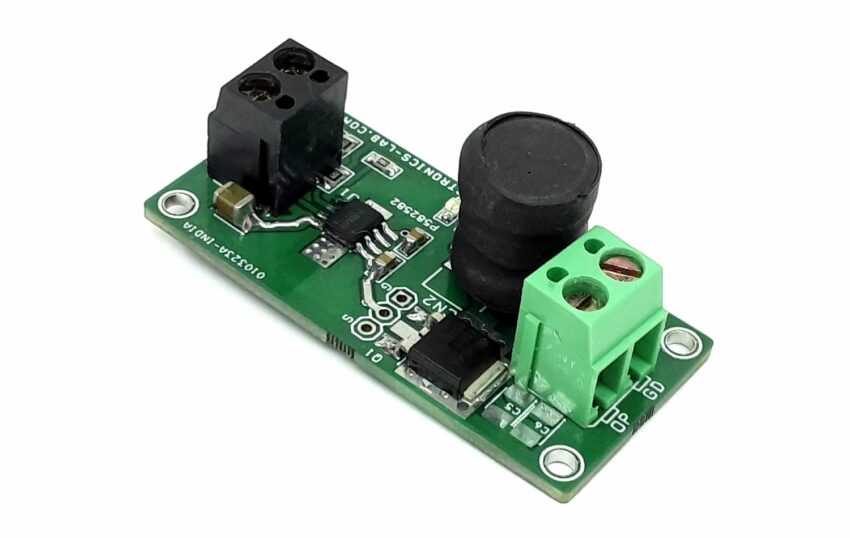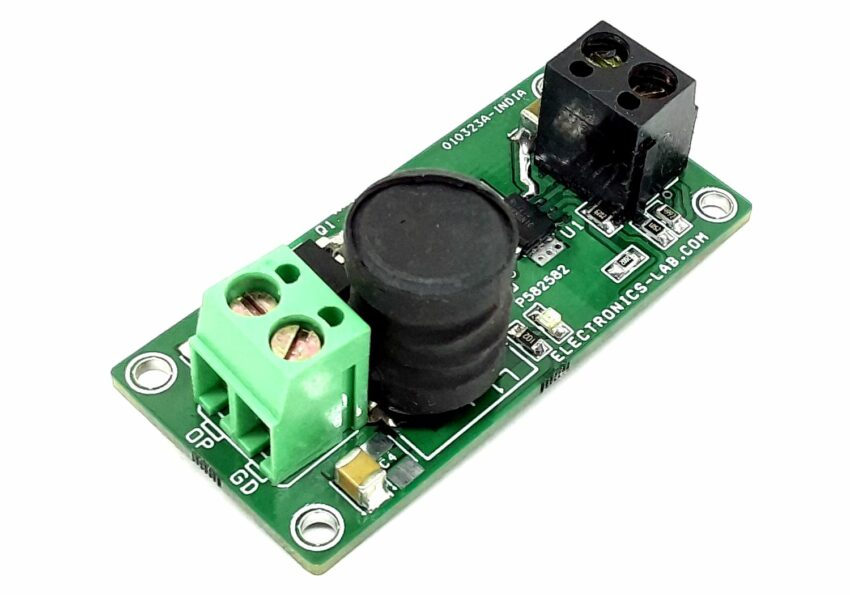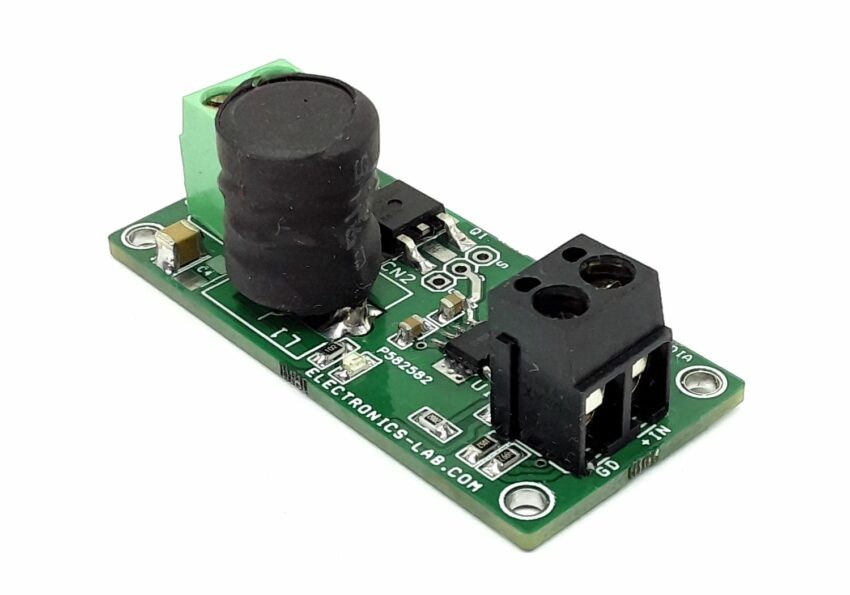 Video
RT7258 Datasheet