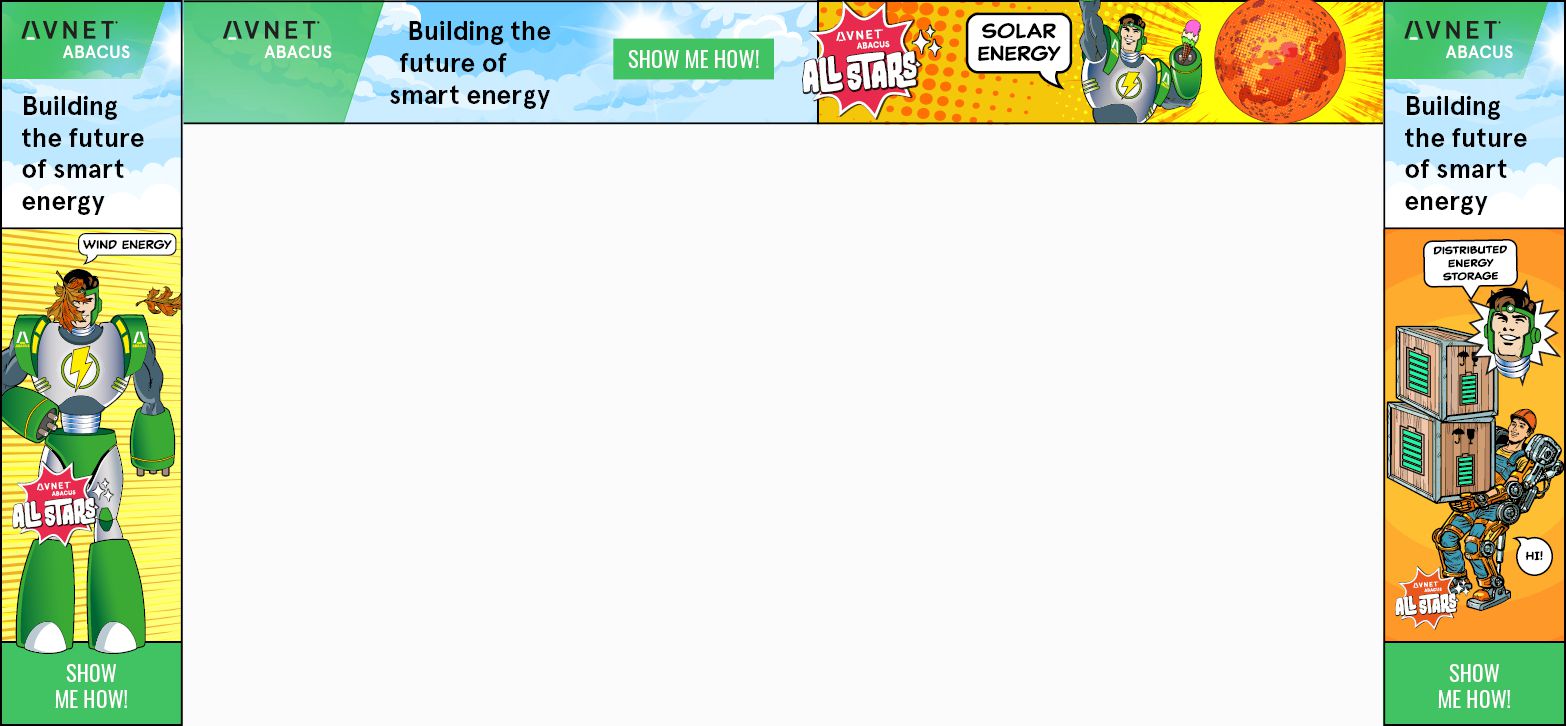 49W BTL 4 Channel Audio Power Amplifier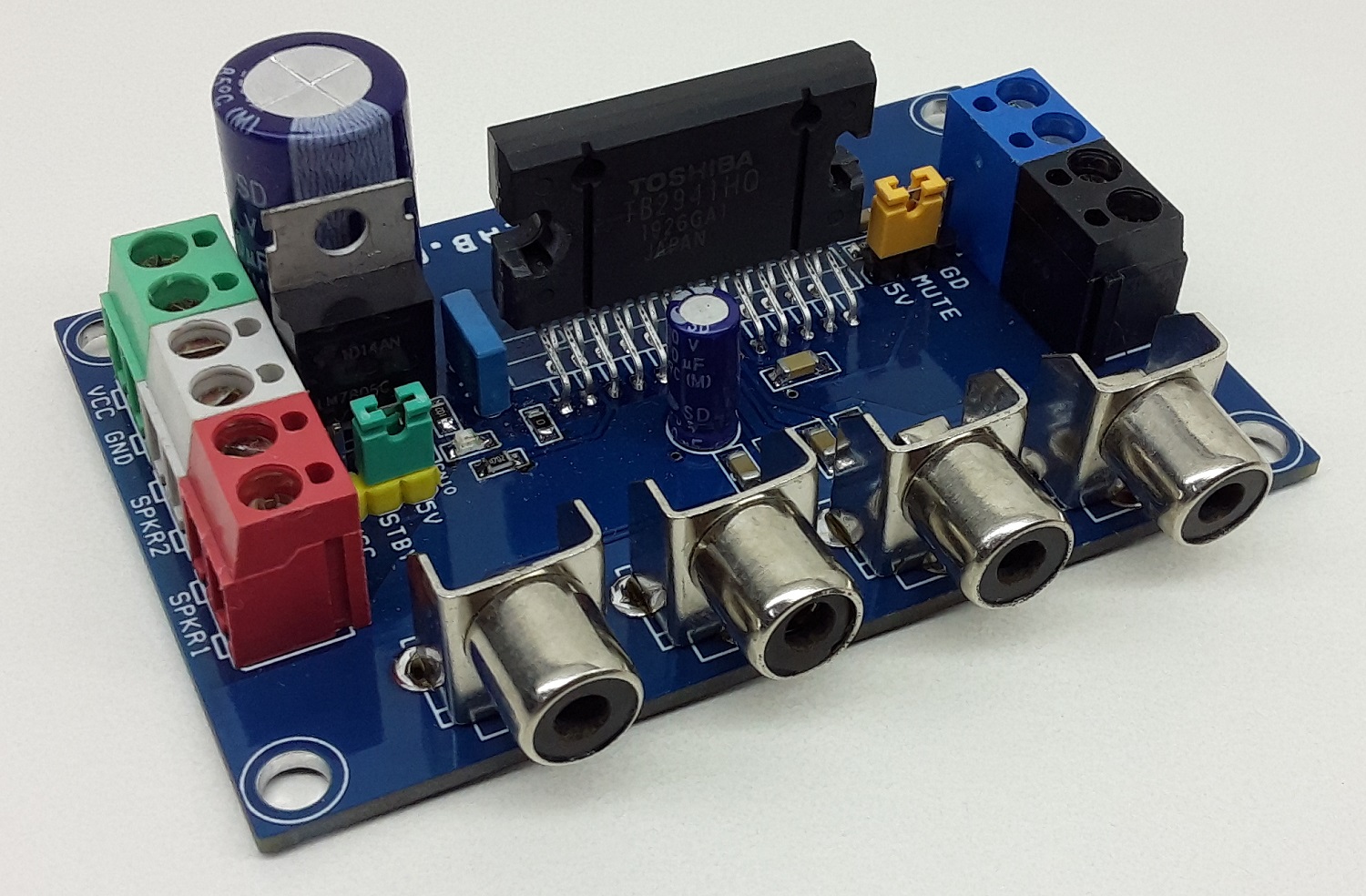 This is a 49W – 4 Channel audio amplifier project that is built using TB2941HQ power Integrated Circuit which has a built-in four-channel BTL amplifier developed for car audio applications. The maximum output power is 49W using a pure complementary P-Ch and N-Ch DMOS output stage. In addition, a standby switch, a mute function, and various protection features are included. The audio mute function is enabled when jumper J1 is connected to 5V DC. The power supply can be turned ON or OFF via pin 4 (Stby). The threshold voltage of pin 4 is 2.2V to VCC (5V). The amplifier is turned ON when standby pin is connected to 5V DC using Jumper CN10. Onboard 5V regulator provided for standby and Mute function. When the headroom voltage is suppressed by the low VCC, the TB2941HQ switches outputs voltage from VCC/2 to VCC/4 and reduces the audible pop noise and the sound cutting. The TB2941HQ can reduce the distortion which is generated by low VCC because this amplifier circuit keeps the voltage gain of BLT outputs. In other words, if one side output of BTL has the voltage margin, its output can make up for the clipped waveform of the other side output.
It is recommended to use appropriate heatsink on IC to prevent overheating.
Features
Operating Power Supply 7.5V to 15V DC (VCC 15V = 49W output, VCC 13.7V=40W) THD 10%
49W Output with 4 Ohms Speaker
4XScrew Terminal Connector for Speaker Connections
Screw Terminal Connector for Power Supply Input
Female RCA Connector for Audio Inputs
Voltage Gain GV 26dB
Power LED
High output power, low distortion, and low noise property
Jumper for Mute Function
Jumper for Standby Function
Thermal Shutdown (Built in IC)
Built-in various protection circuits over-voltage, short to VCC, short to GND, and output to output short)
PCB Dimensions 79.06 x 51.44 mm
TB2941HQ Features
Thermal Shut Down
Thermal shut down operates when the junction temperature exceeds 150°C (typ.).
Auto Muting Functions
The TB2941HQ has two automatic mute functions.
Low VCC Mute
Stand-by Off Mute
Low VCC Mute
When the supply voltage became lower than 5.5V (Typ.), The TB2941HQ operates the mute circuit automatically. This function prevents the large audible transient noise which is generated by low VCC
Over-Voltage
Over-voltage It operates when the voltage exceeding the operating range is supplied to VCC pin. If the voltage falls, it will return automatically. When it operates, all outputs bias and high-side switch are turned off and all outputs are intercepted. The threshold voltage is 23 V (Typ.)
Standby-Off Mute
The TB2941HQ operates the mute circuit during the standby-off transition. When the ripple voltage reached VCC/5, the standby-off mute is terminated. The external mute has to be ON till the internal mute-OFF
Short to VCC
Short to VCC, Short to GND, Output to output short It operates when each output pin is in irregular connection and the load line goes over the SOA of the power transistor (DMOS). When it operates, all outputs bias circuits are turned off and all outputs are intercepted. If the irregular connection is canceled, it will return automatically.
Schematic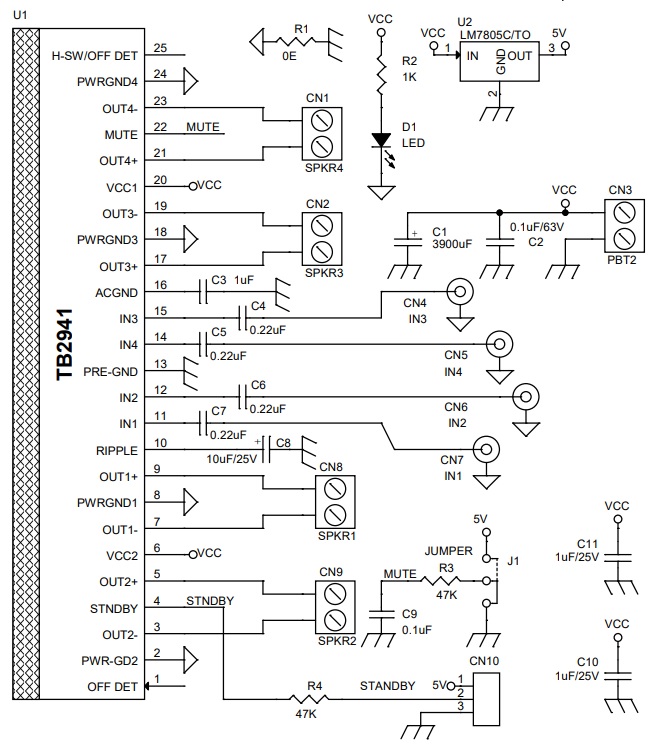 Parts List
| NO | QNTY. | REF | DESC. | MANUFACTURER | SUPPLIER | PART NO |
| --- | --- | --- | --- | --- | --- | --- |
| 1 | 1 | CN1 | 2 PIN SCREW TERMINAL PITCH 5.08MM | PHOENIX | DIGIKEY | 277-1247-ND |
| 2 | 1 | CN2 | 2 PIN SCREW TERMINAL PITCH 5.08MM | PHOENIX | DIGIKEY | 277-1247-ND |
| 3 | 1 | CN3 | 2 PIN SCREW TERMINAL PITCH 5.08MM | PHOENIX | DIGIKEY | 277-1247-ND |
| 4 | 1 | CN4 | RCA FEMALE | CUI DEVICE | DIGIKEY | CP-1405-ND |
| 5 | 1 | CN5 | RCA FEMALE | CUI DEVICE | DIGIKEY | CP-1405-ND |
| 6 | 1 | CN6 | RCA FEMALE | CUI DEVICE | DIGIKEY | CP-1405-ND |
| 7 | 1 | CN7 | RCA FEMALE | CUI DEVICE | DIGIKEY | CP-1405-ND |
| 8 | 1 | CN8 | 2 PIN SCREW TERMINAL PITCH 5.08MM | PHOENIX | DIGIKEY | 277-1247-ND |
| 9 | 1 | CN9 | 2 PIN SCREW TERMINAL PITCH 5.08MM | PHOENIX | DIGIKEY | 277-1247-ND |
| 10 | 1 | CN10 | 3 PIN MALE HEADER PITCH 2.54MM | WURTH | DIGIKEY | 732-5316-ND |
| 11 | 1 | C1 | 3900uF/25V | UNITEC CHEMI-CON | DIGIKEY | 565-3901-ND |
| 12 | 1 | C2 | 0.1uF/63V | EPCOS | DIGIKEY | 495-B32529C1104M289TB-ND |
| 13 | 1 | C3 | 1uF/35V SMD SIZE 1206 | MURATA/YAGEO | DIGIKEY | |
| 14 | 4 | C4,C5,C6,C7 | 0.22uF/35V SMD SIZE 1206 | MURATA/YAGEO | DIGIKEY | |
| 15 | 1 | C8 | 10uF/25V ELECTROLYTIC | RUBYCON | DIGIKEY | 1189-1300-ND |
| 16 | 1 | C9 | 0.1uF/50V SMD SIZE 0805 | MURATA/YAGEO | DIGIKEY | |
| 17 | 2 | C10,C11 | 1uF/25V | MURATA/YAGEO | DIGIKEY | |
| 18 | 1 | D1 | LED SMD SIZE 0805 | LITE ON INC | DIGIKEY | 160-1427-1-ND |
| 19 | 1 | J1 | 3 PIN MALE HEADER PITCH 2.54MM | WURTH | DIGIKEY | 732-5316-ND |
| 20 | 1 | R1 | 0E SMD SIZE 0805 | MURATA/YAGEO | DIGIKEY | |
| 21 | 1 | R2 | 1K 5% SMD SIZE 0805 | MURATA/YAGEO | DIGIKEY | |
| 22 | 2 | R3,R4 | 47K 5% SMD SIZE 0805 | MURATA/YAGEO | DIGIKEY | |
| 23 | 1 | U1 | TB2941 | TOSHIBA | DIGIKEY | TB2941HQ-ND |
| 24 | 1 | U2 | LM7805C/TO | TI | DIGIKEY | 296-47192-ND |
| 25 | 2 | JMPR | SHUNT FOR JUMPPER | SULINS | DIGIKEY | S9001-ND |
Connections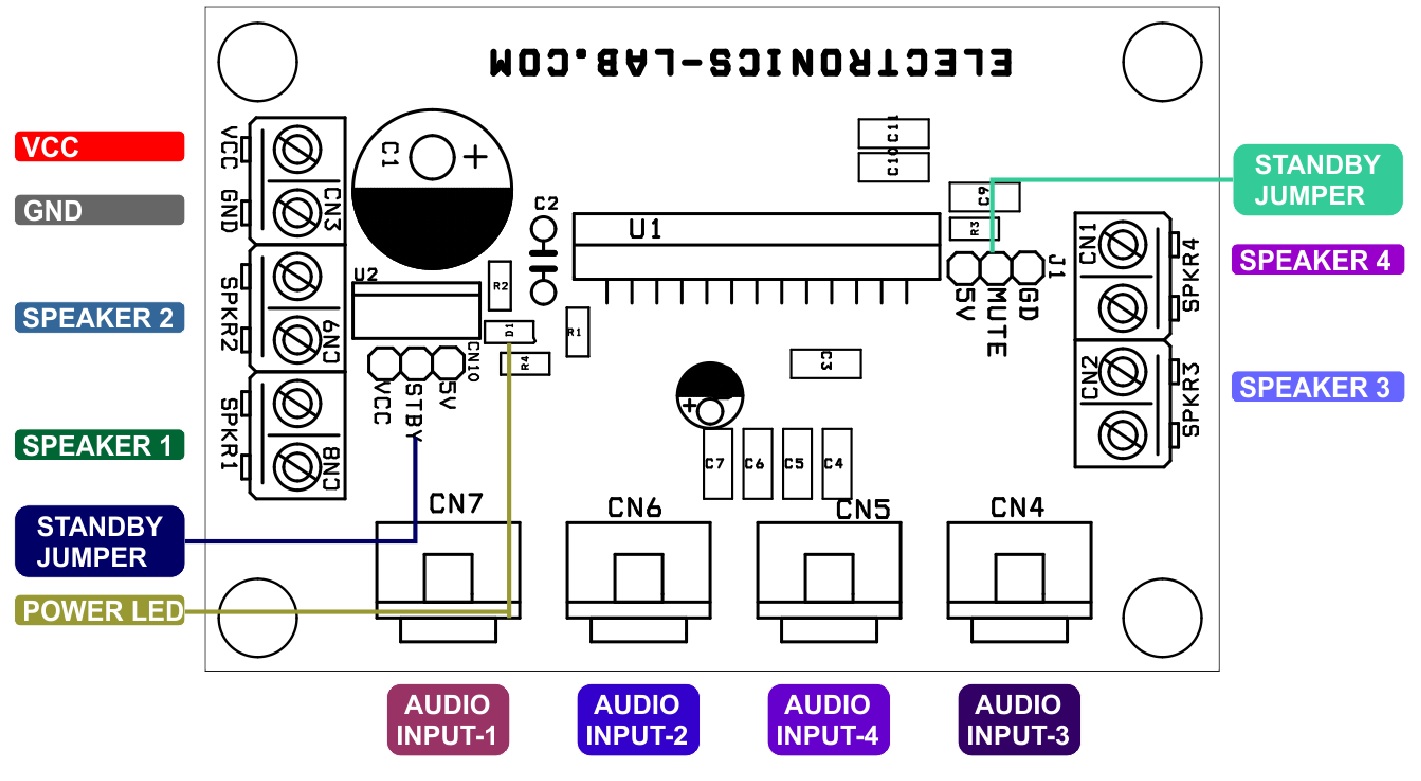 Gerber View
Photos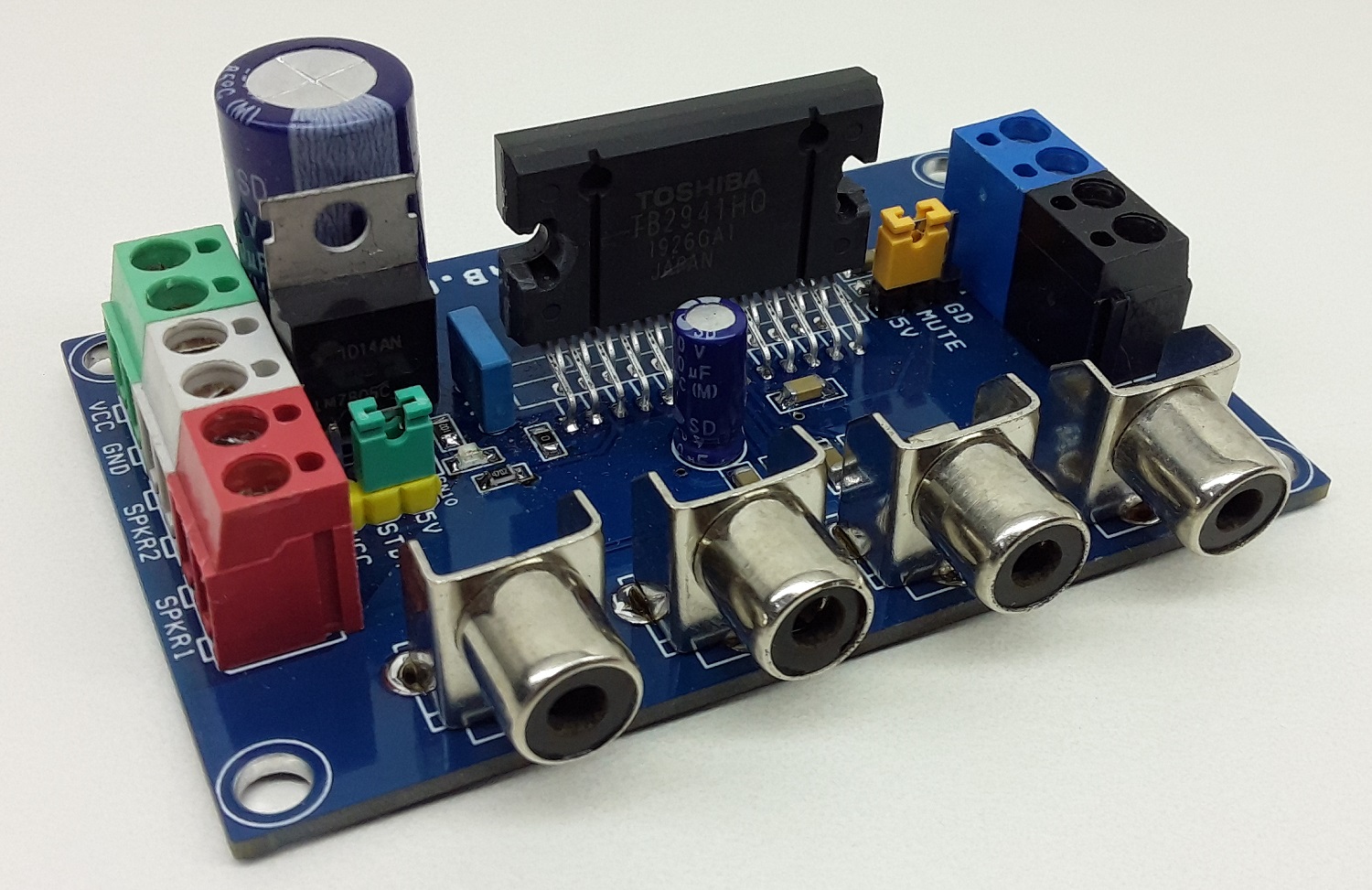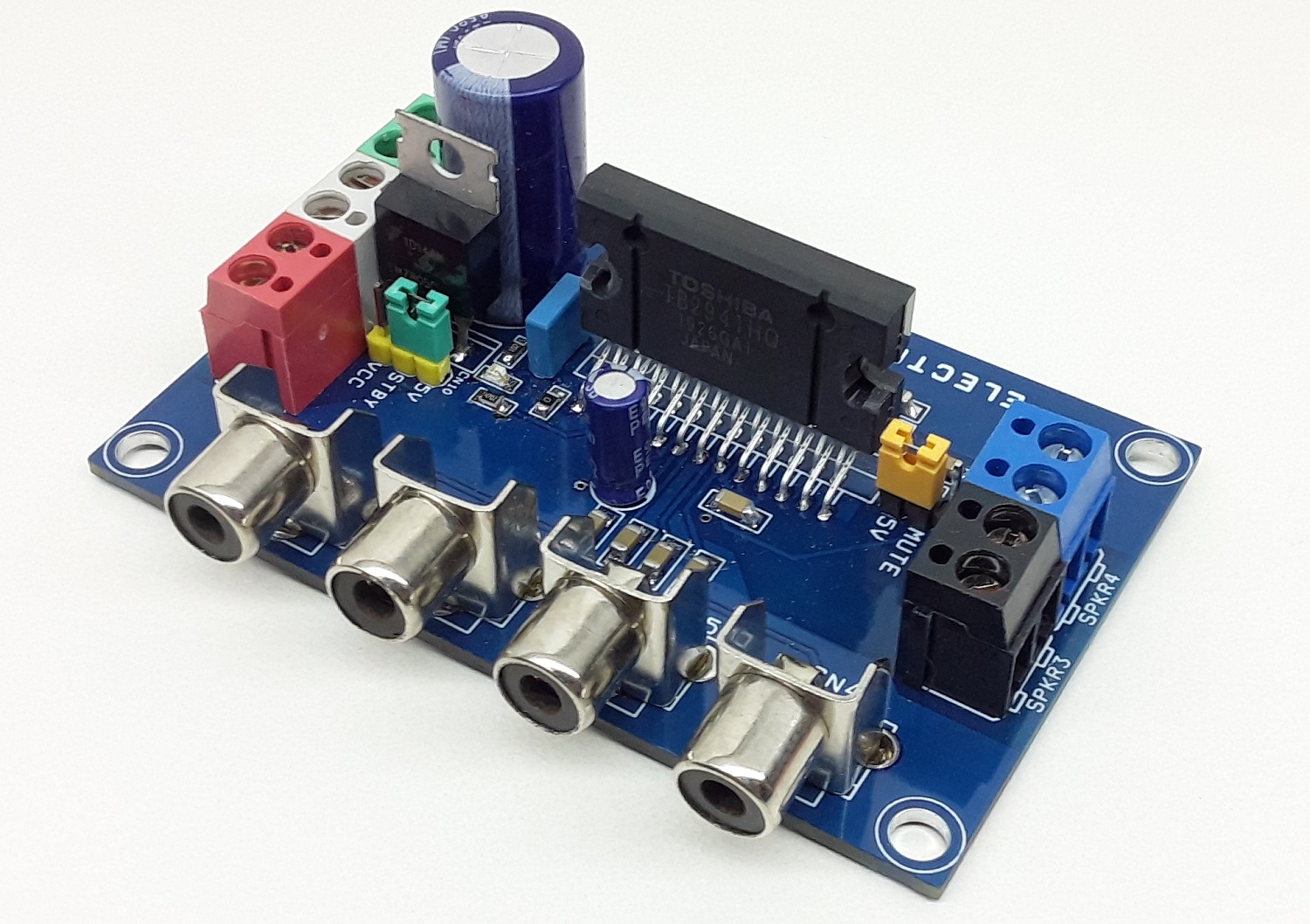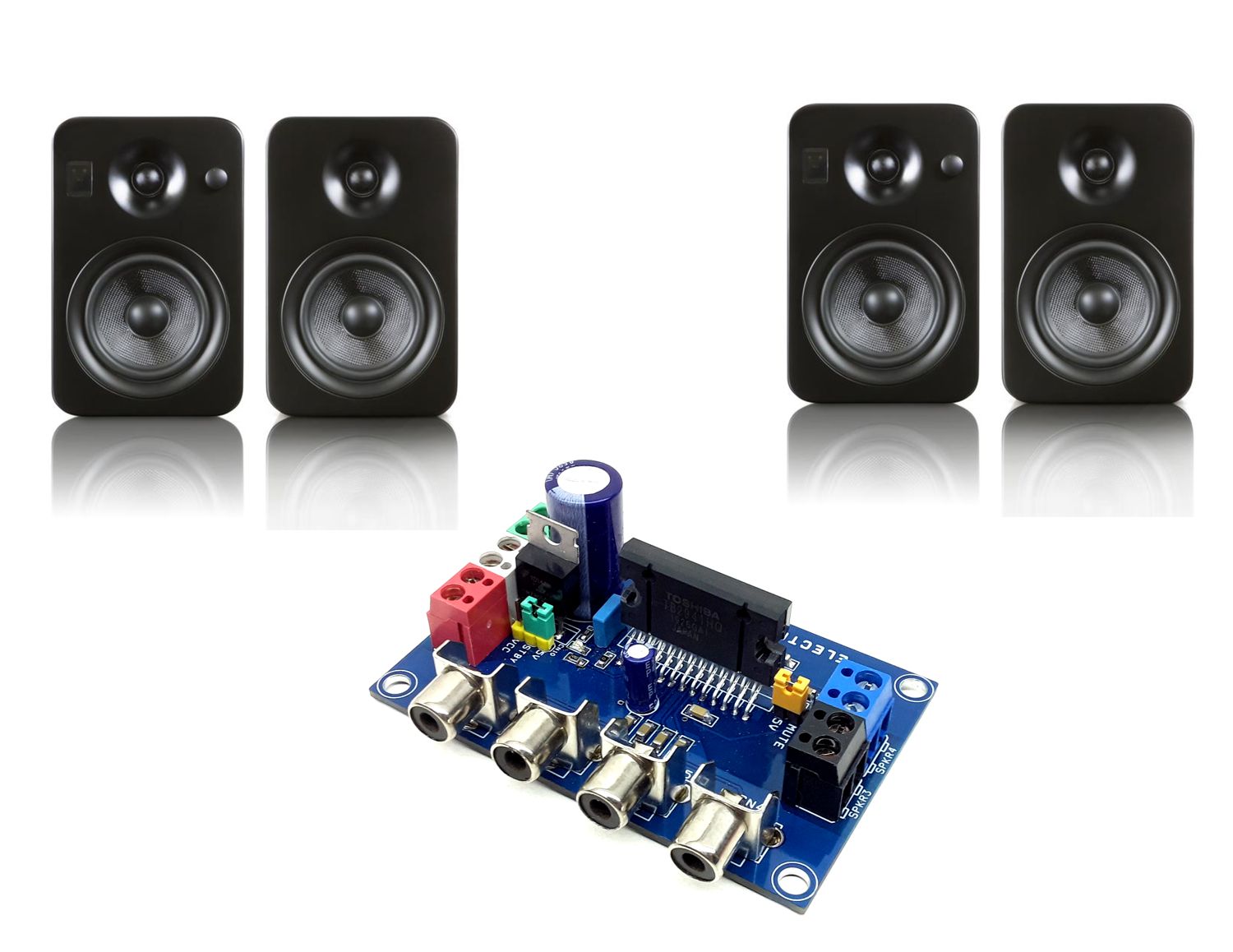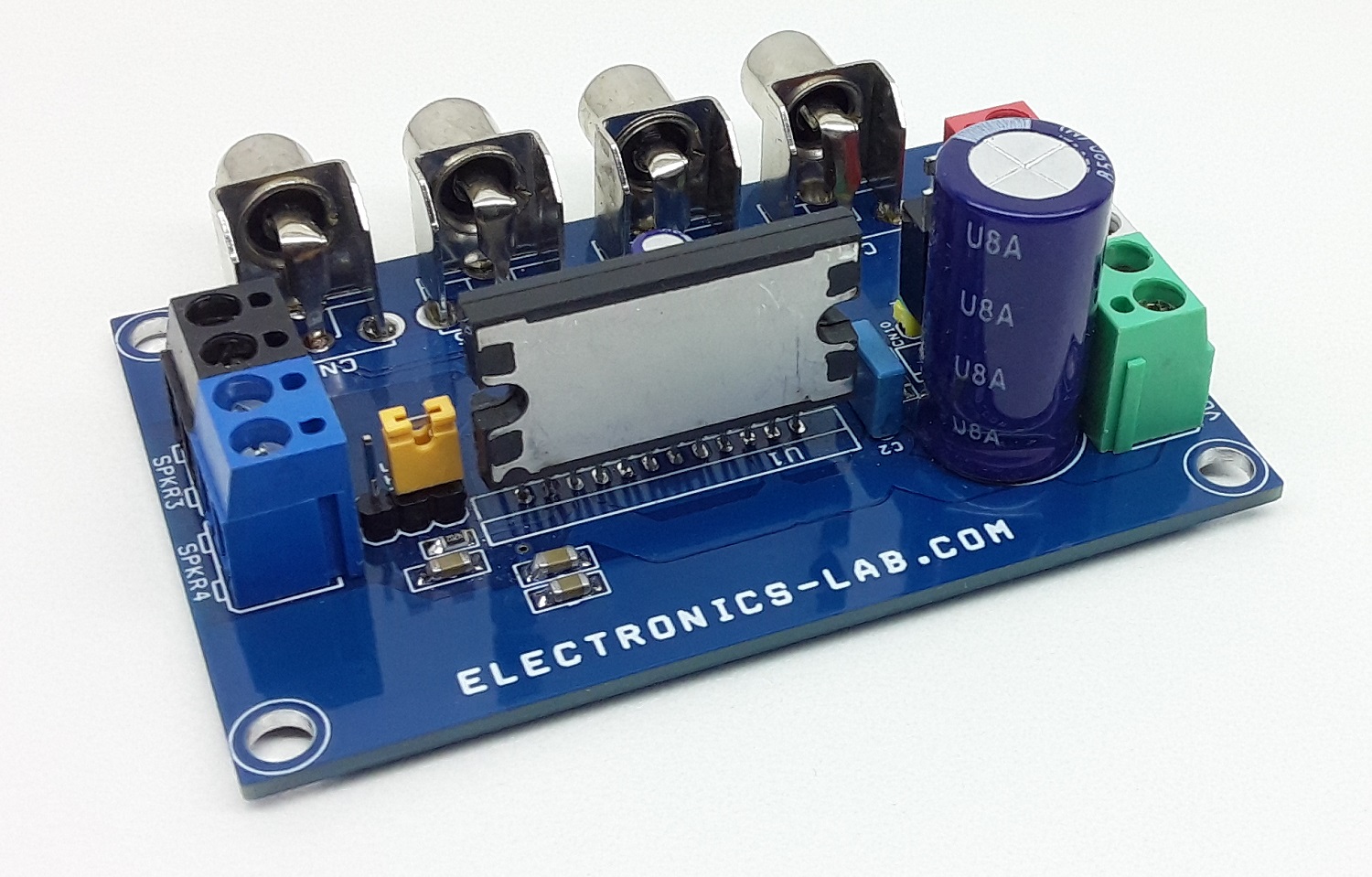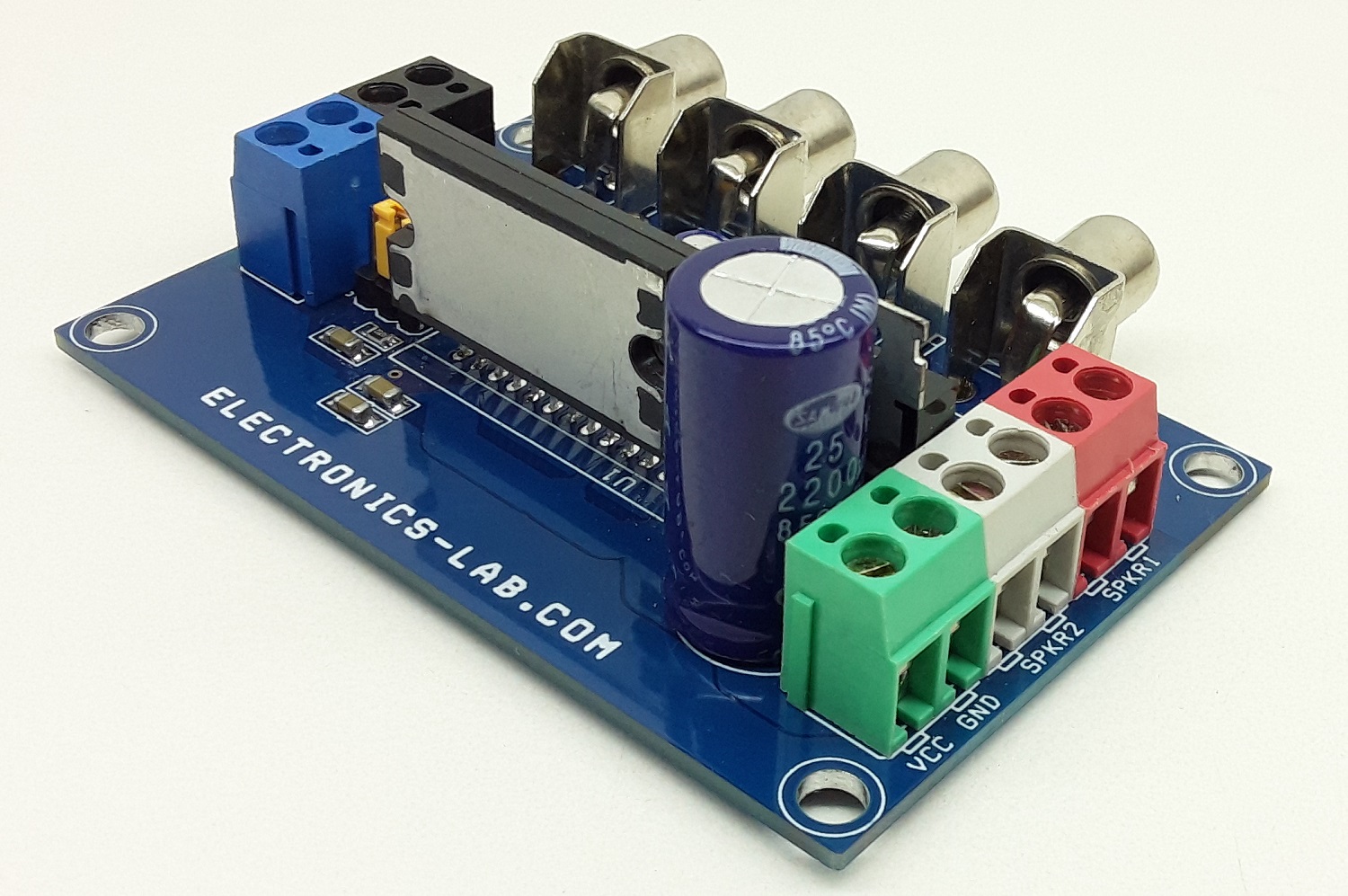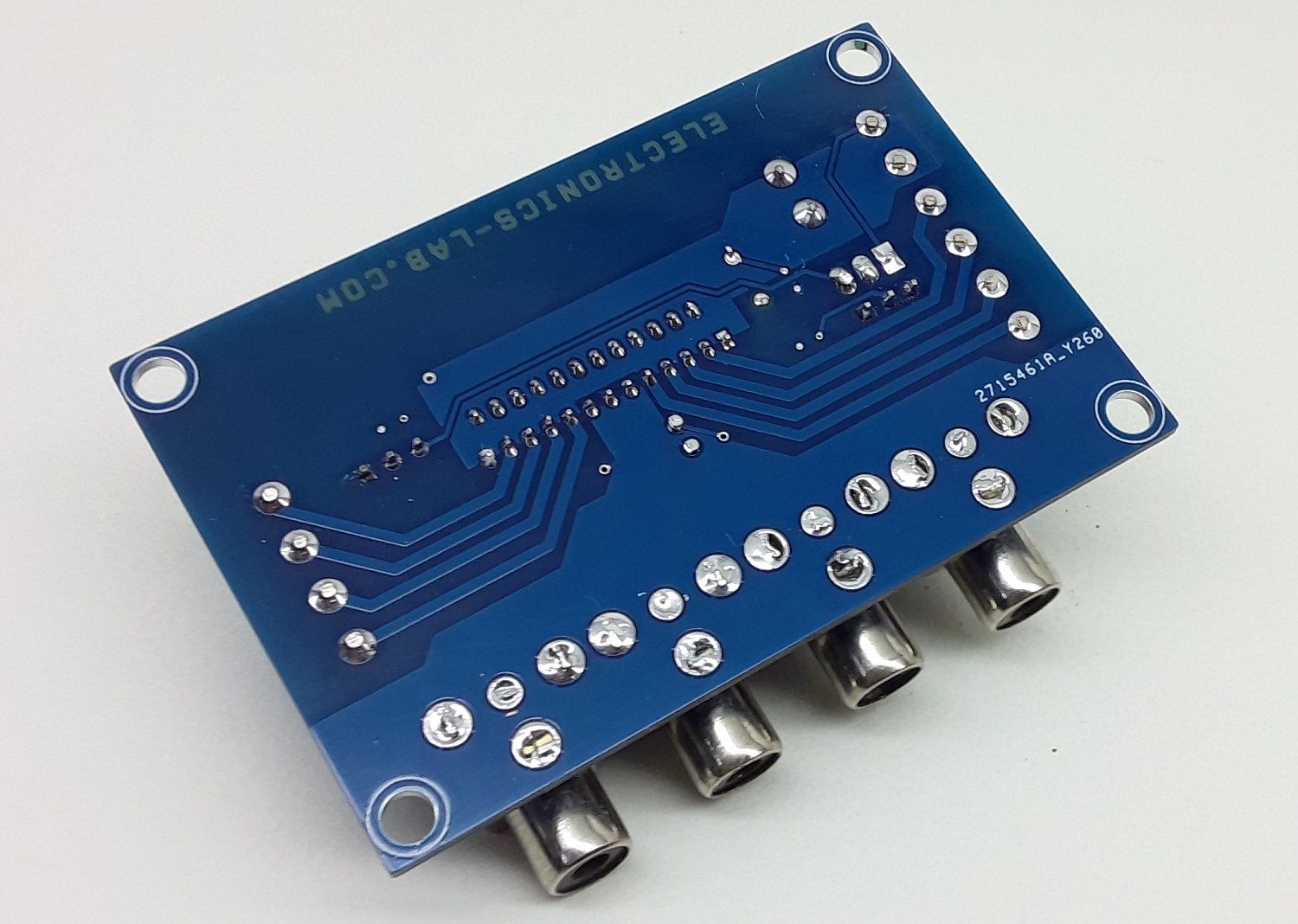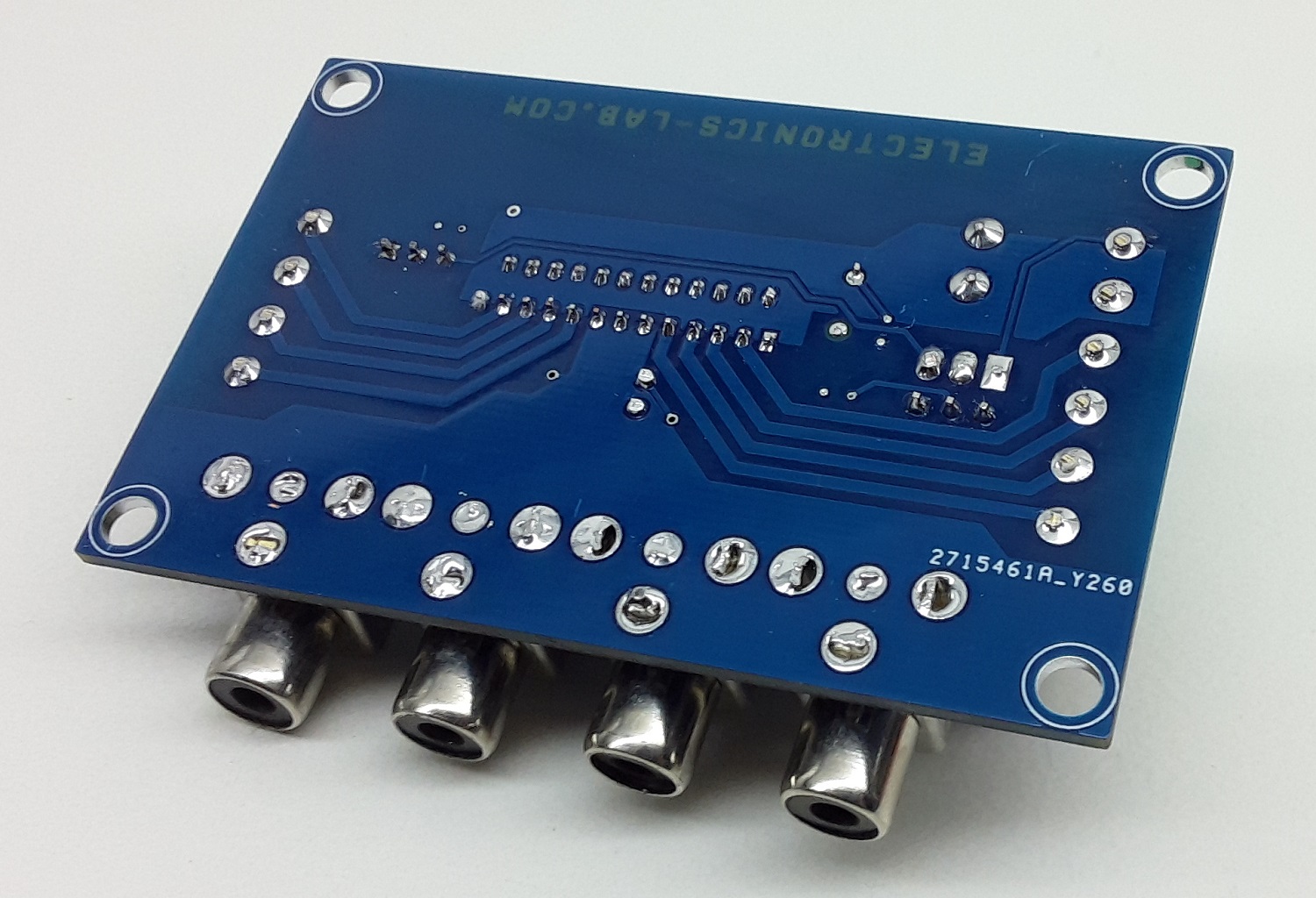 Video
TB2941HQ Datasheet