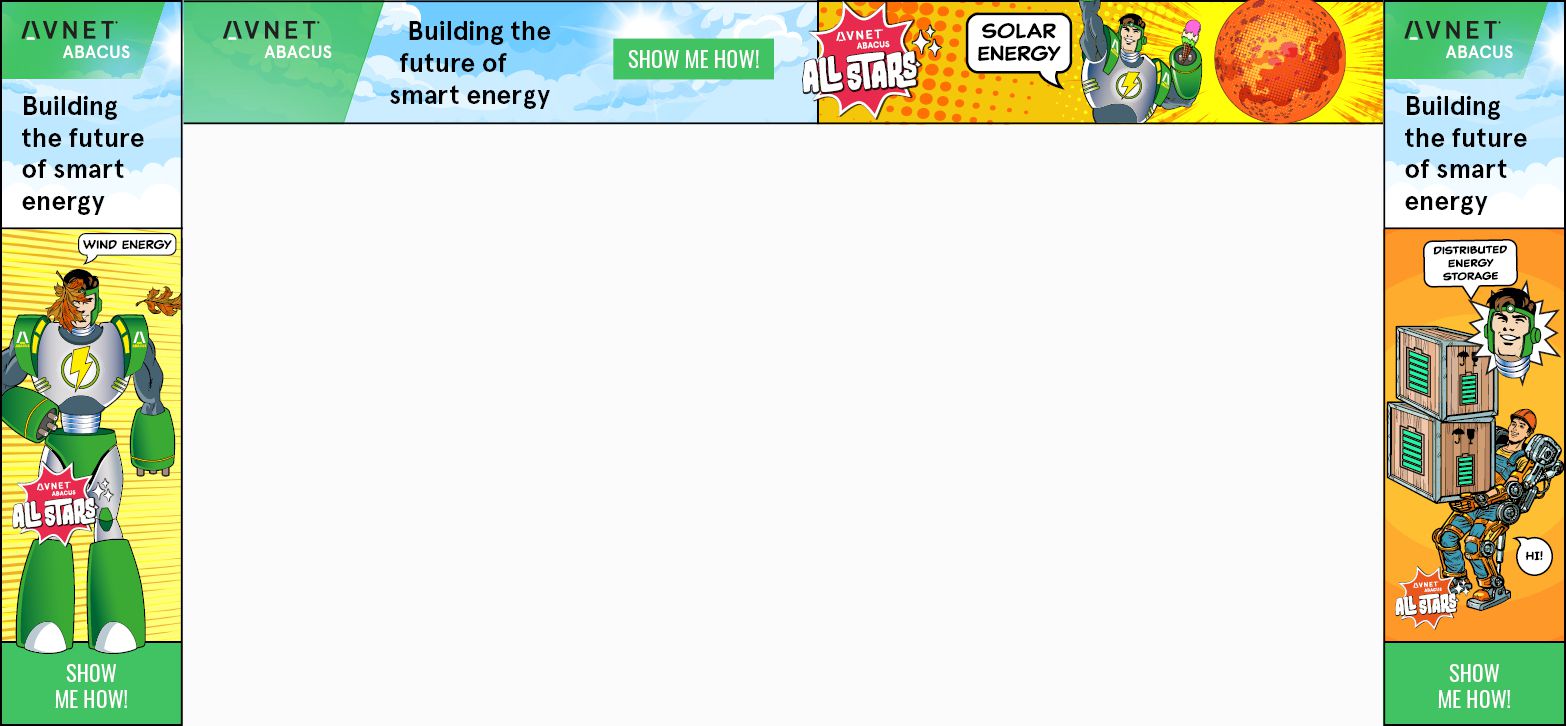 6 Channel RF Remote Controller Using CC2500 RF Modules
Rajkumar Sharma

23.386 Views

medium

Tested

SKU: EL65837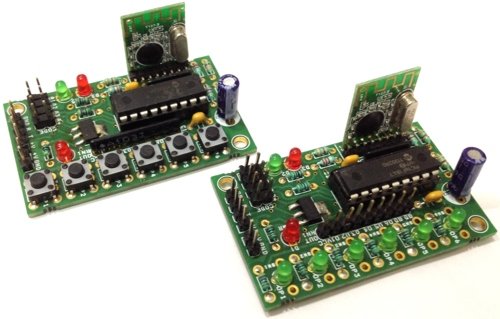 The 6 Channel RF Remote Controller designed using CC2500 RF Transceiver modules and PIC16F1847 micro-controller from microchip. Transmitter provided with 6 tact switch, 4 Address Jumpers to pair multiple unit so they don't interfere with each other. Board provided with power LED, valid transmission LED. Project works with 5 V DC, On board LM1117-3.3V regulator for CC2500 Module.  Two in one PCB can be used as Transmitter & Receiver.
Receiver works with 5V DC. 4 Jumper to paring RX& TX units, valid signal LED, power LED, and 9 Pin connector for outputs.  Same PCB is used as transmitter and receiver.  All outputs are Latch Type and TTL 5V Signal for easy interface with other devices like Relay Boards, Solid State Relays.
CC2500 RF Module
The CC2500 is a low-cost 2.4 GHz transceiver designed for very low-power wireless applications. The circuit is intended for the 2400-2483.5 MHz ISM (Industrial, Scientific and Medical) and SRD (Short Range Device) frequency band. The RF transceiver is integrated with a highly configurable baseband modem. The modem supports various modulation formats and has a configurable data rate up to 500 baud. CC2500 provides extensive hardware support for packet handling, data buffering, burst transmissions, clear channel assessment, link quality indication and wake-on-radio.
The main operating parameters and the 64-byte transmit/receive FIFOs of CC2500 can be controlled via an SPI interface. In a typical system, the CC2500 will be used together with a microcontroller and a few additional passive components.
Features Transmitter
Supply Transmitter 5V DC
4 Jumpers for Address Setting
16 Remote can be used as same time with 4 Jumpers
2 Pin Header Connector for Supply Input
Power LED
Transmission LED
Features Receiver
Supply Transmitter 5V DC
4 Jumpers for Address Setting
16 Remote can be used as same time with 4 Jumpers
2 Pin Header Connector for Supply Input
Power LED
Valid Signal Receive LED
9 Pin Header Connector for Outputs
5V TTL Outputs
Latch Output
Transmitter Schematic


Receiver Schematic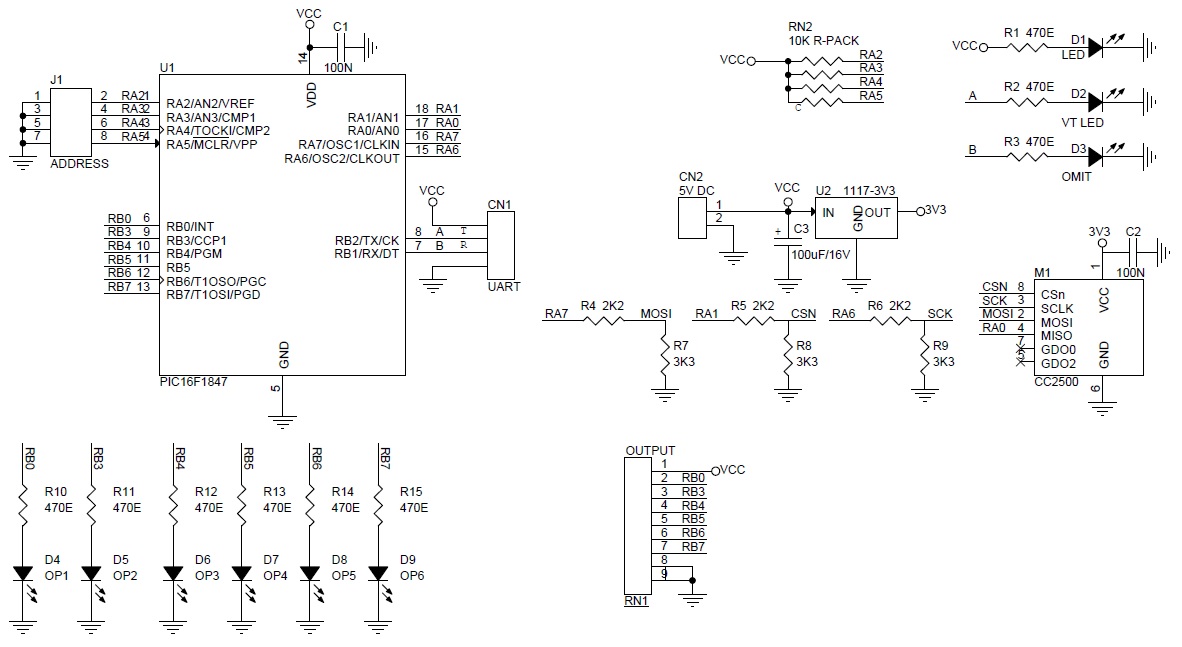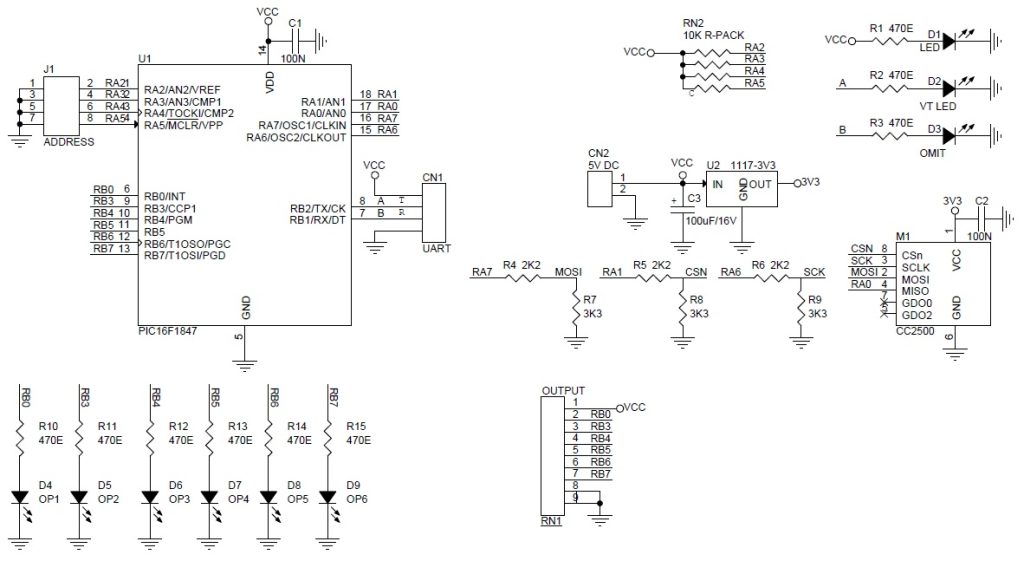 Parts list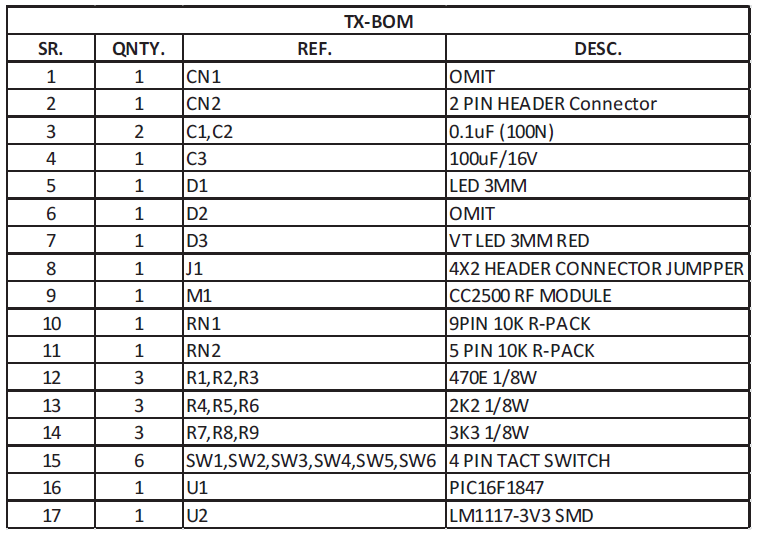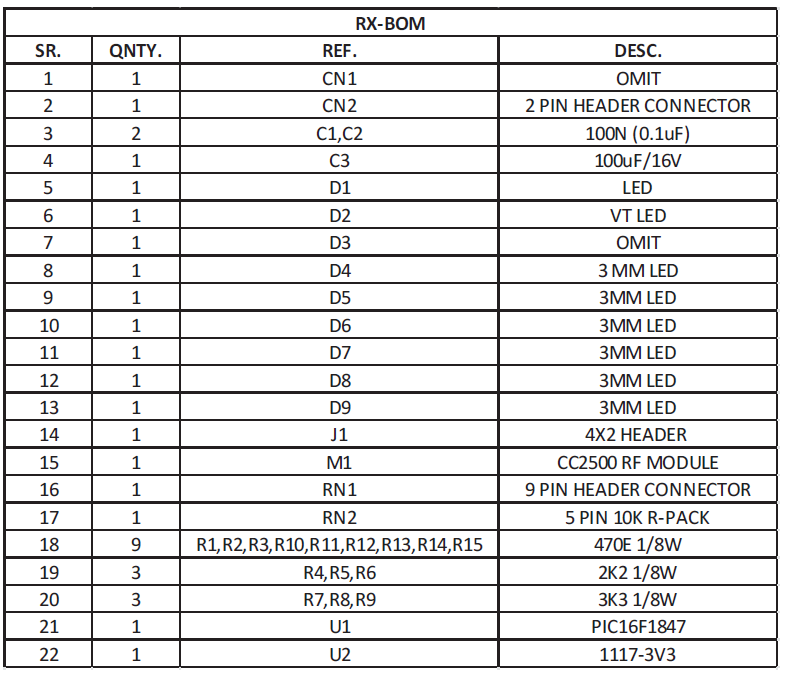 Connections


Video