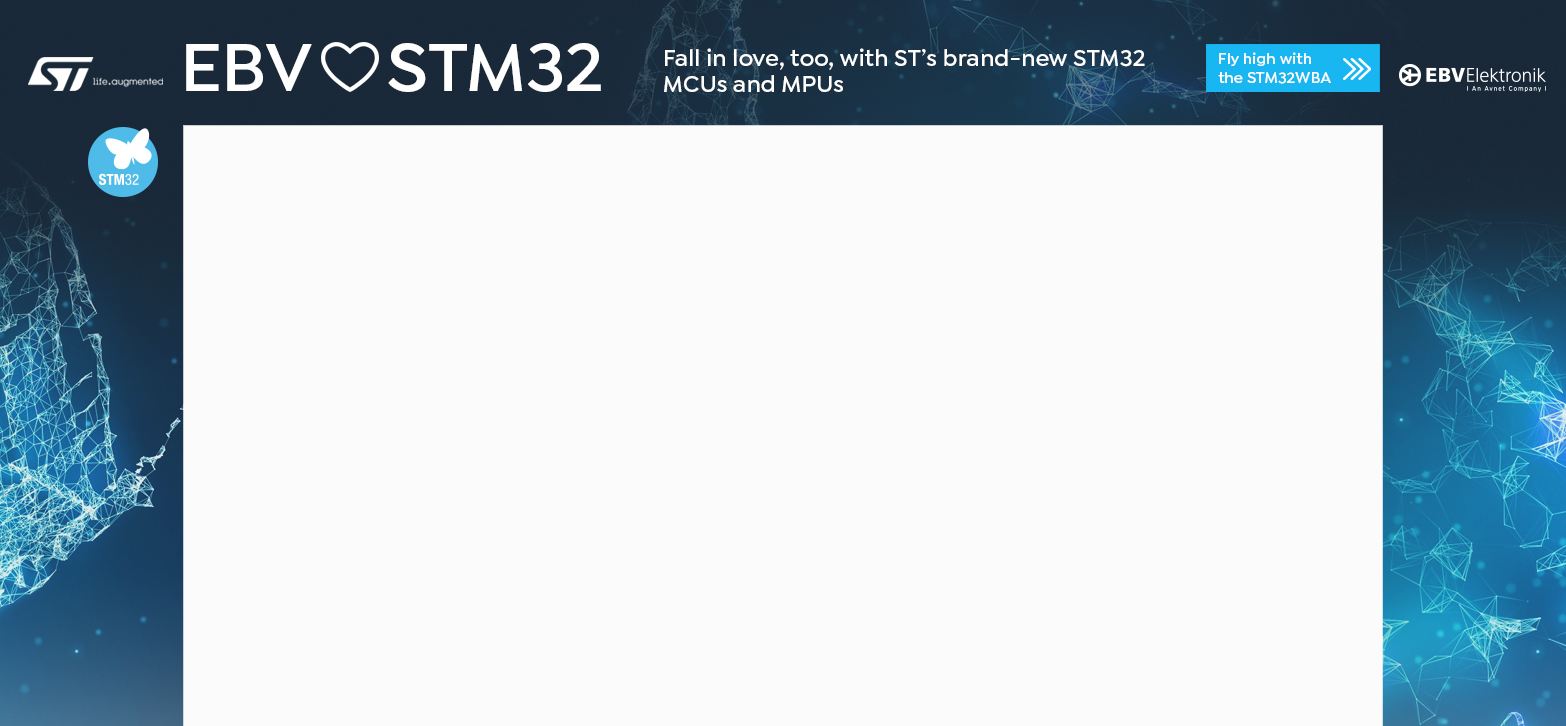 Voice Echo Processor Module – Delay Device for Sound Effects, Echo, Reverb 
Rajkumar Sharma

355 Views

moderate

Tested

SKU: EL127195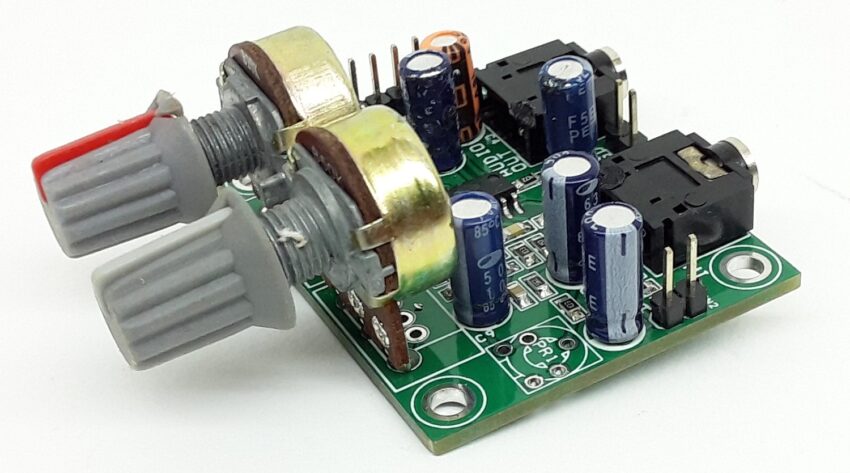 The voice echo or digital delay sound effects project presented here is suitable for applications such as Karaoke, multimedia, musical instrument effects, electronics toys, animatronics, etc. The project is based on PT2399 chip, with an operating supply of 5V DC, and approx. 30mA current consumption. Two potentiometers are provided to set the delay and repeat. The delay range is adjustable from 50ms to 280ms.
The PT2399 is a single-chip echo processor IC utilizing CMOS technology. It accepts analog audio input signal, and a high sample rate ADC converts the analog signal into a bit stream that is stored in internal 44Kbit RAM. After processing the bit stream it will be de-modulated by DAC and lowpass filter. The overall delay time is determined by the internal VCO clock frequency, and the user can easily change the VCO frequency by changing the external resistance. The PT2399 performs low distortion (THD<0.5%@0.5Vrms) and low noise (No<-90dBV) characteristics for audio purposes.
Note1: With this board, the delay range is 50ms to 280ms which is adjustable using the potentiometer. The actual delay range is 31.3ms to 342ms, to achieve this alter the value of resistor R9 and Trimmer potentiometer PR2.
Note2: The PCB has provision to mount Trimmer pot or 16MM potentiometer, install any of this as per requirement, PR1 Trimmer Pot = P1 16MM potentiometer, PR2 Trimmer Pot = P2 16MM potentiometer.
Connections and Other Important Details
CN1: Power Supply Input >> Pin1 = VCC 5V DC, Pin2 = VCC 5V DC, Pin3 = GND, Pin4 = GND
CN2: Audio Signal Input from Musical Instruments or Microphone Preamplifier >> Pin1 = Audio Signal Input, Pin2= GND
CN3: Audio Signal Output >> Pin1 = Audio Signal Output, Pin2= GND
CN4: Optional 3.5MM EP Female Connector for Audio Output
CN5: Optional 3.5MM EP Female Connector for Audio Input
PR1 or P1: Potentiometer to Adjust the Delay
PR2 or P2: Potentiometer to Adjust the Repeat
D1: Power LED
Features
Power Supply 5V DC @ 30mA
Delay Range 50ms to 280ms (Read Note 1)
Accept Standard Audio Signal
On Board Potentiometer for Delay Adjust
On Board Potentiometer for Repeat Adjust
On Board Power LED
EP Socket for Audio Signal Input and Output
Optional 2 Pin x 2 Header Connector for Audio Input and Output
4 x 3MM Mounting Holes
PCB Dimensions 48.10 x 38.58mm
Applications
KARAOKE Mixer
CD/DVD Player/Recorder
Multimedia
Animatronics
Music Instrument effecter
Electronics Toy
Schematic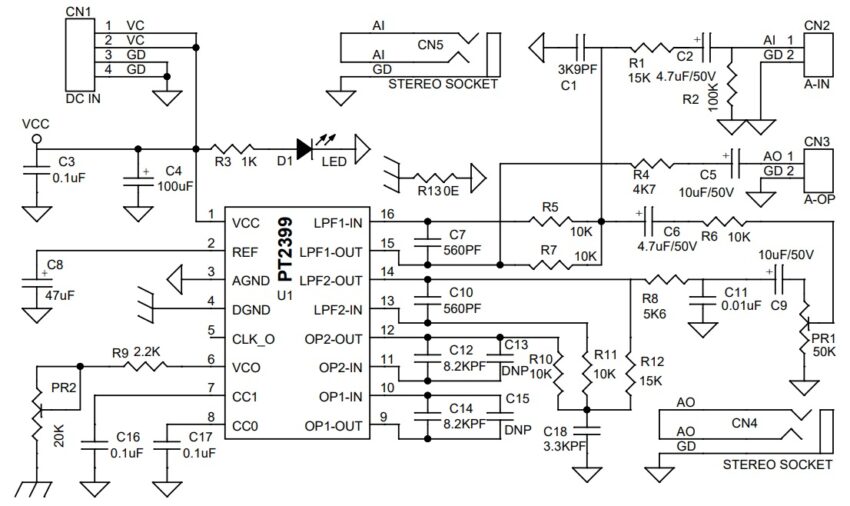 Parts List
| NO. | QNTY. | REF. | DESC. | MANUFACTURER | SUPPLIER | PART NO |
| --- | --- | --- | --- | --- | --- | --- |
| 1 | 1 | CN1 | 4 PIN MALE HEADER PITCH 2.54MM | WURTH | DIGIKEY | 732-5317-ND |
| 2 | 1 | CN2 | 2 PIN MALE HEADER PITCH 2.54MM | WURTH | DIGIKEY | 732-5315-ND |
| 3 | 1 | CN3 | 2 PIN MALE HEADER PITCH 2.54MM | WURTH | DIGIKEY | 732-5315-ND |
| 4 | 2 | CN4,CN5 | 3.5MM STEREO EP SOCKET FEMALE | CUI AUDIO | DIGIKEY | CP1-3525N-ND |
| 5 | 1 | C1 | 3K9PF/50V SMD SIZE 0805 | YAGEO/MURATA | DIGIKEY | |
| 6 | 2 | C2,C6 | 4.7uF/50V OR 16-25V ELECTROLYTIC | PANASONIC | DIGIKEY | P10321-ND |
| 7 | 3 | C3,C16,C17 | 0.1uF/50V SMD SIZE 0805 | YAGEO/MURATA | DIGIKEY | |
| 8 | 1 | C4 | 100uF/16V OR 25V ELECTROLYTIC | UNITED CHEM | DIGIKEY | 565-EMHL250ARA101MF80GCT-ND |
| 9 | 2 | C5,C9 | 10uF/50V ELECTROLYTIC | NICHICON | DIGIKEY | 493-12569-1-ND |
| 10 | 2 | C7,C10 | 560PF/50V SMD SIZE 0805 | YAGEO/MURATA | DIGIKEY | |
| 11 | 1 | C8 | 47uF/16V OR 25V ELECTROLYTIC | NICHICON | DIGIKEY | 493-10997-1-ND |
| 12 | 1 | C11 | 0.01uF/50V SMD SZIE 0805 | YAGEO/MURATA | DIGIKEY | |
| 13 | 2 | C12,C14 | 8K2PF/50V SMD SIZE 0805 | YAGEO/MURATA | DIGIKEY | |
| 14 | 2 | C13,C15 | DNP | | | |
| 15 | 1 | C18 | 3K3PF/50V SMD SIZE 0805 | YAGEO/MURATA | DIGIKEY | |
| 16 | 1 | D1 | LED RED SMD SIZE 0805 | LITE ON INC | DIGIKEY | 160-1427-1-ND |
| 17 | 1 | PR1 | 50K POTEMTIOMETER PCB MOUNT 16MM | BOURNS INC | DIGIKEY | PDB181-K220K-503B-ND |
| 18 | 1 | PR2 | 20K POTENTIOMETER PCB MOUNT 16MM | BOURNS INC | DIGIKEY | PDB181-K420K-203B-ND |
| 19 | 2 | R1,R12 | 15K 5% SMD SIZE 0805 | YAGEO/MURATA | DIGIKEY | |
| 20 | 1 | R2 | 100K 5% SMD SIZE 0805 | YAGEO/MURATA | DIGIKEY | |
| 21 | 1 | R3 | 1K 5% SMD SIZE 0805 | YAGEO/MURATA | DIGIKEY | |
| 22 | 1 | R4 | 4K7 5% SMD SIZE 0805 | YAGEO/MURATA | DIGIKEY | |
| 23 | 5 | R5,R6,R7,R10,R11 | 10K 5% SMD SIZE 0805 | YAGEO/MURATA | DIGIKEY | |
| 24 | 1 | R8 | 5K6 5% SMD SIZE 0805 | YAGEO/MURATA | DIGIKEY | |
| 25 | 1 | R9 | 2.2K 5% SMD SIZE 0805 | YAGEO/MURATA | DIGIKEY | |
| 26 | 1 | R13 | 0E SMD SIZE 0805 | YAGEO/MURATA | DIGIKEY | |
| 27 | 1 | U1 | PT2399 SMD SO16 | EBAY | DIGIKEY | http://www.princeton.com.tw |
Connections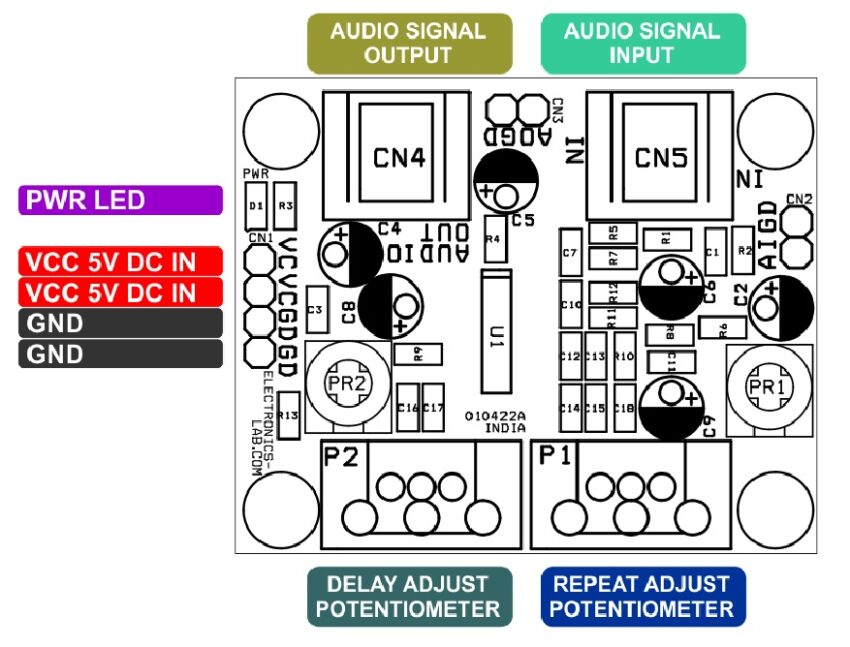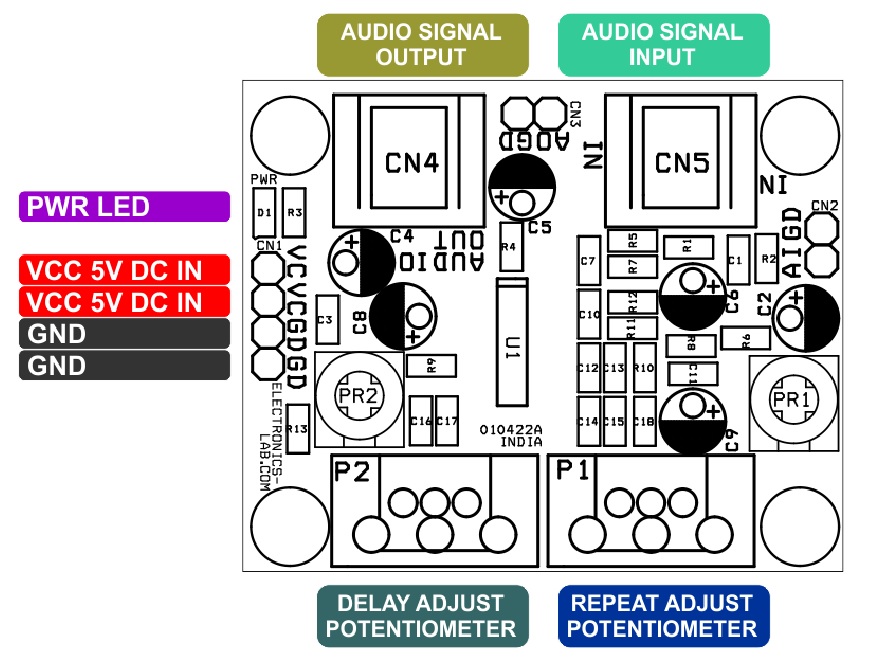 Block Diagram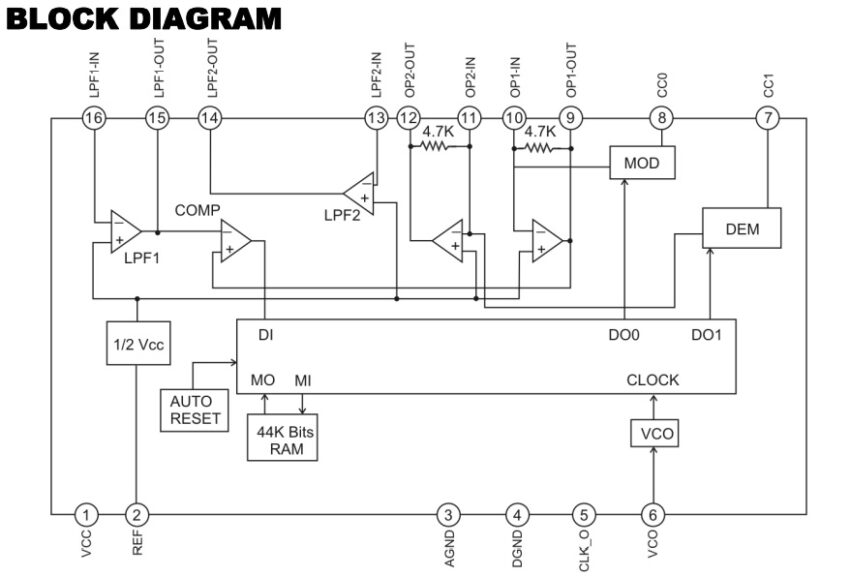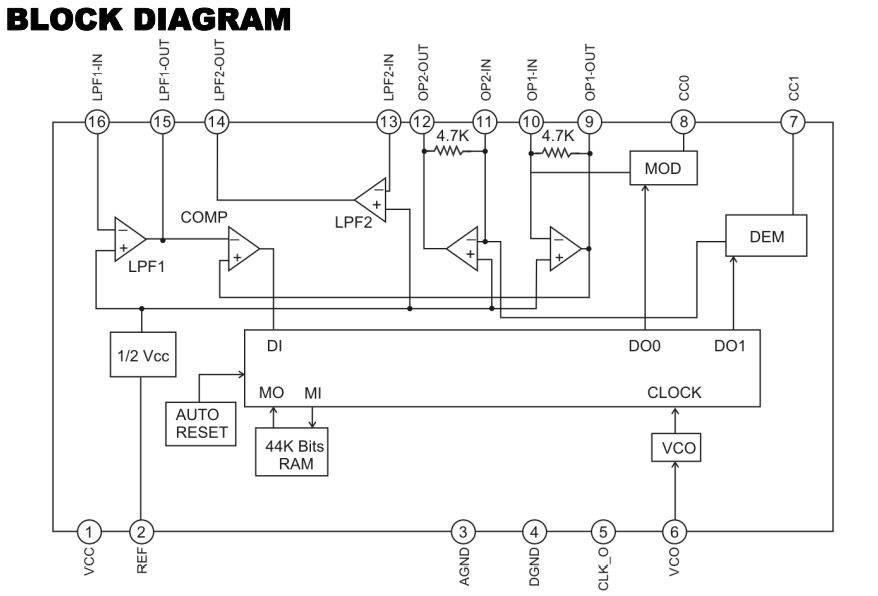 VCO Frequency Table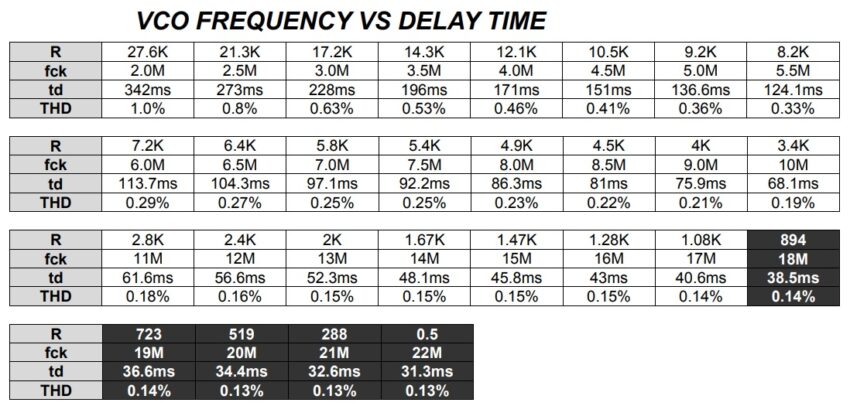 Gerber View
Photos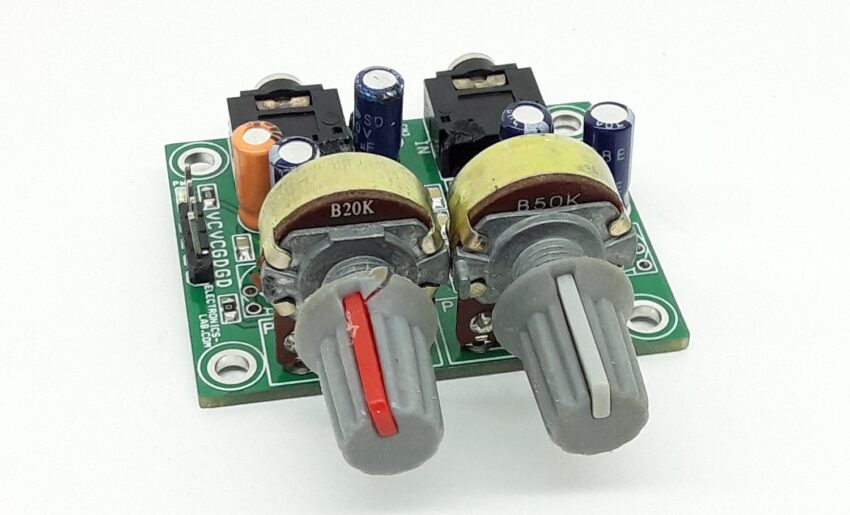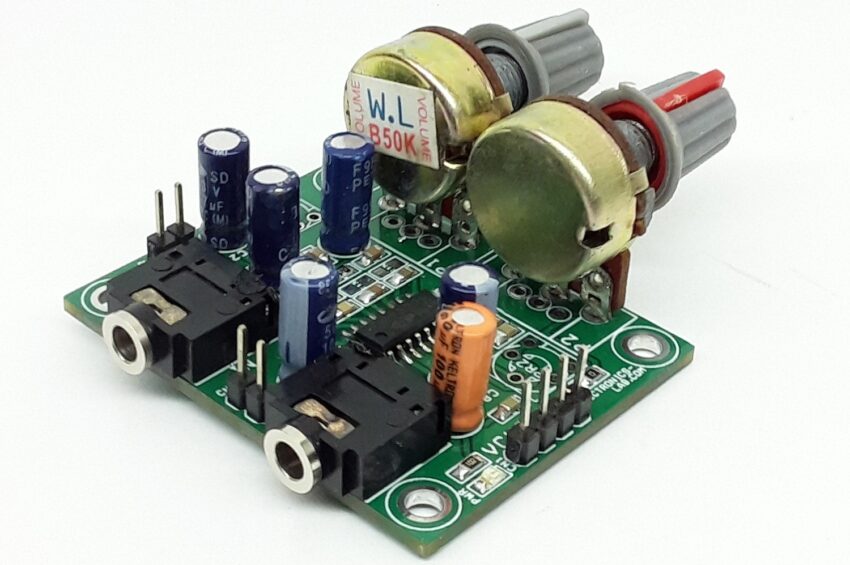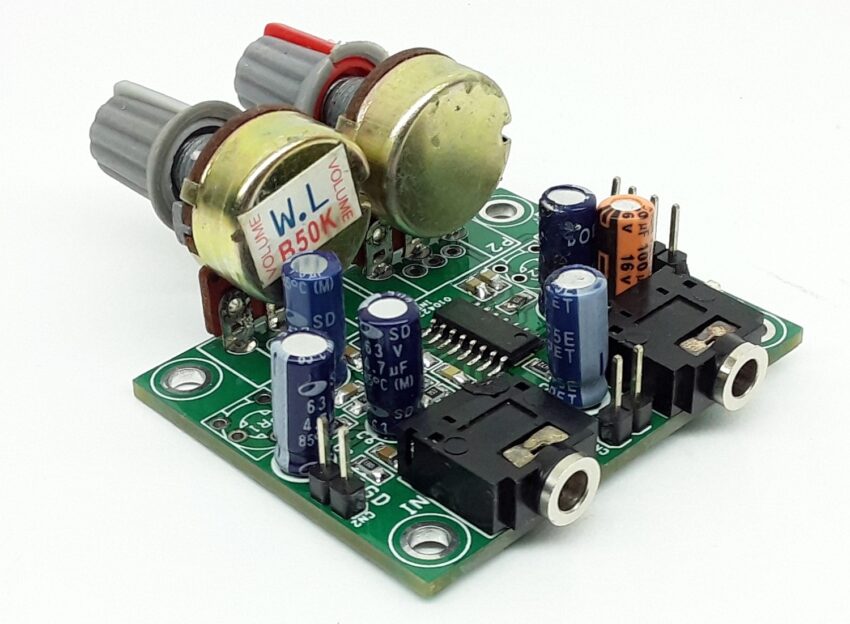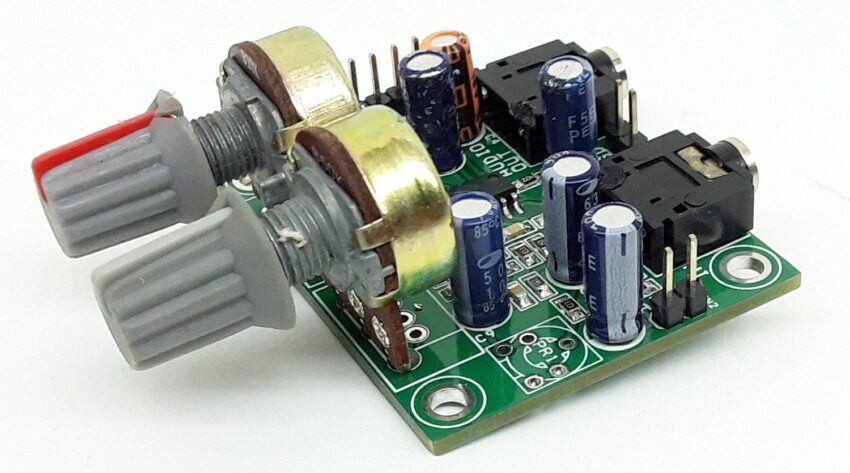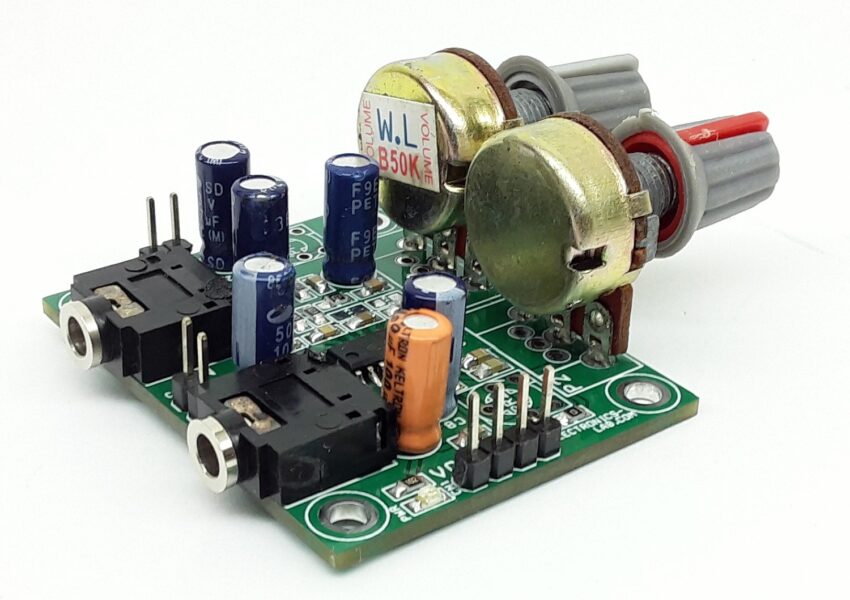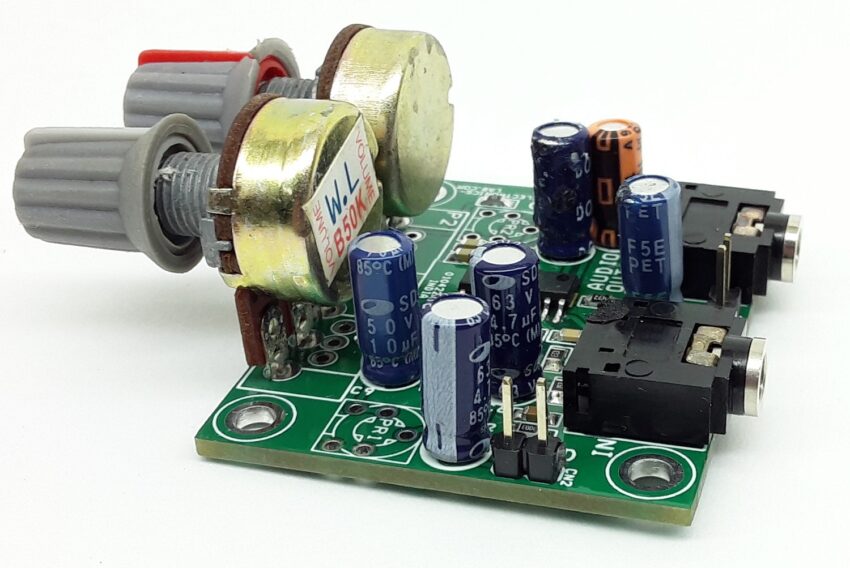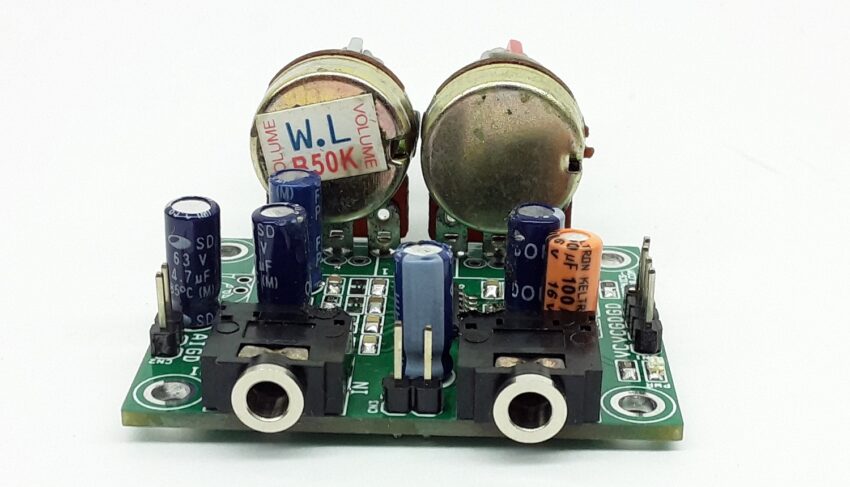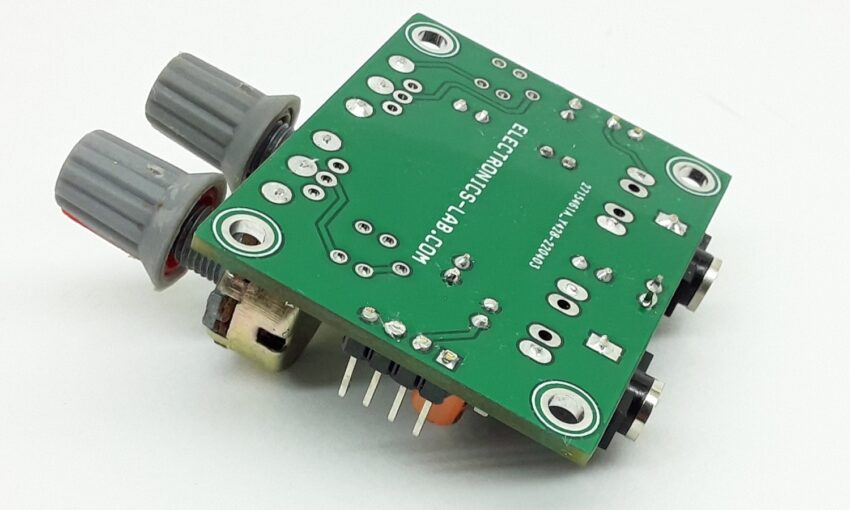 Video
PT2399 Datasheet