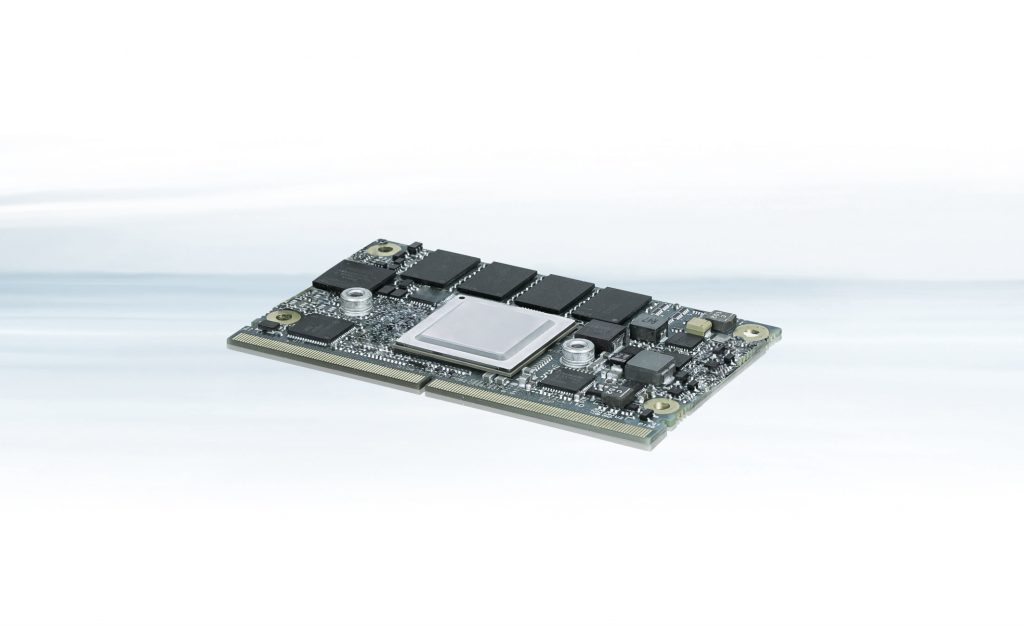 SMARC-sAL28 module runs Linux With Sensitive GbE ports
Kontron has introduced its SMARC-sAL28 module, which operates on Linux on a dual-core Cortex-A72 LS1028 SoC with -40 to 85°C temperature range. It offers up to 5x GbE ports with Time Sensitive Networking. We can see that this marks the first time Kontron has offered a module we have seen in any form factor with NXP's dual-core, Cortex-A72 powered QorIQ Layerscape LS1028 SoC. The SMARC-sAL28 is in accord with the IEEE 802.1 TSN (Time Sensitive Networking) specifications, and is suitable for use in industrial IoT or industrial 4.0 systems based on standard Ethernet protocols.
The specifications "guarantees a timely and highly available delivery of data packets" says Kontron.
In industrial environments, such as machine control in production, Ethernet-based TSN with guaranteed latency and Quality of Service (QoS) with time synchronization can replace proprietary fieldbus systems and simultaneously communicate seamlessly to the IT level
This makes real IIoT or Industry 4.0 based on standard Ethernet possible. The 82 x 50mm module runs a Yocto Project based Linux stack (with U-Boot) on the LS1028. The SMARC-sAL28 module will be available in two versions. The first version offers 2 TSN-capable 1 GbBE switched Ethernet ports that can be directly used by the carrier.
The second version supports 4 switched TSN-capable 1 GB ports via the QSGMII interface with an additional TSN-capable Ethernet interface, providing a total of 5x TSN-capable 1 GbE ports using a quad-PHY on the carrier. The module is currently the most cost-efficient solution for implementing TSN-capable IoT gateways. Both versions support up to 4GB DDR3L non-ECC or ECC soldered down memory and offer a 3D GPU as well as eMMC 5.1 onboard memory with a capacity from 2 to 64 GB. Also available is a dual channel LVDS interface for HDMI, DP, or eDP displays (as BOM option) and two PCI Express (PCIe) x1 interfaces.
The SMARC-sAL28 has one SDIO, 4x serial, one I2S, two I2C, two SPI, 12x GPIO and one CAN interface. It is also fitted with with a single USB 3.0, 6x USB 2.0, and 4x RX/TX serial interfaces.  Regarding security features, SMARC-sAL28 supports the Kontron APPROTECT security solution powered by Wibu-Systems. The Wibu-Systems (CodeMeter) provides IP and third party software copy/reverse engineering protection. Kontron APPROTECT Licensing also enables individual application functions like demo purposes, pay per use, or to enable/disable features.
For more information, visit Kontron's SMARC-sAL28 announcement and product page.
Join 97,426 other subscribers

Archives