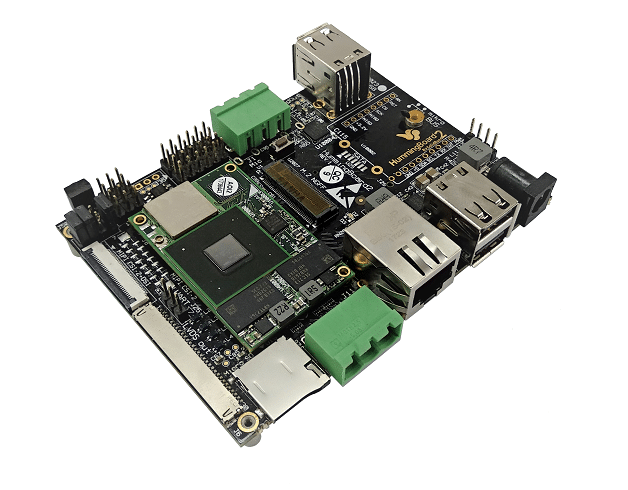 SolidRun HummingBoard SBC gets a boost of CAN and Serial ports
SolidRun has released a new board to their HummingBoard style family called the HummingBoard CBi. SolidRun who specialize in a wide variety of embedded systems and network solutions which are mostly based around ARM and x86 Architecture SBCs, SOMs and Industrial mini PCs, has launched the HummingBoard CBi – an Industrial SBC – different from the previous HummingBoard Edge SBC which was more of a maker/hacker's board.
The new HummingBoard CBi is a robust embedded industrial SBC with CAN bus & RS485 connectors, and it's tailor-made for industrial applications. It is a spin-off of its earlier HummingBoard Edge SBC and it swaps out the HDMI port with a more industrial-proof MIPI-DSI in a sandwich-style board. It also comes with a generic metal enclosure for housing the new SBC.
Just like it's predecessor, the HummingBoard CBi SBC runs Linux using the same MicroSOM modules on NXP i.MX6 with an option for dual or quad-core 1.2GHz Cortex-A9 Cores. Additional, the device enclosure can support temperature range between -40 to 85°C making it ideal for the industrial environment. Regarding OS, it supports different Linux builds from Debian, Yocto Project, BuildRoot, to OpenWrt stacks, and possibly other similar builds.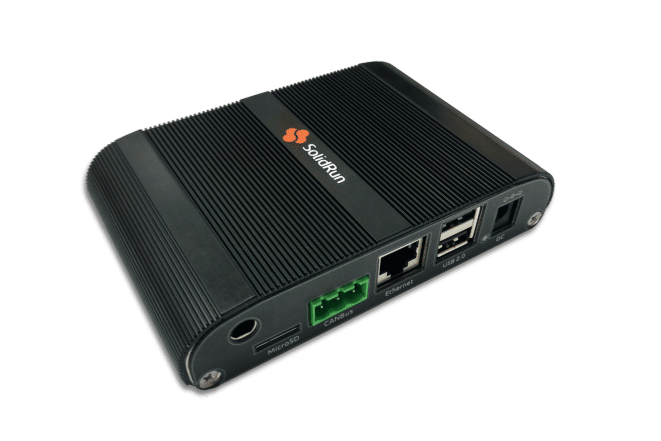 As expected the Quad Core version costs higher than the Dual Core version. Prices are, $255 for the quad-core model with 2GB RAM and $189 for the dual-core model with 1GB RAM.
Like the Edge, the CBi offers similar features if not the same set of features. It provides 4x USB 2.0 ports, 8GB eMMC,  a microSD slot, a WiFi/Bluetooth module, a mini-PCIe slot with SIM slot, as well as a storage-ready M.2 slot. Other features include LVDS, MIPI-DSI, and MIPI-CSI interfaces, as well as an RTC and a wide power input range 7-36V.
The significant difference with the Edge is the addition of CAN and RS485 ports via terminal connectors, an increase in RAM and a configurable push button and LEDs.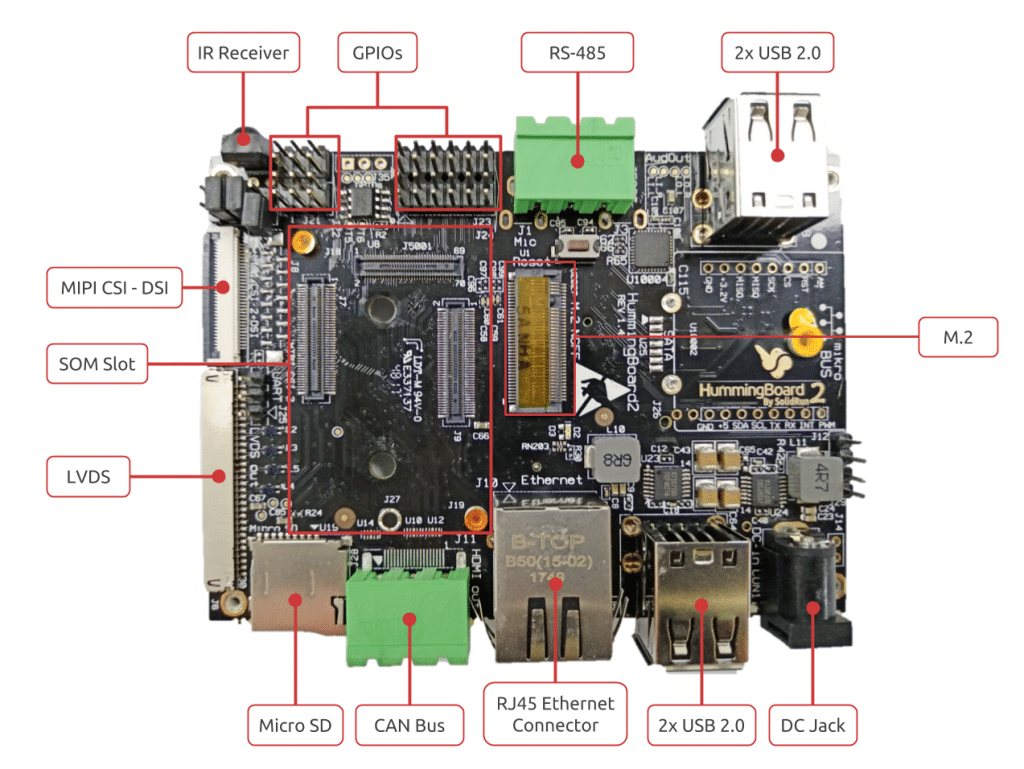 Below are some of the device specifications:
Processor (via MicroSOM i.MX6) – NXP i.MX6 (2x or 4x Cortex-A9 cores @ up to 1.2GHz)
Memory/Storage:

1GB (Dual) or 2GB (Quad) DDR3 RAM (via MicroSOM i.MX6)
8GB eMMC (via MicroSOM i.MX6)
MicroSD slot
M.2 2242 slot with storage support

Wireless — WiFi/Bluetooth module
Networking –- Gigabit Ethernet port (limited to 470Mbps bandwidth)
Media I/O:
Other I/O:

4x USB 2.0 ports
RS485 port (terminal connector)
CAN bus port (terminal connector)

Expansion:

Mini-PCIe slot with SIM card holder
M.2 2242 slot (see memory/storage above)

Other features – Reset button; configurable push button; IR receiver; RTC; 3x LEDs; metal enclosure
Power — 7-36V input jack
Operating temperature — -40 to 85°C
Dimensions -– 102 x 69mm
Operating system — Linux 4.4x (Debian, Yocto Project, BuildRoot, OpenWrt; Android coming soon
The device is available for purchase and more information about the product is available on the product page here.
Subscribe to Blog via Email
Join 97,954 other subscribers
Archives