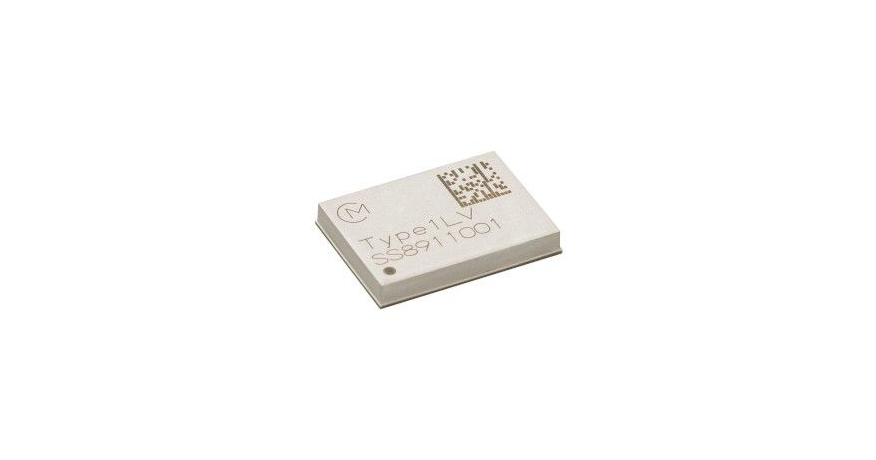 Type 1LV – Lowest power WiFi/Bluetooth module opens new applications

Type 1LV is a small and high performance module based on Cypress CYW43012 combo chipset which supports WiFi 802.11a/b/g/n + Bluetooth 5.0 BR/EDR/LE up to 72.2Mbps PHY data rate on Wifi and 3Mbps PHY data rate on Bluetooth. 2Mbps LE PHY is also supported. The WLAN section supports SDIO v2.0 SDR25 interface and the Bluetooth section supports high-speed 4-wire UART interface and PCM for audio data.
In IEEE 802.11ac-friendly mode, the WLAN operation supports MCS8 (256 QAM) in 20MHz channel for data rate up to 78Mbps.
The CYW43012 implements highly sophisticated enhanced collaborative coexistence hardware mechanisms and algorighms, which ensure that WLAN and Bluetooth collaboration is optimized for maximum performance.
Teaming with Cypress allows us to leverage our combined expertise in delivering breakthrough solutions that are game-changers for the market," says Mehul Udani, Director, Connectivity Solutions for Murata Americas. "Using our proprietary packaging and miniaturization technologies, Murata leads in developing turnkey, transformational tools that ease integration and enable connectivity to help bring IoT to fruition. With this lowest power Wi-Fi module, we now enable a new class of products that were previously designated for Bluetooth.
Embedded IPv6 network stack for use with WICED SDK and TCP keepalive is handled internally, so that host processor can keep sleeping.
In addition to Bluetooth 5.0 2Mbps PHY support, all of optional Bluetooth 4.2 features, LE Secure Connections, LE Privacy 1.2 and LE Data Packet Length Extension, are supported.
Type 1LV module is packaged in an impressively small shielded form factor that facilitates integration into size- and power-sensitive applications such as IoT applications, handheld wireless system, gateway and more.
Shielded Ultra Small Dual Band WiFi 11a/b/g/n+Bluetooth 5.0 Module
2.4GHz & 5 GHz WiFi+Bluetooth Module
Network Topology: AP and STA dual mode
Chipset: Cypress (CYW43012)
Processor: No
Modulation: DSSS / CCK / OFDM
High Performance Capabilities for Internet of Things
For Industrial IoT, Smart Home, Sensor Network, Gateway
802.11 a/b/g/n 78Mbps
NXP i.MX Linux, Cypress WICED
he Type 1LV module is now in mass production and you can find more information on wireless.murata.com
Join 97,426 other subscribers

Archives