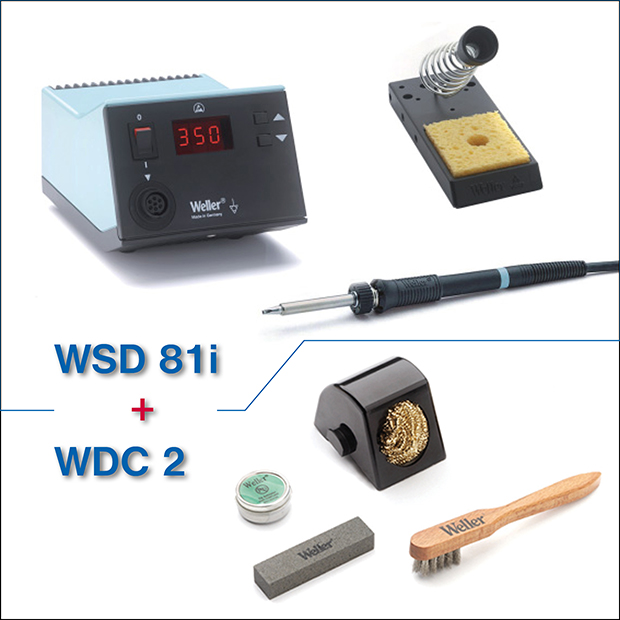 Weller WSD81i soldering station now with a cleaning set for free
Reliable "industrial" station WSD81i for excellent price and a set with a value of 40 Eur as a free bonus – that´s our gift to you. 
Innovated soldering station Weller WSD81i was in-depth introduced to you in our article Weller WSD81i soldering station doesn´t need a calibration even after years.
WSD81i soldering station hides behind a relatively plain classic design a top level technique. WSD81i uses "Silver line" technology of a heat transfer to a relatively short tip with a copper core, ensuring excellent heat transfer and excellent temperature accuracy.
Briefly:
 platinum thermal sensor, doesn´t require calibration even after a long-term operation (IPC compliant).
standby mode (adjustable in a range of 1-99min) and electronics controlling usage of a soldering tool
"Offset" function for a change of a displayed temperature ( advantageous for example in plants, where workers were used to set say 380°C but at WSD81i even 360°C would be sufficient (thanks to excellent heat transfer to a tip). In this case a worker doesn´t have to differ which soldering station he uses and he can use a unified setting for all types
possibility to lock the station by your own code
possibility to set a temperature "window"
uses modern and economical tips from the LT series
Comparison of three main technologies and also a comprehensive description of particular tips can be found in the "Weller soldering tips" brochure. Detailed description of the WSD81i station can be found in the WSD81i user guide.
WSD81i – namely version T005 32 946 99 (80W tool + wet cleaning stand) is brought to you in a special offer, where besides attractive price (259 Euro) you´ll gain a quality tip cleaning set with a value of 40 Euro for free.
The cleaning set (WDC2 dry cleaner, T0051512799) contains a stand for dry cleaning, polishing bar, stainless steel brush and tip activator. Thanks to this set you can significantly prolong lifetime of your tips and concretely this set also enables you to choose dry or wet cleaning according to your current requirements.
For 259 Euro you´ll get a complete soldering station and perspectively – you can choose from the LT series tips or from any other accessories, including soldering fumes extraction stations (non-stock types we´re able to deliver you upon request with a short leadtime).


Weller WSD81i soldering station now with a cleaning set for free – [Link]
Join 97,426 other subscribers

Archives