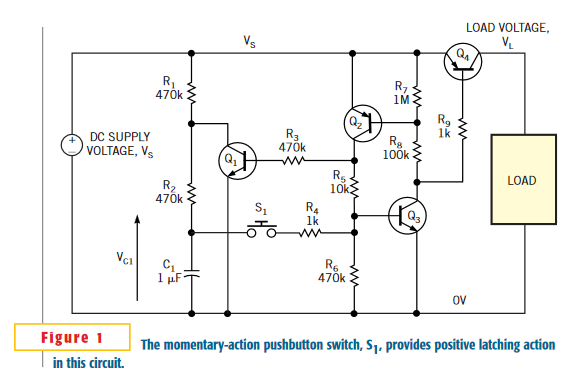 Latching power switch uses momentary-action pushbutton
Anthony Smith @ edn.com published a push button latching circuit able to control a load with a single push of a button.
The circuit in Figure 1 shows how you can use a simple, momentary-action, SPNO (single-pole, normally open) pushbutton switch to latch power to a load. Requiring just a handful of common, garden-variety components, the circuit works over a wide voltage range and is ideal for single-cell applications, because it can operate at voltages as low as 1V or less. Transistors Q2 and Q3 form an SCR-like structure that functions as a simple latch, Q4 switches power to the load, and S1 is the momentary pushbutton switch.
Latching power switch uses momentary-action pushbutton – [Link]