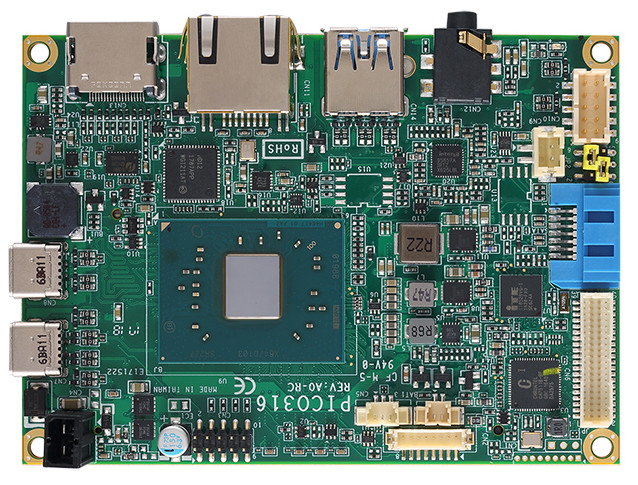 PICO316 – The New Pico-ITX SBC Powered By Intel Apollo Lake Processors
Axiomtek, a Taiwan based company has introduced new Pico-ITX form factor SBCs using Intel's Apollo Lake processor. This line of SBCs from Axiomtek started with PICO312 with minimal coastline ports, and then followed with a COM-like PICO313. Recently they launched a similar 100 x 72mm PICO316 SBC with more versatile ports than the original PICO312.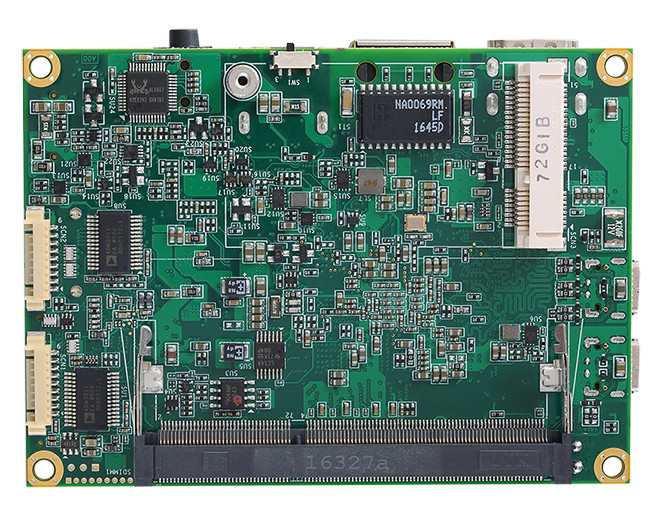 This PICO316 SBC is powered by Intel Pentium N4200 or Intel Celeron N3350 with Intel Gen9 Graphics. It supports up to 8GB DDR3L-1867 RAM. The SBC is compatible with most popular Linux kernels, such as Redhat, Fedora, Ubuntu also runs Windows as well. The IoT focused board also supports Axiomtek's exclusive device monitoring and remote management software, AXView 2.0.
While the PICO312 and PICO313 were restricted to a single USB 2.0 interface, the PICO316 upgrades to pack three USB 3.0 ports, two of which are Type-C ports. Like the PICO312, the PICO316 has an HDMI port to enhance the LVDS interface. As an extra feature PICO316 provides dual RS-232 interfaces. On the other hand, the new PICO316 loses the previously available DIO and half-size mini-PCIe interfaces found on the PICO313, as well as the pair of general expansion connectors found on both of the earlier models.
The PICO316 is further provided with a SATA III interface, a GbE port,  a full-size mini-PCIe slot with mSATA, an audio out jack, I2C, SMBus, and a watchdog. It runs on 5V, and it adds a -20°C to 70°C option in addition to the standard -20°C to 60°C.
Key Specifications for Axiomtek PICO316:
Processor: Intel Pentium N4200 or Intel Celeron N3350 (2.5GHz or 2.4GHz burst)
Graphics: Intel Gen9 Graphics
Memory: up to 8GB DDR3L-1867 via 1x SODIMM
Storage: SATA-600; mSATA via mini-PCIe
Display: HDMI port; 18/24-bit single/dual channel LVDS
Networking: Gigabit Ethernet port
Other I/O Ports:
USB 3.0 host port
2x USB 3.0 Type-C ports
2x USB interfaces
2x RS232 interfaces
HD audio line-out jack
I2C, SMBus
Other features: watchdog, heatsink; an optional heat spreader
Operating temperature: -20 to 60°C or optional -20 to 70°C
Power: 5VDC input jack and 2x 2-pin connectors; Lithium 3V/220mAH battery; optional 5V/8A 40W adapter, 4-pin plug w/ lock
Dimensions: 100 x 72mm; Pico-ITX form factor
Operating system: Linux (Red Hat, Fedora, Ubuntu); Windows
The pricing and availability information may be found on Axiomtek's PICO316 product page.
Subscribe to Blog via Email
Join 97,456 other subscribers
Archives