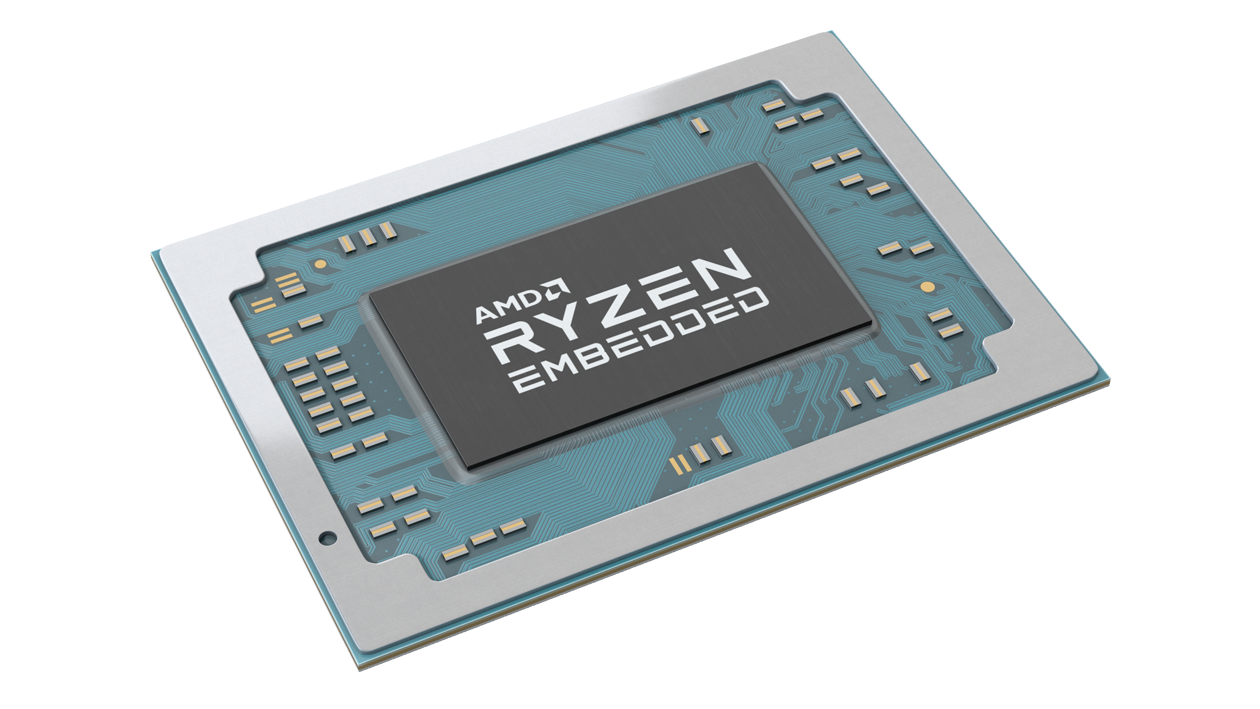 AMD expands Embedded Product Family with New Ryzen™ Embedded R1000
The AMD Ryzen™ Embedded R1000 SoC provides a new class of performance for the embedded industry with 3X performance per watt vs. previous AMD R-Series SoC1 and 4X performance per dollar compared to the competition.
At the Taiwan Embedded Forum, AMD announced the Ryzen™ embedded product family is growing with the new AMD Ryzen™ Embedded R1000 SoC. Building upon the success of the Ryzen™ Embedded V1000 SoC, the AMD Ryzen Embedded R1000 SoC provides embedded customers with dual core, quad-threaded performance, as well as the ability to run fanless, low power solutions for 4K displays; while providing leading-edge security features. The AMD Ryzen Embedded R1000 is perfect for applications in digital displays, high-performance edge computing, networking, thin clients and more.
Customers like Advantech, ASRock Industrial, IBASE, Netronome, Quixant and others are already working on Ryzen Embedded R1000-based products. As well, Atari© is using the high-performance Vega 3 graphics and 'Zen' CPU architecture in the AMD Ryzen Embedded R1000 SoC to power the upcoming Atari VCS™ game system.
The AMD Ryzen Embedded R1000 builds out the Ryzen Embedded family and provides a compelling option for customers that want access to the powerful 'Zen' and 'Vega' architecture and are looking for a highly competitive power/performance solution,

said Stephen Turnbull, director of product management and business development, Embedded Solutions, AMD.

The Ryzen Embedded R1000 can support rich multimedia environments for digital displays and casino gaming, enterprise class security features for edge computing, networking and thin clients, and, most importantly introduces a new class of performance while providing customers with software and hardware compatibility with the extended Ryzen Embedded family.

Growing the Ryzen Embedded Family
The AMD Ryzen Embedded R1000 continues to provide the embedded industry with the high-performance, rich multimedia capabilities and advanced security features established with the Ryzen Embedded V1000.
Specifically, as the embedded industry demands more immersive and engaging visual experiences, customers need processors that can support high-resolution displays with demanding graphics. The AMD Ryzen Embedded R1000 supports up to three 4K displays at up to 60 FPS, while providing H.265 Encode/Decode(10b) and VP9 decode3 capabilities. This enables OEMs and ODMs to deliver a compelling visual experience.
As well, the Ryzen Embedded R1000 utilizes the same leading-edge security features of the AMD embedded family, including Secure Root of Trust and Secure Run Technology, giving customers the features for enabling secure solutions, whether they are connected into an edge computing network, or running a digital display.
Availability
The AMD Ryzen Embedded R1000 will be available this quarter to ODMs and OEMs worldwide and is already supported by numerous hardware and software companies including Advantech, Alphainfo, ASRock Industrial, Axiomtech, DFI, iBase, Kontron, MEN, Mentor, Sapphire, zSpace and more.
As well, continuing a great partnership between the two companies, the AMD Ryzen Embedded R1000 SoC supports the Mentor® Embedded Linux® Flex OS, which is available now. You can read more here.
Subscribe to Blog via Email
Join 97,477 other subscribers
Archives