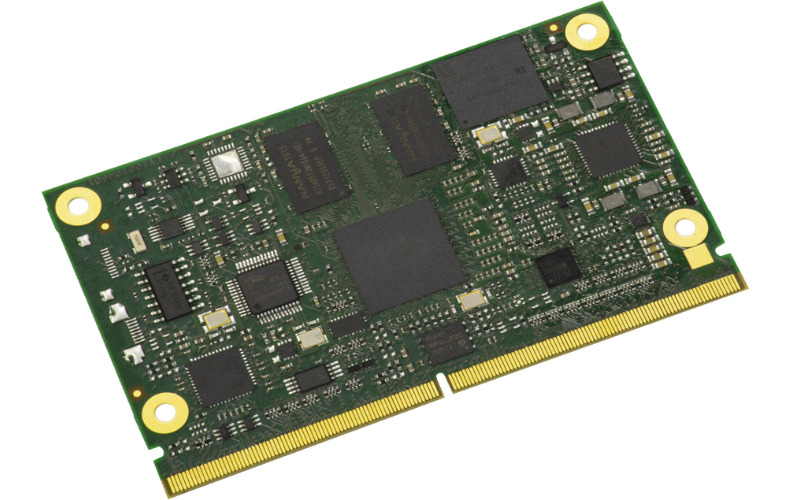 Avnet announces its SMARC 2.1.2 standard compliant MSC SM2S-IMX8ULP module
Most of you have been on the Hackster.io website to check for interesting embedded IoT projects. Hackster's parent company, a New York-based electronics components distributor, Avnet, has launched the MSC SM2S-IMX8ULP module, which is compliant with the Smart Mobility Architecture (SMARC) 2.1.2 standard form factor. This allows easy integration of the new module with the SMARC baseboards (also referred to as carrier boards). The SMARC-compliant module pairs up the NXP low-power, high-performance processor and LPDDR4 memory integrated with up to 256GB of eMMC flash storage.
At the heart of the MSC SM2S-IMX8ULP module is the NXP i.MX 8M Arm processor architecture features two ARM Cortex-A35 processor cores clocked up to a frequency of 1GHz, and an Arm Cortex-M33 core. While Cortex-A35 is the smallest and power-efficient smart home processor supporting multiple software applications, the Cortex-M33 is efficient for IoT and embedded applications that require digital signal control and security. Additionally, a 3D/2D Graphics Processing Unit (GPUs), a Tensilica Hifi 4 DSP, and Fusion DSP for low-power audio/voice and edge AI/ML processing are also included in the i.MX 8ULP processor.
Specifications of the MSC SM2S-IMX8ULP module
Processor:

Single or Dual-core ARM Cortex-A35 processor with a clock speed of up to 1.0GHz
ARM Cortex-M33 real-time processor at 216MHz

GPU: Vivante GPU for 2D/3D multimedia
USB: 4x USB 2.0 Host, 1x USB 2.0 Host/Client
Memory: Up to 2GB 2400MT/s LPDDR4x SDRAM
Storage: eMMC flash of up to 256GB
Wireless connectivity: 2.4 GHz IEEE802.11b/g/n Wi-Fi and Bluetooth 5.0
Display:

LVDS dual-channel interface supports up to 1920×1080 pixels and single-channel interface with up to 1366×768 pixels
MIPI-DSI display interface supporting 1920×1080 pixels at 60 frames per second

Audio:

2x I2S Audio
Tensilica Fusion DSP at 200MHz
Tensilica Hifi 4 DSP at 600MHz

Software support: Linux, Android, and Microsoft Azure Sphere
Temperature range

0℃ to 70℃ for commercial operation
-40℃ to 85℃ for extended operation

Dimensions: 82×50 mm
The highly scalable and flexible MSC SM2S-IMX8ULP module is equipped with the NXP's i.MX 8ULP crossover application processor facilitates low-power processing and advanced integrity security with EdgeLock secure enclave to the intelligent edge. Enabling autonomous management of security operations, such as runtime attestation, silicon root of trust, trust provisioning, reusable certifications, and fine-grain key management are all included in the EdgeLock secure enclave. Furthermore, for advanced resistance against attacks, it offers extensive crypto services.
Avnet's MSC SM2S-IMX8ULP module supports the uboot firmware. The module also offers support for Linux and extends its support to Microsoft Azure Sphere and Android, which will be available on request. For additional details on the MSC SM2S-IMX8ULP module, kindly visit Avnet's website.
Join 97,426 other subscribers

Archives