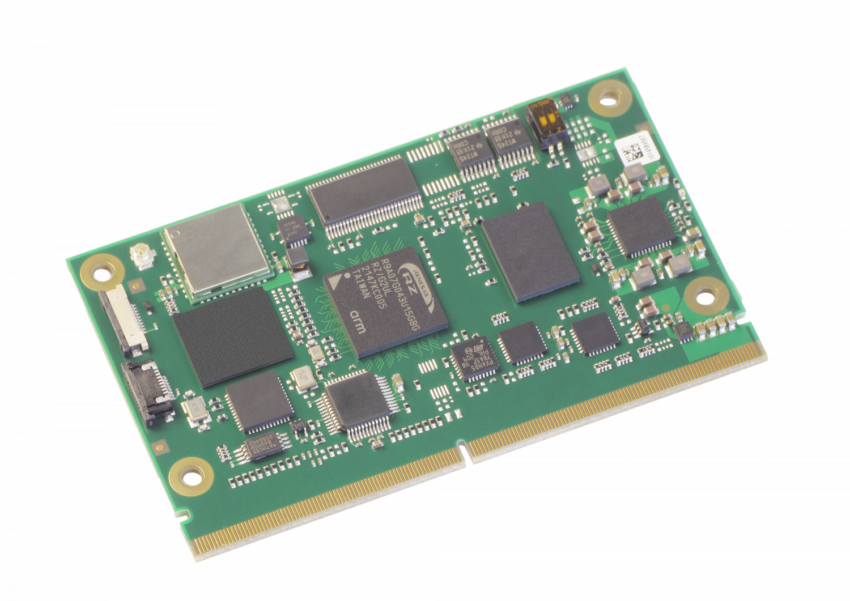 Avnet Embedded and Renesas' SMARC module for entry-level industrial applications
Avnet Embedded extended its collaboration with Renesas to announce the launch of a new MSC SM2S-G2UL SMARC module equipped with a cost-effective and power-efficient RZ/G2UL Arm Cortex-A55 processor core manufactured by Renesas. The release is aimed at providing a high-performance embedded module for a new price-performance class. The module targets a wide range of applications, including industrial, IoT, AI, medical, transportation, power engineering, and building automation projects.
At the heart of the Avnet Embedded SMARC module is the Renesas' general-purpose microprocessors with a single-core Arm Cortex-A55 CPU and a single-core Arm Cortex-M33 CPU with 2-channel Gigabit Ethernet. The microcontroller includes a 16-bit LPDDR4 interface and a simple LCD controller. There are several interfaces as well, such as camera input, display output, and USB2.0, ideal for entry-level applications in industrial gateway control and embedded devices with single GUI capabilities.
"The new SMARC module built on technology from Renesas demonstrates our commitment to giving our customers the best possible options for embedding computing in their products. Renesas' RZ/G2UL processors are popular for designs focused on cost and energy efficiency, and this processor series in a modular platform will unlock huge new potential for engineers and product designers."
Specifications of MSC SM2S-G2UL SMARC module:
System-on-chip: Renesas RZ/G2UL
Form factor: SMARC short size
Memory: Up to 2GB DDR4 SDRAM
Storage: Up to 256GB eMMC flash
Storage interfaces: 1x MMC/SD/SDIO
USB: 1x USB 2.0 Host/Client, 4x USB 2.0 Host
Serial interfaces: 2x UART with 2-wire hand shake, and 2x UART without hand shake
Bus interfaces: 4x I2C, 2x SPI, 1x CAN-FD
Display: Dual-channel LVDS interface
Network interface: 1x 10/100/1000BASE-T Ethernet
Audio: 1x I2S audio
Security: Advanced security and trust platform module 2.0 (optional)
Firmware: uboot
Operating system: Linux board support package and Android board support package
Power: +5V and power consumption of 1-2W typically
Dimensions: 82×50 mm
As the name suggests, the module is SMARC 2.1.1 compatible. This allows the user to easily integrate the module with SMARC baseboards. For the prototyping of the MSC SM2S-G2UL SMARC module, the manufacturer has provided a development platform and a starter kit. On the software side, the platform supports uboot firmware, and for an operating system, there is a Linux board support package and an Android board support package (only on request).
For more information on the product, head to the product page. The company has not officially provided any details on the pricing of the module.
Join 97,426 other subscribers

Archives