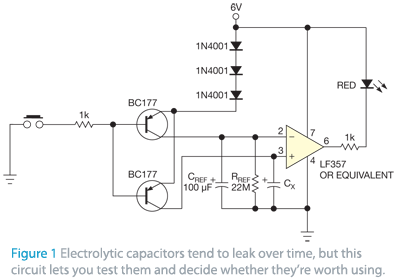 Circuit lets you test capacitors for leakage
Raju R Baddi @ edn.com has published a circuit that enable you to test electrolytic capacitors and decide if worth using it on a circuit.
The values in the figure are typical for general testing of all capacitors, from 1-nF ceramic versions to 1000-μF electrolytic types. The value of CREF in the circuit is near the value of the test capacitor, CX. You can also choose RREF, by a rotary-switching arrangement, to be greater than or less than 22 MΩ.
Circuit lets you test capacitors for leakage – [Link]
Join 97,426 other subscribers

Archives