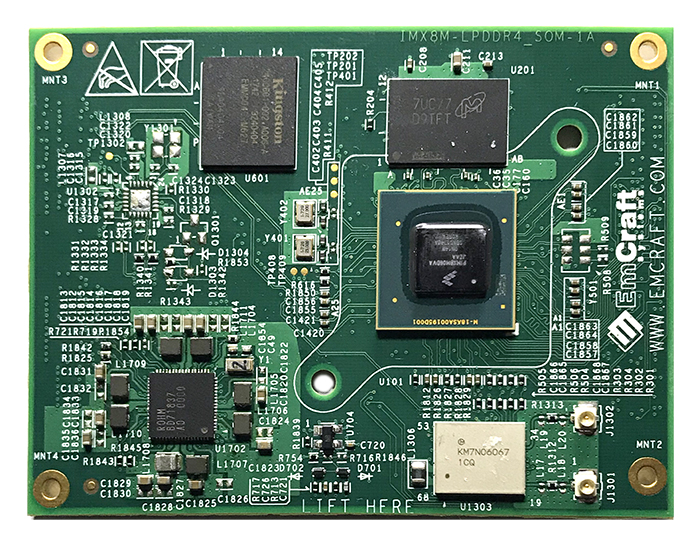 Emcraft's Unveils a i.MX 8M System-On-Module and a $349 Starter Kit
Emcraft, which is known primarily for its work in porting uClinux to various high-end MCUs recently unveiled its NXP i.MX 8M System On Module (SOM) which is Linux driven and a Starter Kit for the i.MX 8M SoM. The starter kit gives Gbe, HDMI 2.0, USB 3.0, USB Type C and a Raspberry compatible 40 pin connection.
The 60 mm * 80 mm module is a mezzanine module that supports 512MB to 4GB of DDR3L or LPDDR4 RAM, up to 64GB eMMC 5.0 flash, a PMIC interface that supports WiFi-ac and Bluetooth 4.2 module with dual U.FL connectors. The i.MX 8M features up to four Cortex-A53 cores at 1.5GHz and a Cortex-M4 core for low-power and real-time operation.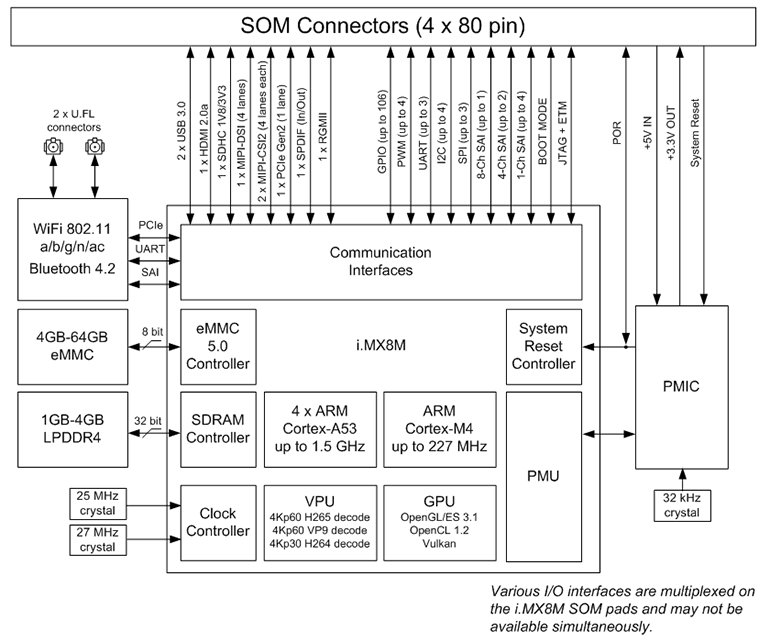 The Emcraft i.MX 8M System-On-Module (SOM) supports only the quad-core version of the dual-core model. The i.MX 8M SoM hooks up to the Carrier board through a four 80-pin connectors. The i.MX 8M SoM starter kit is made up of two major items:
The i.MX 8M System On Module (SOM-IMX8M).
The development baseboard (IMX8M- SOM -BSB).
The i.MX 8M SoM Starter Kit extends out the features of the i.MX 8M SoM. The board features GbE, USB Type-C, USB 3.0 host, and micro-USB serial console ports. It also comes with some media interfaces like an HDMI 2.0 port, dual MIPI-CSI camera interface, and an audio I/O jack. The BSB baseboard also comes with a Raspberry Pi compatible 40 pin header, a 12V jack, dual Light Emitting Diodes (LEDs), an IR receiver, reset and multiple push buttons and a boot selection switch. The board supplies the Arm JTAG and Arm JTAG+ETM debug connectors. The block diagram also shows a Peripheral Component Interconnect Express-based M.2 expansion socket, a Real Time Clock with battery holder, and a Secure Digital (SD) slot.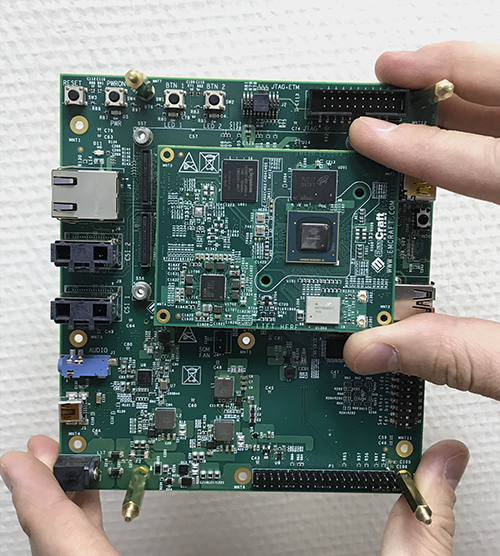 Emcraft supports Linux as an operating system for the i.MX 8M Cortex-A53 processor core. All i.MX 8M System-On-Modules come preloaded with Linux and U-Boot. Full source files of U-Boot and the Linux BSP are provided for free download, along with the Linux distribution and cross-development environment. Both U-Boot and Linux are royalty-free making it easy to incorporate into commercial products.
The Starter kit is available for pre-orders online for $349 and has shipping scheduled for May 2018. More information about the i.MX 8M System On Module and the Starter kit can be found on the product page. You can find documentation about setting up the Linux environment for the Emcraft i.MX 8M System-On-Module (SOM) here.