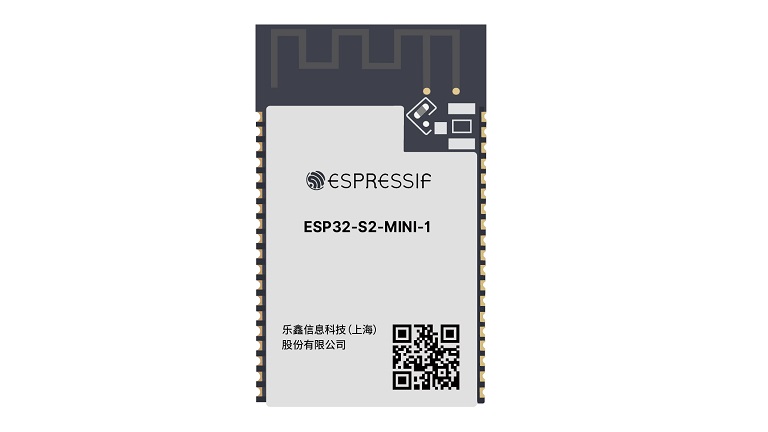 Espressif Systems ESP32-S2-MINI-1 generic Wi-Fi MCU
ESP32-S2-MINI-1 is a powerful, generic Wi-Fi MCU module that has a rich set of peripherals. This module is an ideal choice for a wide variety of application scenarios relating to the Internet of Things (IoT), wearable electronics, and smart home.
At the core of this module is ESP32-S2, an Xtensa® 32-bit LX7 CPU that operates at up to 240 MHz. ESP32-S2 integrates a rich set of peripherals, including SPI, I2S, UART, I2C, LED PWM, ADC, DAC, touch sensor, temperature sensor, and up to 43 GPIOs. It also includes a full-speed USB On-The-Go (OTG) interface to enable USB communication.
Key features
Unparalleled security for your connected devices
Helps you build connected low-power devices
Build whatever you like with its rich IO capabilities
Cost-effective
Additional features
MCU

Embedded ESP32-S2, with Xtensa® single-core 32-bit LX7 microprocessor, up to 240 MHz
128 KB ROM
320 KB SRAM
16 KB SRAM in RTC

Hardware

Interfaces: GPIO, SPI, LCD, UART, I2C, I2S, Camera interface, IR, pulse counter, LED PWM, USB OTG 1.1, ADC, DAC, touch sensor, temperature sensor
4 MB SPI flash
Operating voltage/Power supply: from 3.0 to 3.6 V
Operating temperature range: from -40 to 85 °C

Wi-Fi

802.11 b/g/n
Bit rate: 802.11n up to 150 Mbps
0.4 μs guard interval support
Operating frequency range: from 2412 to 2484 MHz
more information: https://www.espressif.com/en/products/socs/esp32-s2
Join 97,426 other subscribers

Archives