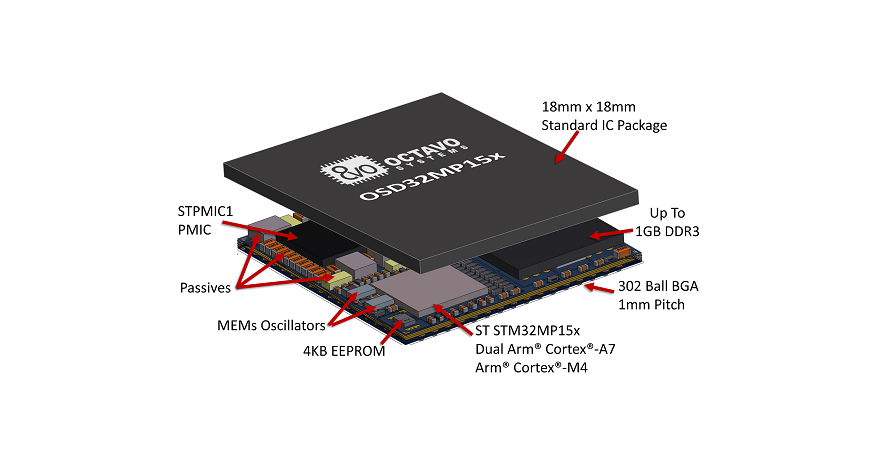 The First STM32MP1 System-in-Package – OSD32MP15x
Embedded World, Nuremberg, Germany (February 25, 2019) – Octavo Systems today introduced the OSD32MP1, their first System-in-Package (SiP) product based on the new STM32MP1 microprocessor from STMicroelectronics.  The OSD32MP1 allows users of the popular STM32 family to move to Linux without adding size or complexity to their design.  Octavo has leveraged their years of experience creating tightly integrated system building blocks to develop a device that is up to 64% smaller than an equivalent system made from discrete components.  At only 18mm X 18mm the OSD32MP1 is the same size as the STM32MP1 but integrates:
STMicroelectronics STM32MP1 microprocessor
STPMIC1 Power Management IC (PMIC)
Up to 1GB of DDR3 memory
4K non-volatile EEPROM
MEMs oscillators
Over 100 passives
All into a single BGA package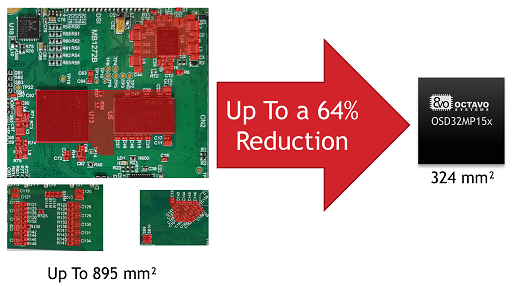 The new STM32MP1 contains Dual Arm® Cortex®-A7 microprocessors along with an Arm® Cortex®-M4 microcontroller.  It has a wide range of peripherals spanning from two 22 Channel ADCs, to a camera interface, to 1Gbps ethernet, to a 3D GPU, making it a great fit for remote sensors, HMI displays, motor control applications, medical systems, and IoT end points.  The integration provided by the OSD32MP1 SiP makes the solution ideal for any application needing a versatile applications processor in a small package.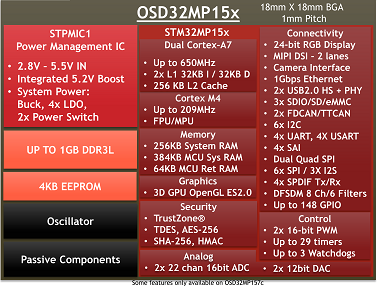 Design resources for the OSD32MP1 are available today on the Octavo Systems website.  Samples will be available in Q3 with full production scheduled for Q4.
Pricing is still being finalized and will be in-line with the cost of an equivalent system designed with discrete components,

said Greg Sheridan, Marketing Manager
more information: www.octavosystems.com
Subscribe to Blog via Email
Join 97,592 other subscribers
Archives