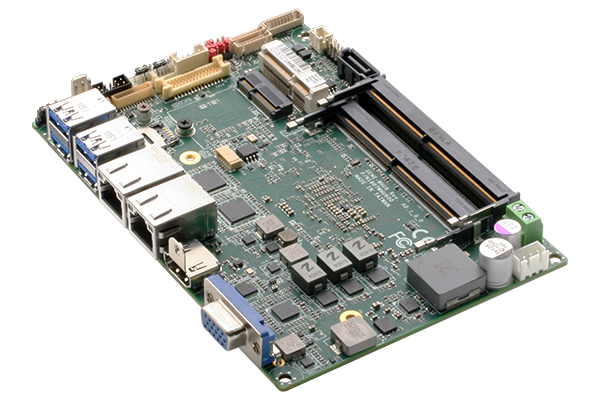 GENE-WHU6: Compact Board Built for Full-Sized Applications
3.5″ SubCompact Board with 8th Generation Intel® Core™ i7/i5/i3/Celeron® Processor SoC
AAEON, an industry leader in compact embedded solutions, introduces the GENE-WHU6 subcompact board, powered by 8th Generation Intel® Core™ processors. Despite its compact size, the board offers full-sized functionality, able to deliver the flexibility of a desktop system in a compact form factor.
The GENE-WHU6 is built to provide performance beyond its size, powered by 8th Generation Intel® Core™ i3/i5/i7 and Celeron® processors (formerly Whiskey Lake) with greater processor performance than the previous generation. The GENE-WHU6 combines this processing power with up to 32GB of DDR4 SODIMM RAM for even greater computing performance.
Designed for full-sized functionality, the GENE-WHU6 provides a rich compliment of I/O features, including four USB 3.2 Gen 2 ports, two Gigabit Ethernet ports, and up to two COM ports supporting RS-232/422/485. The GENE-WHU6 also offers flexibility with display ports, featuring HDMI 2.0, VGA and LVDS. Users can also make use of the expandability of the GENE-WHU6 with a full-sized mPCIe slot, and two M.2 slots (one 2280 B Key and one 2230 E Key). The GENE-WHU6 supports AI accelerator modules, such as AAEON's Kneron® KL520 NPU modules or the AI Core X family featuring Intel® Movidius® Myriad™ X.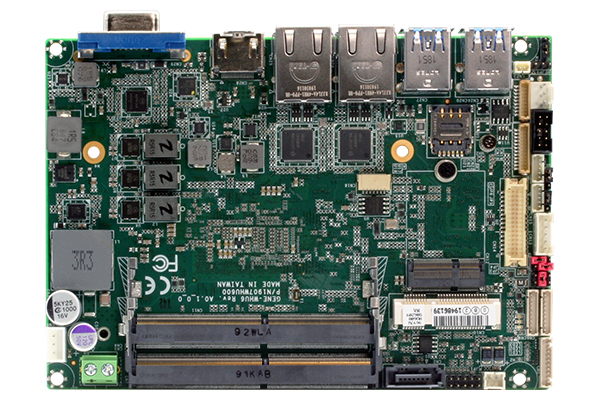 The GENE-WHU6 is built to power embedded applications wherever it's deployed. Designed for tough conditions, the GENE-WHU6 features wide voltage input (9-36V) as well as a wide operating temperature range (0°C to 60°C). Combined with its compact 3.5" form factor, the GENE-WHU6 can be deployed just about anywhere to power applications such as Smart Manufacturing and Intelligent Safety and Security.
"The GENE-WHU6 allows users the ability to deploy a compact solution that retains the functionality of larger machines," said Menah Lin, Product Manager with AAEON's Embedded Computing Division. "With greater flexibility and functionality than what other form factors support, the GENE-WHU6 delivers the power your embedded project requires."
Features
Intel® Core™ i7/i5/i3/Celeron Processor SoC
Non-ECC DDR4 SODIMM Slot x 2, up to 32GB
LVDS/eDP x 1 (Default: LVDS), VGA x 1, HDMI 2.0 x 1
GbE x 2, SATA III x 1, DIO x 8bit
USB 3.2 Gen 2 x 4 (Up to Gen 2), RS-232/422/485 x 2
Full size mSATA/mPCIe Slot x 1 (With Nano-SIM)
M.2 2280 B key x 1, M.2 2230 E key x 1
Wide DC Input 9-36V (Optional: 12V Only)
With the GENE-WHU6, AAEON continues to offer their industry leading manufacturer support and OEM/ODM services. With these services, AAEON can provide customers with custom configurations and end-to-end project support.
Join 97,426 other subscribers

Archives