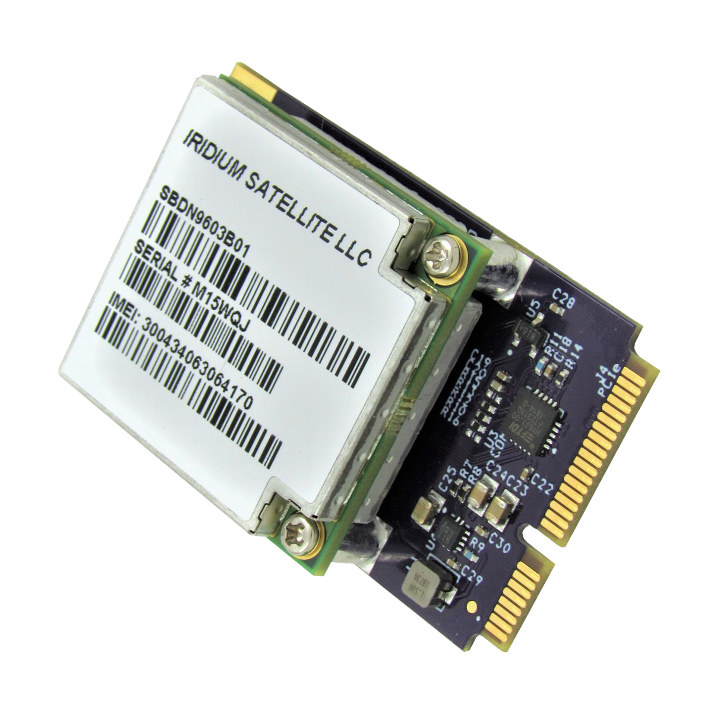 GW16130 Mini-PCIe Satellite Modem for IoT Applications
The GW16130 is a Mini-PCIe Satellite Modem Radio adapter that provides cost-effective, short burst satellite connectivity for asset tracking, fleet management, telemetry, oceanographic data, grid monitoring and Internet of Things (IoT) applications. The GW16130 features an Iridium 9603N satellite transceiver which allows two-way communications anywhere in the world with a clear line of sight to the sky. The Iridium network consists of 66 satellites and provides 24/7 world wide coverage. The 9603N module is used for short burst data packets (340bytes uplink, 270bytes downlink) and perfect for IoT remote sensor applications with minimal non-realtime data requirements. The GW16130 adapter will work in a full size Mini-PCIe socket that includes a USB 2.0 interface. See the Gateworks website for suggested single board computers that can be used with this adapter. Serial communications to the module is through an onboard FTDI USB to UART bridge. All power conditioning circuitry is contained on the board in addition to an u.Fl antenna connector for connecting an external satellite antenna. Note that an Iridium approved satellite antenna must be used when operating on the Iridium network. The GW16130 adapter requires a monthly data plan which can be established with a number of 3rd party providers. Typical data charges are ~$20 USD per month with 12Kbytes of data included. See the Gateworks Support Wiki for more information on recommended antennas and data plans.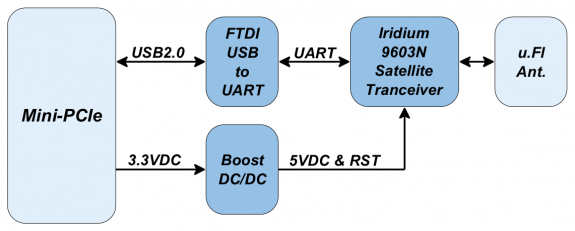 Features
Iridium 9603N SBD Satellite Transceiver
Small lightweight module for embedded applications
Offers low cost, low bandwidth satellite communications
Max Message payload: 340 bytes upload, 270 bytes download
Automatic message notification on incomming messages
Operates anywhere on earth including North & South Poles
Supports E-mail messages or HTTP POST
Simple UART AT command interface
Operating frequency: 1616MHz to 1626.5MHz
1.6W Average transmit power
-117dBm Receiver sensitivity
Full industrial temperature operation
No SIM card required
Onboard u.Fl antenna port for antenna connection
Full size Mini-PCIe mechanical form factor
Utilizes Mini-PCIe USB 2.0 channel for communications
See Gateworks website for compatible SBCs
3.3V Operating Voltage from Mini-PCIe Connector
[email protected] C Peak Operating Power (Transmit)
[email protected] C Average Operating Power (Receive/Idle)
-40C to +85C Operating Temperature
1 Year Warranty
The satellite modem mini PCIe card appears to be available now, but price has not been made public. You can request pricing and/or find more information on the product page.
Join 97,426 other subscribers

Archives