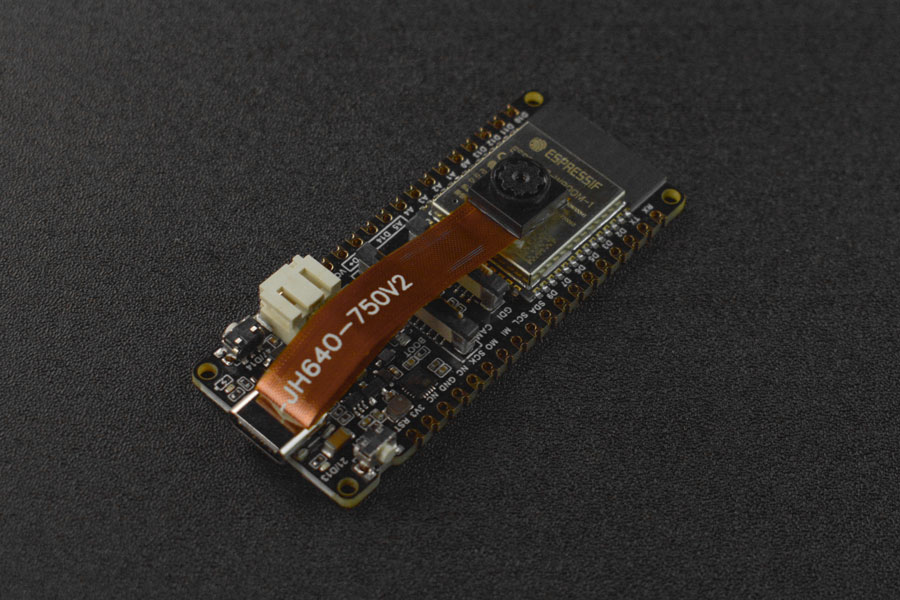 Introducing the New ESP32-S3 with Camera
FireBeetle 2 Board ESP32-S3 (N16R8) AIoT Microcontroller with Camera (Supports Wi-Fi & Bluetooth)
FireBeetle 2 ESP32-S3 is a high-performance main controller built around the ESP32-S3-WROOM-1-N16R8 module. ESP32-S3-WROOM-1-N16R8 comes with 16MB Flash and 8MB PSRAM for storing more data. The acceleration for neural network computing and signal processing workloads provided by the ESP32-S3 chip makes the module an ideal choice for a wide variety of applications, such as speech recognition, image recognition, and so on.
Specifications
Basic Parameters
Operating Voltage: 3.3V
Type-C Input Voltage: 5V DC
VCC Input Voltage: 5V DC
Max Charging Current: 1A
Operating Temperature: -20 to 70℃
Dimension: 25.4x60mm/1×2.36"
Hardware Information
Processor: Xtensa® dual-core 32-bit LX7 microprocessor
Main Frequency: 240 MHz
SRAM: 512KB
ROM: 384KB
Flash: 16MB
PSRAM: 8MB
RTC SRAM: 16KB
USB: USB 2.0 OTG full-speed
WIFI
WIFI Protocol: IEEE 802.11b/g/n
Bandwidth: Support 20 MHz and 40 MHz at 2.4 GHz band
WIFI Mode: Station, SoftAP, SoftAP+Station combined mode
WIFI Frequency: 2.4GHz
Frame Aggregation: TX/RX A-MPDU, TX/RX A-MSDU
Bluetooth
Bluetooth Protocol: Bluetooth 5, Bluetooth mesh
Bluetooth Frequency: 125 Kbps, 500 Kbps, 1 Mbps, 2 Mbps
Ports
Digital I/O x26
LED PWM Controller 8 Channels
SPI x4
UART x3
I2C x2
I2S x2
IR Transceiver: transmit channel x5, receive channel x5
2×12-bit SAR ADC, 20 Channels
DMA Controller: transmit channel x5, receive channel x5
FireBeetle 2 ESP32-S3 offers an onboard camera interface for easy connection with a camera. Also, an independent camera power supply circuit is designed, which helps reduce interference from other signals to the camera. The board comes with an OV2640 camera that offers 2 megapixels, 68° FOV, and up to 1600*1200 resolution. Besides, its onboard, easy-to-connect GDI greatly saves the trouble of wiring for using with a screen. Meanwhile, the controller integrates a power management function, which allows users to charge a Li-ion battery and turn the hardware on/off.
Features
ESP32-S3 module with AI Acceleration
16MB Flash & 8MB PSRAM, more storage space
Onboard camera interface & independent camera power supply, easy to connect and strong anti-interference
Power management integrated, support Li-ion battery charging and hardware On/OFF controlling
Onboard GDI for easy connection with screens
Wi-Fi and Bluetooth 5 dual-mode communication
In addition, FireBeetle 2 ESP32-S3 supports WiFi and Bluetooth 5 (LE) dual-mode communication, which reduces the difficulty of networking. Meanwhile, both Bluetooth Mesh protocol and Espressif WiFi Mesh are supported for more stable communication and a larger coverage area. With the support of Matter protocol, the microcontroller can be used to develop industrial standard smart home devices for a wider range of IoT and AIoT (Artificial Intelligence of Things)scenarios.
FireBeetle 2 ESP32-S3 can be programmed by Arduino IDE, ESP-IDF, and MicroPython. Both C and Python are supported.
Documents
Join 97,426 other subscribers

Archives