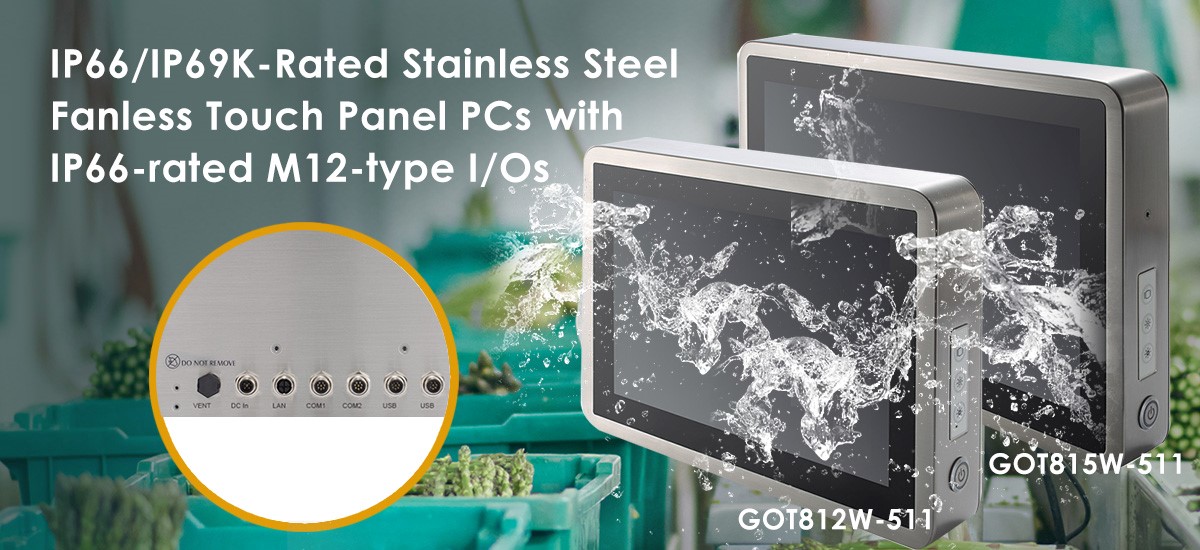 IP66/IP69K-Rated Stainless Steel Fanless Touch Panel PCs for Food Processing Industry
Axiomtek – a world-renowned leader relentlessly devoted to the research, development, and manufacture of series of innovative and reliable industrial computer products of high efficiency – is pleased to introduce the GOT815W-511 and GOT812W-511, the 15.6-inch and 12.1-inch stainless steel fanless touch panel computers powered by the Intel® Core™ i5-7300U processor (code name: Kaby Lake). The high-reliability touch panel PCs are completely waterproof with IP69K/IP66 level of protection and adopt full-grade 316 stainless steel enclosures for a higher level of resistance to corrosion. The GOT815W-511 and GOT812W-511 are well suited for use in food and chemical factories, the pharmaceutical industry, and heavy-duty outdoor applications.
The GOT815W-511 adopts a 15.6-inch FHD TFT flat bezel LCD display with 1920 x 1080 resolutions; the GOT812W-511 adopts a 12.1-inch WXGA TFT flat bezel LCD display with 1280 x 800 resolutions. Both come with 400 nits of brightness and the choice of a projected capacitive touchscreen or 5-wire flat resistive touchscreen. Besides, both panel PCs feature five IP66-rated M12-type I/O connectors and a wide range power input of 9V to 36V DC for reliable operation. Moreover, they can operate under wide temperature settings ranging from -20°C to +50°C and withstand vibration up to 1G.
"The GOT815W-511 and GOT812W-511 have a full grade 316 stainless steel enclosure, IP66/IP69K ratings, wide temperatures, and wide voltage input are designed to serve the needs of diverse industrial applications in harsh environments. Besides, these ruggedized panel computers adopt a rounded corner design and a seamless flat front bezel, creating a sleek design that does not sacrifice durability,"
said Wesley Lee, the product manager of IPS Product PM Division at Axiomtek.
Axiomtek's GOT815W-511 and GOT812W-511 offer multiple I/O options, including two RS-232/422/485 ports, four USB 2.0 ports, one Gigabit LAN (with Intel® Ethernet controller I210-IT) and one M12-type DC power connector. Moreover, the all-in-one industrial panel PCs come with one 260-pin DDR4-2133 SO-DIMM slot for up to 16GB of system memory and offer a choice of either one 2.5″ SSD HDD or one 2.5″ SATA HDD for extensive storage. For flexible communication, both panel PCs have one full-size and one half-size PCI Express Mini Card slots for Wi-Fi/3G kit. Moreover, they support the VESA mount and are compatible with Windows® 10 and Windows® 10 IoT.
Advanced Features:
6″ FHD TFT flat bezel LCD display (GOT815W-511)
12.1″ WXGA TFT flat bezel LCD display (GOT812W-511)
IP66/IP69K-rated (NEMA 4X) water/dust/corrosion-proof design
Full stainless steel enclosure with type 316
-20°C to +50°C wide operating temperature range
Fanless design with Intel® Core™ i5-7300U processor (code name: Kaby Lake)
Optional Wi-Fi/3G kit for wireless network connectivity
9 to 36 VDC wide range power input
Supports VESA mount
M12 type connectors for harsh environments
Now the GOT815W-511 and GOT812W-511 are available for purchase. For more product information or customization services, please visit their global website at www.axiomtek.com or contact one of our sales representatives at info@axiomtek.com.tw