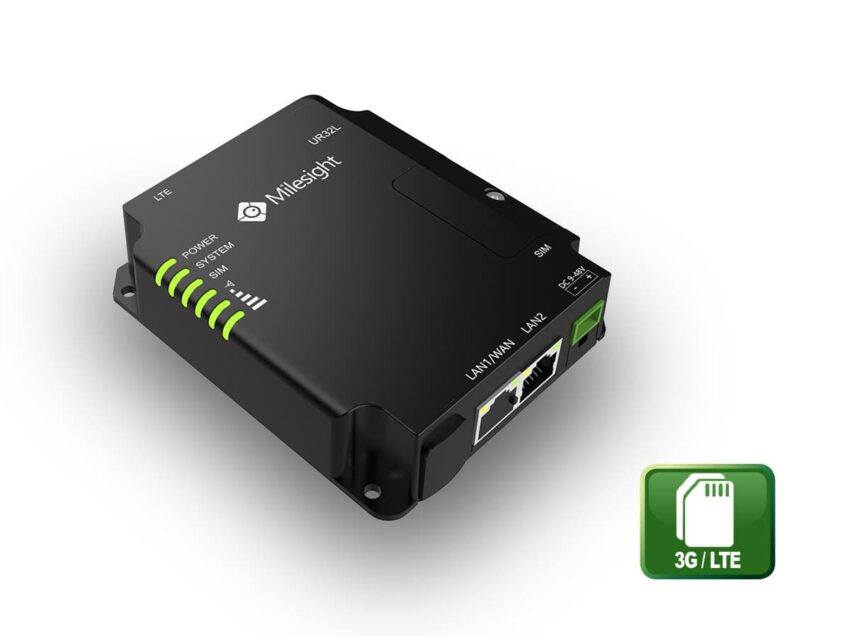 Low-cost LTE router for M2M/IoT applications
With the UR32L, ICP Germany expands its portfolio with a low-cost industrial cellular router variant. With its embedded intelligent functions, the UR32L has been designed for diverse M2M/IoT applications. Support for global WCDMA and 4G LTE operators facilitates installation around the globe.
The UR32L is equipped with an NXP single core ARM Cortex-A7 with 528MHz clock frequency.128MB DDR3 RAM and 128MB Flash memory are installed as standard. Furthermore, the UR32L offers two 10/100 Mbps network interfaces, which can be used as 1xWAN+1xLAN or 2xLAN. Another variant of the UR32L is equipped with Power over Ethernet functionality. For security, features like VPN, IPsec, automated failover and fallback, SPI firewall and many more can be set up.
The integration of watchdog and multi-link failover detection further ensures stable communication. The IP30 metal case size 108x90x26mm can be easily mounted on a DIN rail or directly on the wall. The UR32L can operate in a temperature range from -40°C to 60°C. The maximum operating temperature is 70°C. A maximum operating temperature of 70 °C is allowed. The UR32L is easily configured via a web GUI. If multiple devices need to be managed, it is recommended to use DeviceHub, which allows easy and centralized management of multiple devices. A combination of DeviceHub and MilesightVPN helps to manage network devices easily and efficiently. ICP Germany offers suitable SIM cards from WhereverSIM for the UR32L.
Specifications

Global 4G/3G mobile network
150 Mbps downlink and 50 Mbps uplink
ARM Cortex A7 processor
Dual LAN, PoE
DIN rail mounting
Rugged housing
Applications

M2M and IoT applications
Remote management
Industrial Automation
Augmented Reality applications
3D video, UHD applications
Smart Home and Building applications
Smart City Applications
more information: https://www.icp-deutschland.de/industrie-pc/kommunikations-produkte/access-point-vpn-router/mobilfunk-router/ur32l-l04eu.html
Join 97,426 other subscribers

Archives