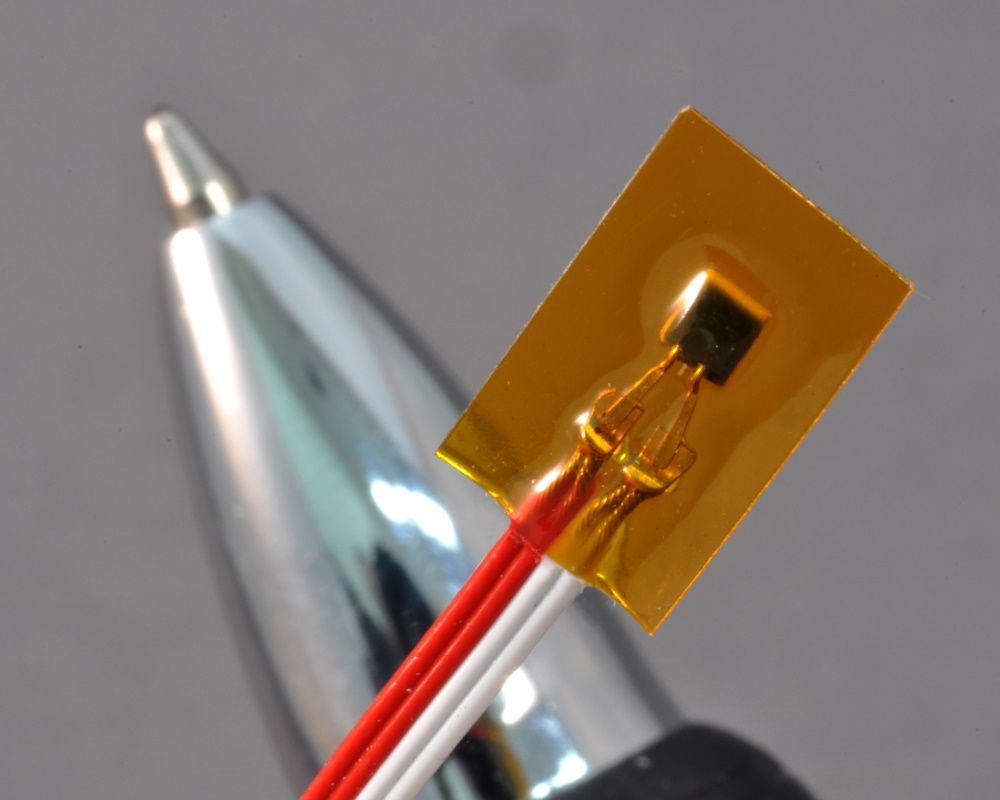 Low cost, platinum RTD surface, temperature sensor capsule from RdF Corporation
The 29309 series from RdF offers a small strong design which allows this package to conform on curved surfaces for accurate response in milliseconds. These surface temperature sensors offer a long term stability, better than ±0.05°C per 5 years. The moisture resistance for condensing environments or shallow immersion is provided by Kapton®/Teflon® lamination that completely encapsulates the assembly and lead entrance. The leads are welded within the sealed platinum RTD sensor which helps to provide this sensor's durability.
Features:
Operating temperature range -50°C to +232°C (up to 260°C in dry applications)
Self heating is typically less than 25mW/°C
Response time of 0.3s in water flowing at 3ft per second
Sensing elements of 100Ω or 1000Ω at 0°C
Platinum per IEC 751 (α = 0.00385 Ω/Ω/°C, Class A and Class B)
Long term stability better than 0.05°C per 5 years
Lead wires of 28 AWG nickel plated copper, PFA Teflon® insulation
4 wire configuration
Encapsulated in Kapton®
The 100Ω and 1000Ω sensing element choices are available with a IEC 751 Class B accuracy offering a tolerance of ±0.12Ω and ±1.2Ω respectively at 0°C. 100Ω and 1000Ω platinum elements are also available with the tighter IEC 751 Class A accuracy offering tolerances of ±0.06Ω and ±0.6Ω respectively at 0°C.
For further information on the RDF 29309 series, please click here