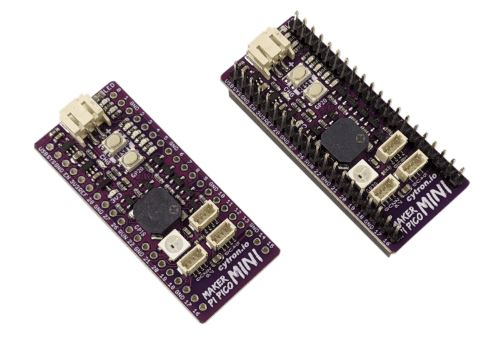 Maker Pi PICO Mini is the latest add-on board for Raspberry Pi Pico and Raspberry Pi Pico W 
Cytron Technologies, a Malaysian company that specializes in designing boards and modules that help to simplify digital-making processes for makers and developers, has designed a Maker Pi PICO Mini Board aimed at simplifying projects with the Raspberry Pi Pico / Pico W.
Nicknamed "Small but Mighty", the Maker Pi Pico Mini is designed for portability and can be powered by a LiPo connector, rechargeable via a USB port, and with an over-charge/over-discharge protection circuit. It is just like the $12 Maker Pi Pico board, just that it comes in a much more compact form and can fit into any project.
The Mini board is powered by the Raspberry Pi Pico/Pico W and comes equipped with plenty of useful features such as GPIO status LEDs, WS2812B Neopixel RGB LED, a passive piezo buzzer, a reset, and a user-programmable button.
The board is so small that Cytron said it had to ditch the Grove connectors and replace them with three maker ports for expansion.
"Utilizing the JST-SH 4-way connector, Maker port is compatible with Sparkfun's Qwiic modules and Adafruit's STEMMA QT modules," Cytron explains. "Qwiic and STEMMA QT are using I2C communications and can be daisy-chained. By using the included JST-ST to Grove conversion cables, Maker port is compatible with SeeedStudio's Grove modules too. Besides I2C, Maker Port also supports UART, Analog input and Digital Input/Output."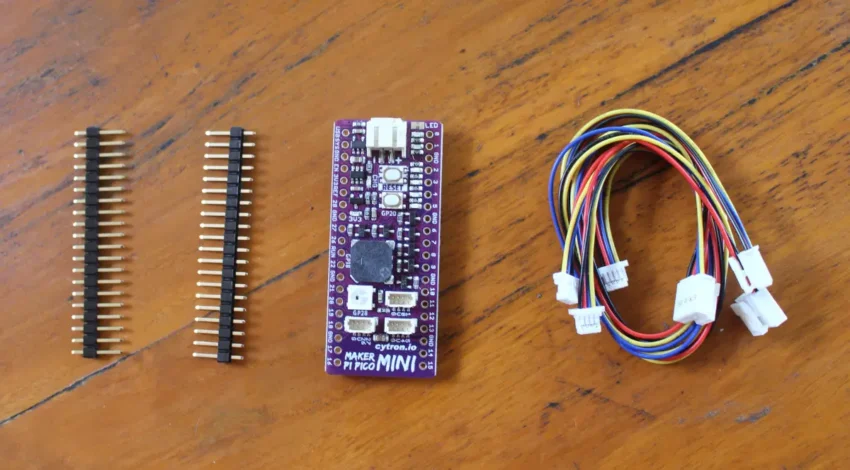 Specifications
Powered by RPi Pico / Pico W
1x Passive piezo buzzer
3X maker ports compatible with Qwiic, STEMMA QT, and Grove
2x 20-pin 2.54 mm pitch header on RPi Pico board with 26x GPIOs, 3x ADC, 2x I2C, 2x SPI, 16x PWM, 2x Programmable I/O blocks.
1x RGB LED (WS2812B Neopixel)
6x Status indicator LEDs for GPIO
Reset button and User programmable button (1x each)
Power: 5V via the micro USB port on the Raspberry Pi Pico W board; 2-pin connector for single-cell LiPo connector with overcharge/over discharge circuit.
Dimensions: 53.85 mm x 23.12 mm
OS Support: Arduino IDE, CircuitPython and MicroPython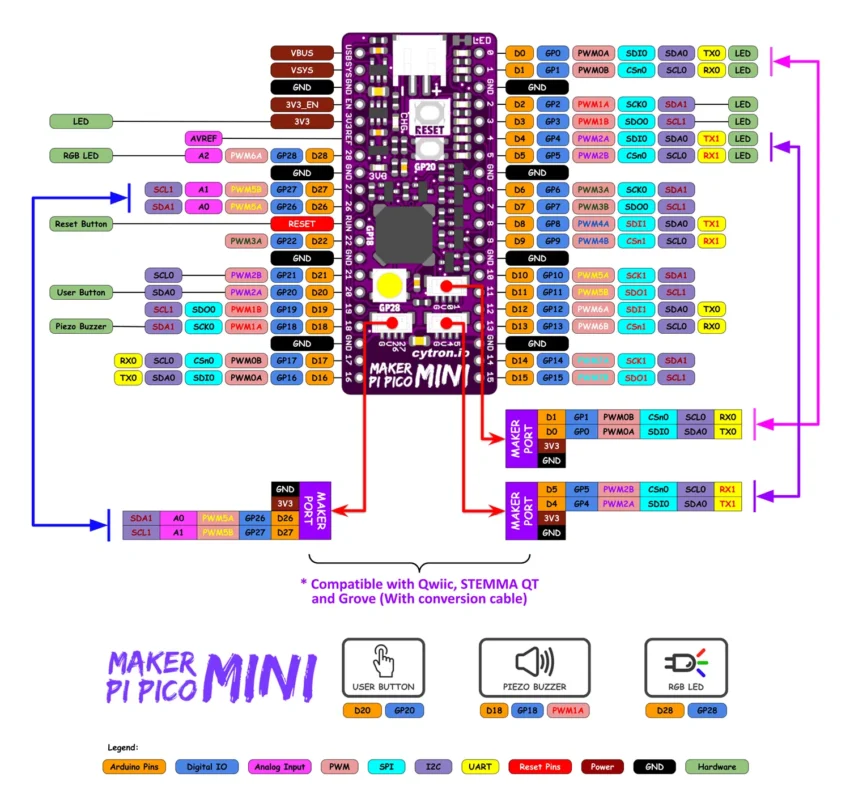 Software Support
The Maker Pi PICO Mini board supports multiple programming languages that come with massive library support and examples to get you started with building your application in no time, whether for learning purposes or for building projects. These include Arduino, MicroPython, or CircuitPython
Further Details
More Information on the Maker Pi PICO Mini board, including links to its datasheet, pinout diagram, and getting started page can all be found on Cytron's online store where the board sells for $8.90 to $14.40 depending on options. The option that comes without a Raspberry Pi Pico/Pico W sells for $8.90 while the pre-soldered RPi Pico variant of the board sells for $11.90 and the pre-soldered RPi Pico W (Wireless) goes for $14.40, both of which is preloaded with Circuit Python.
Join 97,426 other subscribers

Archives