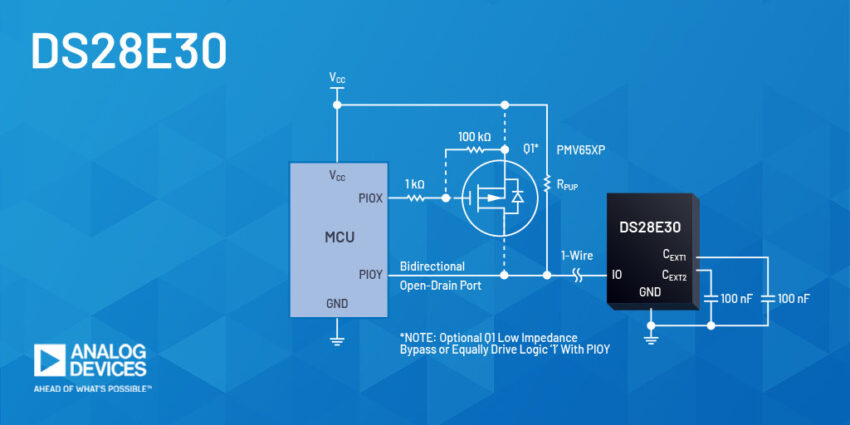 Maxim Integrated DS28E30 1-Wire® ECDSA Secure Authenticator
Maxim Integrated DS28E30 1-Wire® ECDSA Secure Authenticator is a cryptographic-based authentication solution that provides a root-of-trust to detect and prevent counterfeit products and to enable secure use management of limited life peripherals. The DS28E30 provides a highly secure and easily deployed turnkey authentication solution based on the FIPS-186 ECDSA standard. The DS28E30 combines ECDSA challenge and response authentication with secured EEPROM to store the keys and user data.
The DS28E30 features a core set of cryptographic tools derived from integrated blocks. These tools include an asymmetric hardware engine, a true random number generator (TRNG), 3Kb of secure EEPROM, a decrement-only counter, and a unique 64-bit ROM identification number (ROM ID). The ECC public/private key capabilities operate from the NIST-defined P-256 curve to provide a FIPS 186-compliant ECDSA signature generation function to support a bidirectional asymmetric key authentication model. The unique ROM ID is used as a fundamental input parameter for cryptographic operations and serves as an electronic serial number within the application. In addition, the authenticity of the chip can be verified with a Maxim-provided public key certificate.
The DS28E30 communicates over the single-contact 1-Wire bus at overdrive speed. The communication follows the 1-Wire protocol with the ROM ID acting as a node address in the case of a multidevice 1-Wire network.
The Maxim Integrated DS28E30 1-Wire ECDSA Secure Authenticator is offered in a tiny 1.2mm x 1.4mm Wafer-Level Package (WLP) ideal for space-constrained applications.
Features
Robust countermeasures protect against security attacks

All stored data is cryptographically protected from discovery

ECC P-256 secure compute engine

Preprogrammed and write-protected ECC P-256 key pair
FIPS 186-4 compliant ECDSA for strong challenge and response authentication
ECDSA authenticated R/W of configurable memory

SP800-90B TRNG used for secure ECDSA nonces
Supplemental features enable easy integration into end applications
17-bit, one-time settable, nonvolatile decrement- only counter with authenticated read
3Kb of secure EEPROM for user data, keys, certificate, and secure counter
Unique and unalterable factory-programmed, 64-bit identification number (ROM ID)
Authenticity verification with ECDSA Using preprogrammed maxim certificate
Advanced 1-wire protocol minimizes interface to single contact
Full-time overdrive communication speed
1.62V to 5.0V input voltage range
5µA typical input load current
High ESD immunity of 1-wire pin: ±8kV Human Body Model (HBM)
40°C to +85°C operating temperature range
1.2mm x 1.4mm WLP-4 package
Typical Application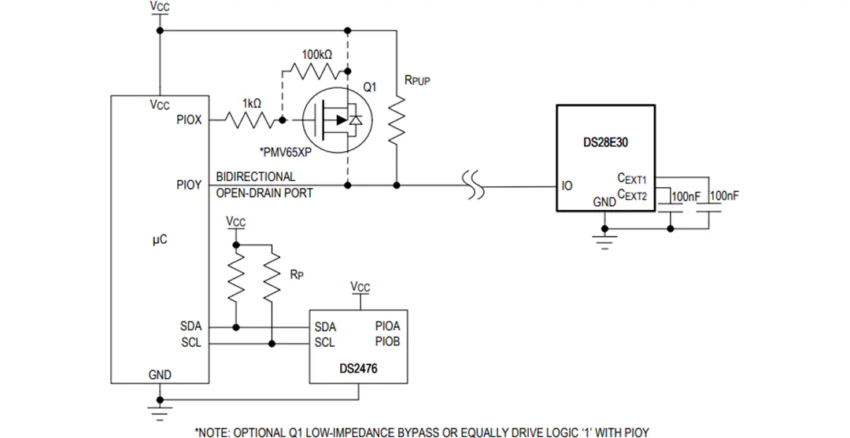 more information: https://www.maximintegrated.com/en/products/embedded-security/secure-authenticators/DS28E30.html
Join 97,426 other subscribers

Archives