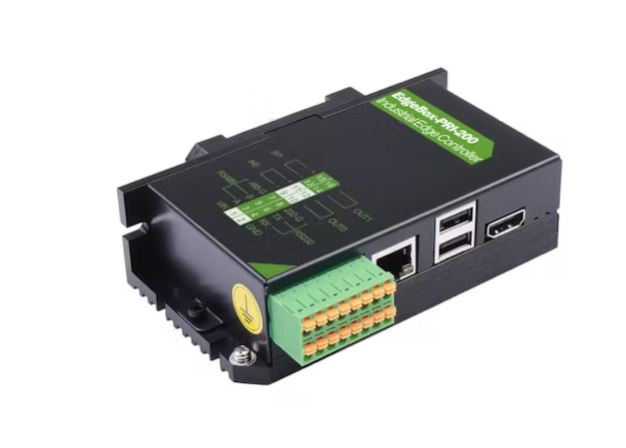 Meet the Raspberry Pi CM4-Powered "EdgeBox RPI-200 Rugged Industrial Edge Controller" Designed for Industrial IoT
We recently found out that Seeed Studio is offering a set of rugged industrial edge computing controllers designed for a variety of industrial applications: the EdgeBox RPI-200 series.
EdgeBox RPI-200 is a complete industrial controller equipped with a flexible and powerful processor capable of performing real-time operation and multi-process. It is powered by AI-enabled Raspberry Pi Compute Module 4 running at up to 1.5GHz and equipped with up to 4GB of RAM and 16GB eMMC.
The system also features rich IO resources and multiple industrial interfaces that achieve data transmission in a variety of situations. It comes with extended SSD storage, an enhanced HDMI 2.0 connection for better visual presentation as well as several communication capabilities such as an RJ45 Gigabit Ethernet and full-featured wireless interconnectivity (built-in 2.4GHz and 5GHz WiFi, Bluetooth 5.0 and Bluetooth Low Energy support). There is also a mini PCIe slot to support the installation of optional 4G cellular LoRaWan Gateway or ZigBee modules. Other features include 2x USB 2.0 ports, one RS485 port, and another RS232 port.
The industrial edge computing controller is small, compact, and lightweight. It is fitted in a rugged and maintenance-reducing high-grade structure with a full aluminum heatsink enclosure for maximum thermal management. It also supports 35mm DIN and wall mount which make it convenient to use where space is limited or in extreme conditions.
The EdgeBox also has great support for a variety of industrial software and platforms, including Codesys, Node-Red, MQTT, OPC UA, etc. It is perfect for high-end applications such as smart automation and control systems, IoT Gateways, 4G LTE Route, software-defined Programmable Logic Controller (PLC), Industrial controllers, edge computing controllers, etc.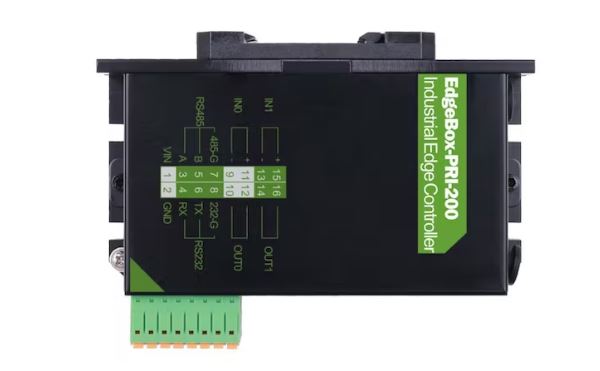 Specifications Include:
Quad-core Raspberry Pi CM4 running at up to 1.5GHz
Up to 4GB RAM
Up to 32GB eMMC
Built-in 2.4GHz/5GHz IEEE 802.11 b/g/n/ac WiFi
Bluetooth 5.0, Bluetooth Low Energy (BLE)
1x GbE RJ45 port
Mini PCIe slot support 4G LTE/LoRaWAN Gateway or ZigBee module
1x HDMI 2.0 ports with 4k@60fps
1x M.2 socket support 2242 NVMe SSD
2x USB 2.0 Type-A
2x isolated DI and 2x isolated DO
1x RS-485 and 1x RS-232
1x Real Time Clock (RTC)
1x Watchdog Timer
1x optional UPS unit (Uninterrupted Power Supply)
Support for AWS and Azure Cloud Services
Power Supply: DC 12V to 36V
Dimension: 124 mm x 76 mm x 35 mm
Operating Temperature: -20°C to +60°C
OS: Debian Linux
Certification: RoHS, CE, FCC, TELEC, UKCA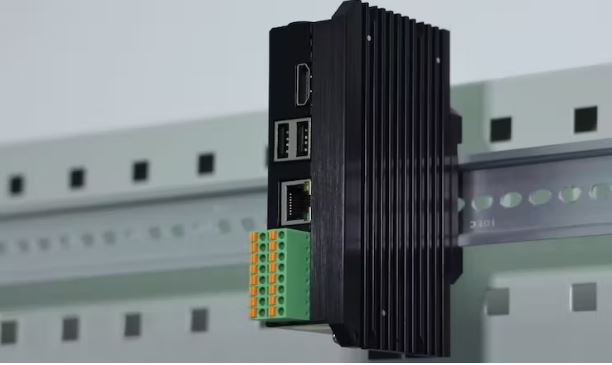 The EdgeBox RPI-200 series is a family of 4 modules. The lowest version comes with 1GB RAM and 8GB eMMC storage and it is the only one without WiFi or Bluetooth. Next to that is the variant with 2GB RAM and 8GB eMMC, while the one ahead of it comes with 4GB RAM and 16GB eMMC. The top variant then comes with 4GB RAM and up to 32GB eMMC memory. All four models cost $229, $239, $269, and $279 respectively.
You can visit the Seeed Studio's store for more details including purchase links and the corresponding shipping costs.
Join 97,426 other subscribers

Archives