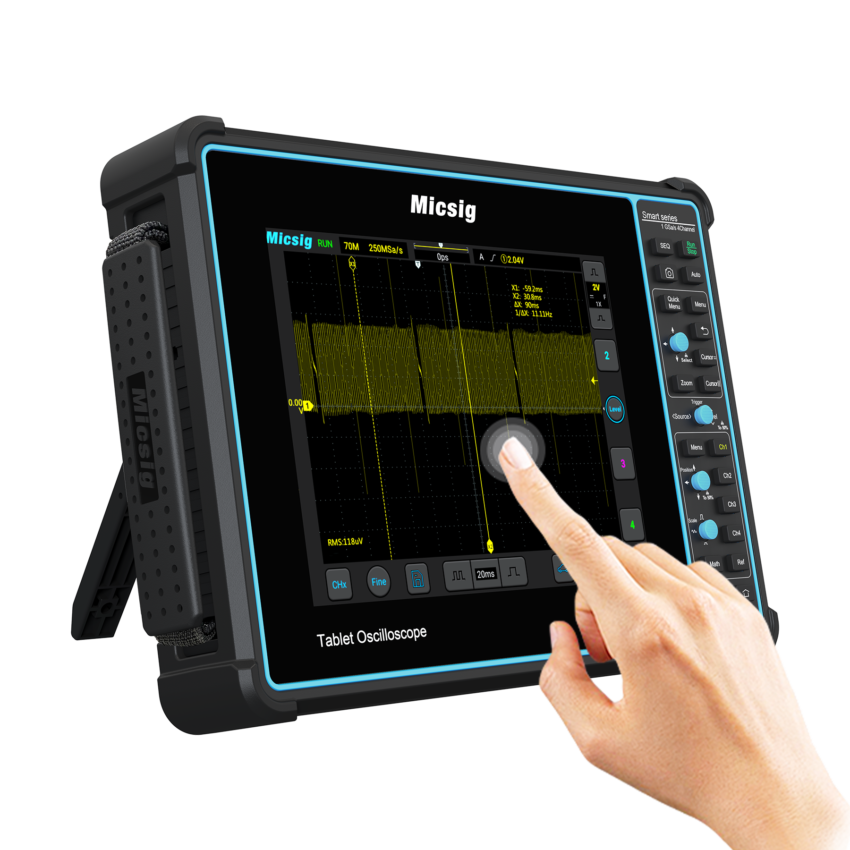 Micsig SATO1004 handheld oscilloscope
Micsig's SATO1004 is a four-channel automotive oscilloscope with a comprehensive list of pre-set vehicle-related tests.
The instrument features 100MHz bandwidth, 1Gsample/s (in single channel mode), 32Mpoint memory and up to five hours of mobile use from its built-in battery, or continuous use from its 12V power adaptor.
"SATO1004 is a professional vehicle testing tool for evaluating CAN, LIN, Flex ray and K line networks, and sensors for: ABS, accelerator pedal, throttle position, fuel pressure, air flow meter, crankshaft, camshaft, knock, MAP; as well as testing 12 and 24V charging and start, charging ripple, cranking current sensors, actuators and ignition," according to distributor Saelig, which is stocking the instrument.
The 8inch 800 x 600 touchscreen has touch, drag and swipe, and shares control of the scope with knob-and-button control. An HDMI output is available to reproduce the display on a larger screen or projector. "Live screen images can be transmitted to an external projector when the oscilloscope is connected to a LAN or WiFi network. The scope can display or be remotely controlled via Wi-Fi, LAN or USB, via a PC or an Android or iOS mobile device," said Saelig.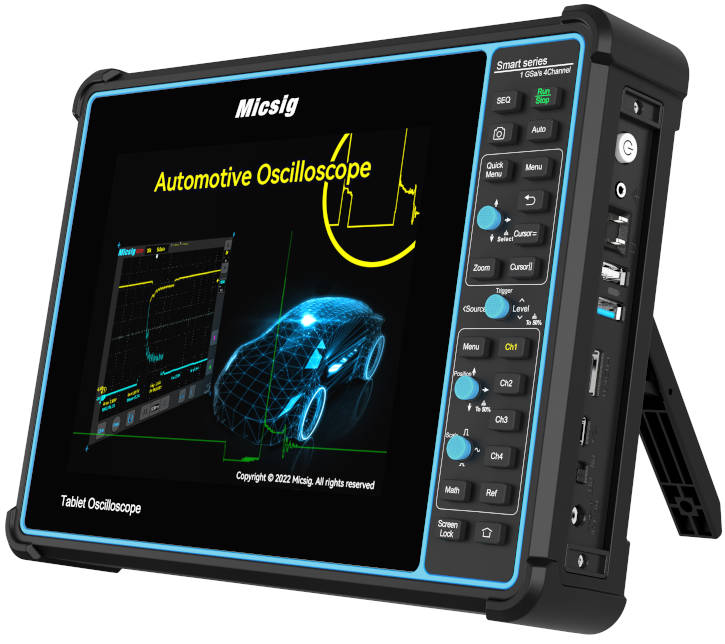 As well as the serial busses above, bus trigger and decode features include: UART, SPI and I2C, then 1553B and ARINC 429 trigger and decode are options.
The Standard Kit version of the scope comes with 2x passive probes, 4x BNC-banana cables, 2x pair needle probes, 2x pair alligator clips, a power adaptor with mains cable and a screen protector.
The master Master Kit has the above, plus a secondary ignition pick-up, 2x multimeter-style probe tips and a hard-shell carrying case.
Dimensions are 265 x 192 x 50mm and 1.9kg
Manufacturer Micsig is based in Shenzhen-based, and Saelig of Fairport New York is its authorised North American distributor. The Saelig SATO1004 product page can be found here
Subscribe to Blog via Email
Join 97,931 other subscribers
Archives