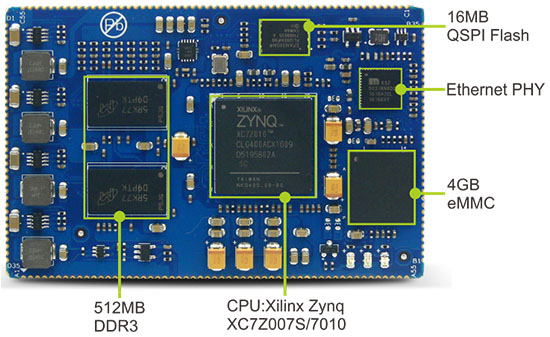 MYIR Introduced Cost-effective MYC-C7Z010/007S CPU Module
Shenzhen, China – March 20, 2018 – MYIR introduced a cost-effective CPU Module MYC-C7Z010/007S powered by Xilinx XC7Z007S (Zynq-7007S) or XC7Z010 ( Zynq-7010) SoC device. It is an industrial-grade System-on-Module which is capable of running Linux and targets industrial application such as Industrial Ethernet, machine vision, PLC/HMI and etc.
The MYC-C7Z010/007S CPU Module integrates 512MB DDR3 SDRAM, 4GB eMMC, 16MB quad SPI Flash, a Gigabit Ethernet PHY and external watchdog on board and provides 1.27mm 180-pin stamp-hole (Castellated-Hole) expansion interface to allow a large number of I/O signals for ARM peripherals and FPGA I/Os to be extended to your base board, which also obtains the high-performance ability in shock resistance meanwhile.
MYIR also offers a development board MYD-Y7Z010/007S which is built around the MYC-Y7Z010/007S CPU Module with a base board to bring a rich set of peripherals and interfaces through headers and connectors including RS232, RS485, USB Host, three Gigabit Ethernet ports, CAN, TF card slot, JTAG as well as one 2.54mm pitch 2 x 25-pin expansion header to let more GPIOs available for further extension. Moreover, MYIR offers an optional expansion board MYD-Y7Z010/007S IO Cape to connect to this expansion header to extend many peripherals and signals like HDMI, LCD, camera and Pmod to help user explore more functions.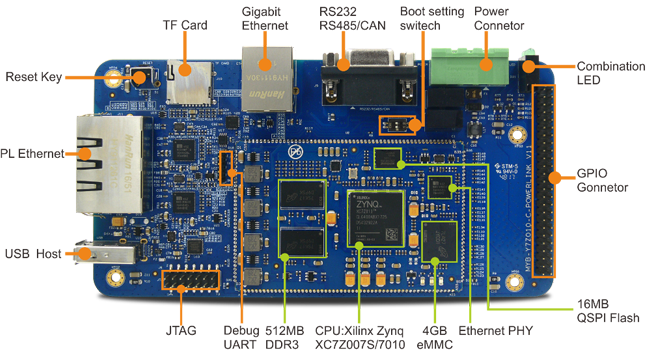 Now the board with XC7Z010 version is available now, the MYC-Y7Z010 is pricing at USD85/pc and the MYD-Y7Z010 is USD209/pc. You can get more information about the products at:
http://www.myirtech.com/list.asp?id=583
Join 97,426 other subscribers

Archives