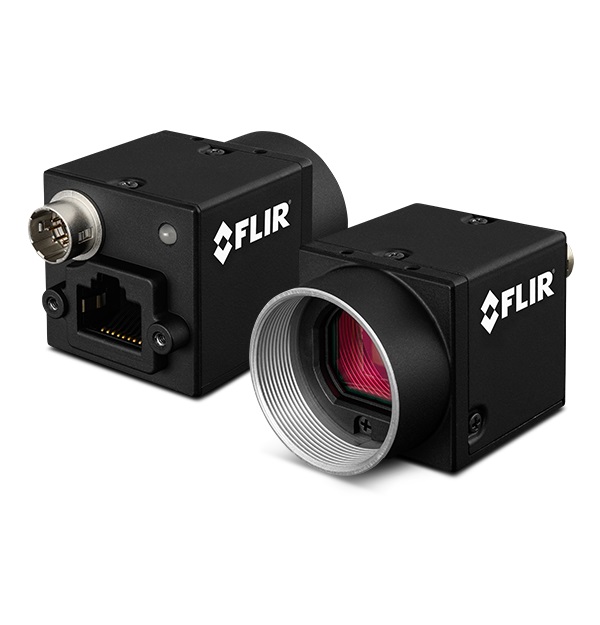 New 12MP Blackfly S with On-Sensor Polarimetry – Smallest on the market!
Introducing the latest addition to our polarized Blackfly S GigE camera lineup – the BFS-PGE-123S6P-C. This new 12MP model is well suited for applications dealing with reflective and/or challenging lighting conditions. Ideal for use cases like traffic systems, UAS (unmanned aerial systems), inspection lines with transparent or reflective parts, and other uncontrolled lighting environments.
Our camera pairs the new Sony IMX253 MZR sensor with an easy-to-use glare reduction feature built into our Spinnaker SDK, making application development and deployment fast and easy. These new GigE cameras with Power over Ethernet (PoE) also take advantage of our new Lossless Compression feature, delivering up to 14 FPS at full resolution without compromising on image quality. Weighing in at just 36 grams, it is significantly lighter and more compact than competing offerings in the market. Read along for more detailed specs, pricing and to consult a specialist about your project requirements.
12 MP Global Shutter CMOS featuring on-sensor polarimetry
Delivers resolution of 4096 x 3000 @ 10 FPS (up to 14 FPS with Lossless Compression enabled)
Smallest and lightest: 29 x 29 x 30mm, 36 grams
Spinnaker SDK can dynamically reduce reflections from non-metallic surfaces
Long-distance cable options for unique application setups
Features Power over Ethernet (PoE – GigE)
Join 97,426 other subscribers

Archives